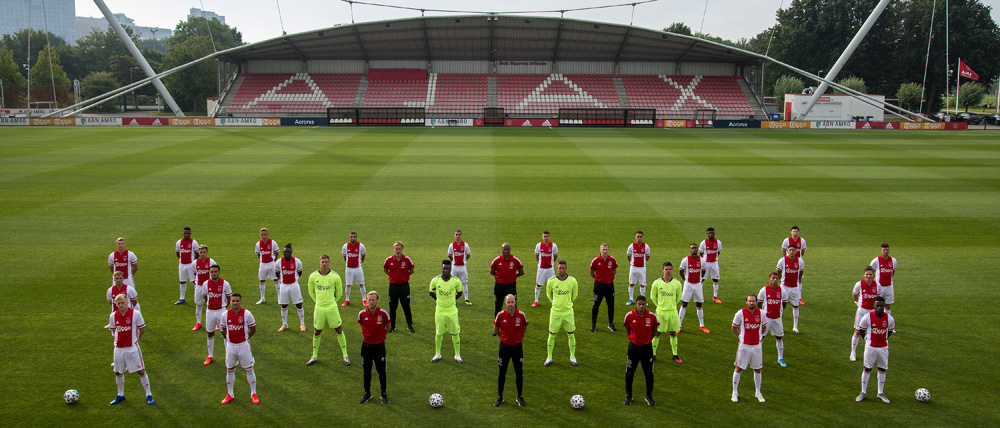 Upcoming games
KNVB Beker

Thu 20 January 2022, 21:00

Ajax

-

Excelsior M

Eredivisie

Sun 23 January 2022, 14:30

PSV

-

Ajax

Eredivisie

Sun 6 February 2022, 16:45

Ajax

-

Heracles
Results
Eredivisie

Sun 16 January 2022, 12:15

FC Utrecht

0

-

3

Ajax

Match report

Eredivisie

Wed 22 December 2021, 21:00

Ajax

5

-

0

Fortuna Sittard

Match report

Eredivisie

Sun 19 December 2021, 14:30

Feyenoord

0

-

2

Ajax

Match report
Eredivisie
| | | | | |
| --- | --- | --- | --- | --- |
| # | Team | P | P | D |
| 1 | PSV | 19 | 46 | 23 |
| 2 | Ajax | 19 | 45 | 55 |
| 3 | Feyenoord | 19 | 39 | 24 |
| 4 | Vitesse | 19 | 36 | 1 |
| 5 | AZ | 19 | 35 | 13 |
| 6 | FC Twente | 19 | 35 | 8 |
| 7 | FC Utrecht | 19 | 29 | 7 |
| 8 | SC Cambuur | 19 | 29 | -7 |
| 9 | NEC | 19 | 26 | -2 |
| 10 | SC Heerenveen | 19 | 25 | -7 |
UEFA Champions League
| | | | | |
| --- | --- | --- | --- | --- |
| # | Team | P | P | D |
| 1 | Ajax | 6 | 18 | 15 |
| 1 | Ajax | 0 | 0 | 0 |
| 2 | Sporting CP | 6 | 9 | 2 |
| 2 | Atletico Madrid | 0 | 0 | 0 |
| 3 | Borussia Dortmund | 6 | 9 | -1 |
| 3 | Bayern München | 0 | 0 | 0 |
| 4 | Besiktas | 6 | 0 | -16 |
| 4 | Benfica | 0 | 0 | 0 |
| 5 | Chelsea | 0 | 0 | 0 |
| 6 | Inter Milan | 0 | 0 | 0 |
Ajax have won their first match of 2022 on Sunday afternoon on the road against FC Utrecht. The match finished 0-3 in the Amsterdam side's favour. Brian Brobbey, who has returned to his former club, scored the second and third goals, after teammate Antony had opened scoring. All the goals came in the first half.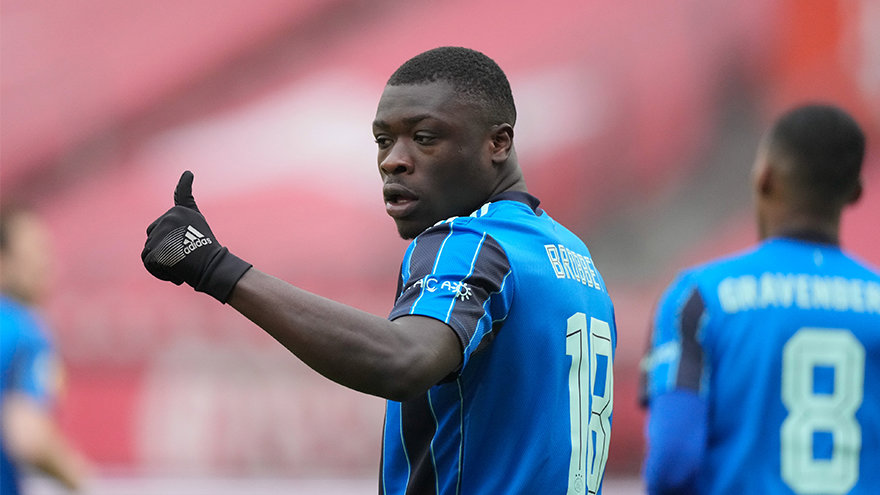 Brian Brobbey had a fantastic 'second' debut for Ajax. The striker scored two goals in the 0-3 win against FC Utrecht. The 19-year-old striker played at RB Leipzig for the first half of the season. "If you come back to Ajax and you score immediately, that's great."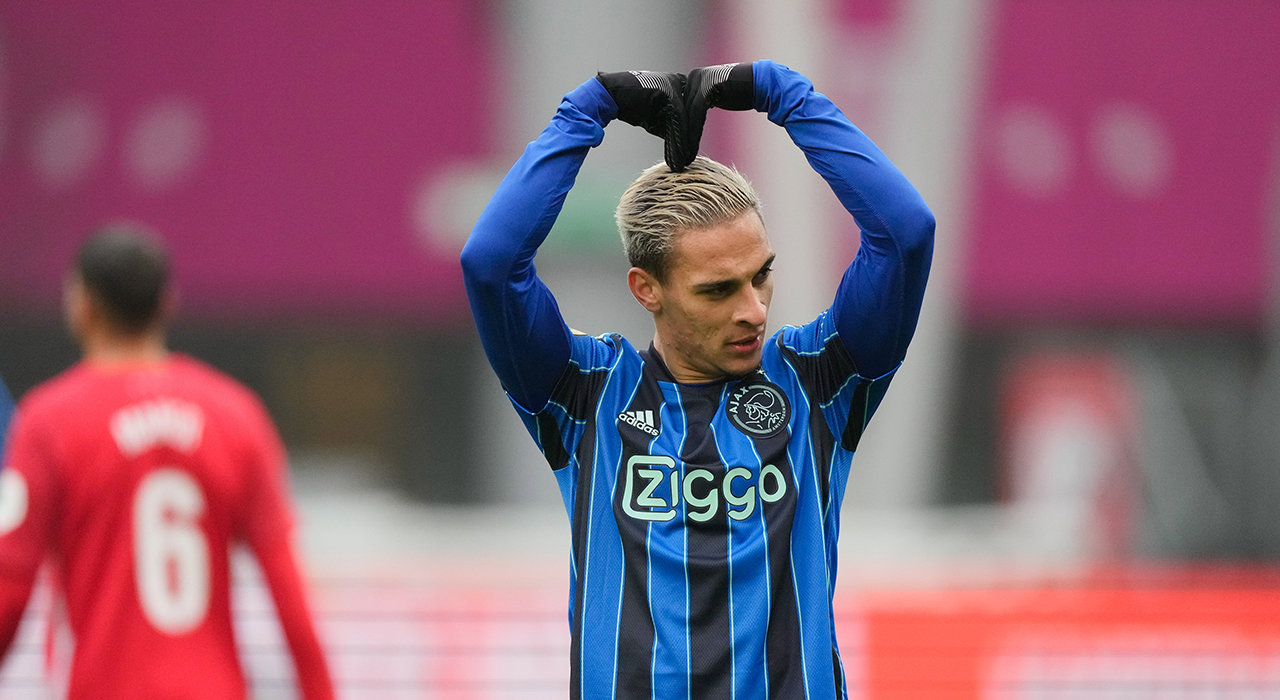 Ajax has come out of the winter break in good form. At the Galgenwaard Stadium, Erik ten Hag's side was too strong for FC Utrecht, with the game finishing 0-3. Antony and Brian Brobbey (2) scored the goals for Ajax.
Upcoming games
KNVB Beker

Thu 20 January 2022, 21:00

Ajax

-

Excelsior M

Eredivisie

Sun 23 January 2022, 14:30

PSV

-

Ajax

Eredivisie

Sun 6 February 2022, 16:45

Ajax

-

Heracles
Results
Eredivisie

Sun 16 January 2022, 12:15

FC Utrecht

0

-

3

Ajax

Match report

Eredivisie

Wed 22 December 2021, 21:00

Ajax

5

-

0

Fortuna Sittard

Match report

Eredivisie

Sun 19 December 2021, 14:30

Feyenoord

0

-

2

Ajax

Match report
Ajax.CMS.Models.Competition
| | | | | |
| --- | --- | --- | --- | --- |
| # | Team | P | P | D |
| 1 | PSV | 19 | 46 | 23 |
| 2 | Ajax | 19 | 45 | 55 |
| 3 | Feyenoord | 19 | 39 | 24 |
| 4 | Vitesse | 19 | 36 | 1 |
| 5 | AZ | 19 | 35 | 13 |
| 6 | FC Twente | 19 | 35 | 8 |
| 7 | FC Utrecht | 19 | 29 | 7 |
| 8 | SC Cambuur | 19 | 29 | -7 |
| 9 | NEC | 19 | 26 | -2 |
| 10 | SC Heerenveen | 19 | 25 | -7 |
Ajax.CMS.Models.Competition
| | | | | |
| --- | --- | --- | --- | --- |
| # | Team | P | P | D |
| 1 | Ajax | 6 | 18 | 15 |
| 1 | Ajax | 0 | 0 | 0 |
| 2 | Sporting CP | 6 | 9 | 2 |
| 2 | Atletico Madrid | 0 | 0 | 0 |
| 3 | Borussia Dortmund | 6 | 9 | -1 |
| 3 | Bayern München | 0 | 0 | 0 |
| 4 | Besiktas | 6 | 0 | -16 |
| 4 | Benfica | 0 | 0 | 0 |
| 5 | Chelsea | 0 | 0 | 0 |
| 6 | Inter Milan | 0 | 0 | 0 |
Technical Staff
Erik ten Hag

-

Hoofdcoach

Christian Poulsen

-

Assistent-trainer

Michael Reiziger

-

Assistent-trainer

Richard Witschge

-

Lid technische staf