Upcoming games
UEFA Women's Champions League

Wed 28 September 2022, 19:00

Ajax Vrouwen

-

Arsenal Women

Eredivisie Women

Sun 2 October 2022, 12:15

Ajax Vrouwen

-

SC Heerenveen

Eredivisie Women

Sun 16 October 2022, 12:15

ADO Den Haag

-

Ajax Vrouwen
Results
UEFA Women's Champions League

Tue 20 September 2022, 20:30

Arsenal Women

2

-

2

Ajax Vrouwen

Eredivisie Women

Fri 16 September 2022, 19:30

Ajax Vrouwen

4

-

0

Fortuna Sittard

Netherlands Supercup Women

Sun 11 September 2022, 12:15

FC Twente

3

-

2

Ajax Vrouwen
Eredivisie Women
| | | | | |
| --- | --- | --- | --- | --- |
| # | Team | P | P | D |
| 1 | FC Twente Vrouwen | 2 | 4 | 5 |
| 2 | ADO Den Haag Vrouwen | 2 | 4 | 4 |
| 3 | Feyenoord Vrouwen | 2 | 4 | 1 |
| 4 | Ajax Vrouwen | 1 | 3 | 4 |
| 5 | PSV Vrouwen | 1 | 3 | 1 |
| 6 | PEC Zwolle Vrouwen | 1 | 1 | 0 |
| 7 | Excelsior Vrouwen | 2 | 1 | -1 |
| 8 | SC Heerenveen Vrouwen | 2 | 1 | -1 |
| 9 | Fortuna Sittard Vrouwen | 2 | 1 | -4 |
| 10 | VV Alkmaar Vrouwen | 2 | 1 | -5 |
Netherlands Supercup Women
| | | | | |
| --- | --- | --- | --- | --- |
| # | Team | P | P | D |
| 1 | FC Twente Vrouwen | 1 | 3 | 1 |
| 2 | Ajax Vrouwen | 1 | 0 | -1 |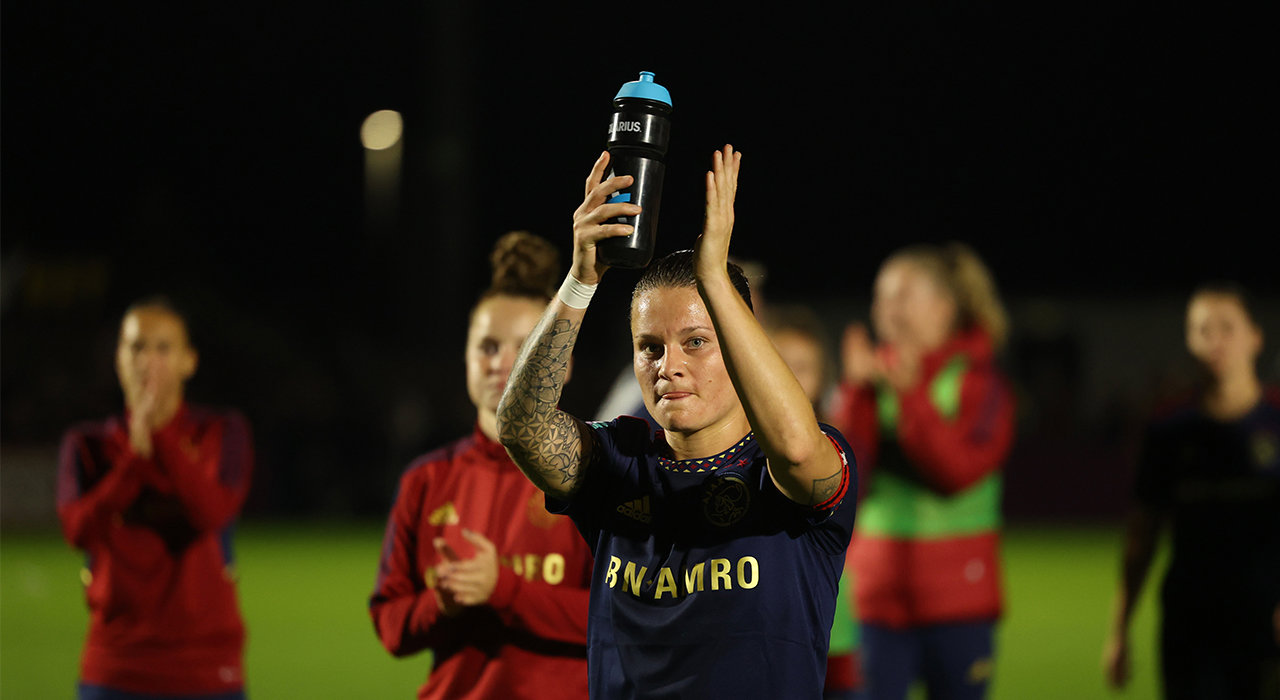 The Ajax Women gave a good account of themselves against Arsenal. In the second preliminary round of UEFA Women's Champions League, Suzanne Bakker's team drew at Meadow Park: 2-2. The return match of this duel is on Wednesday 28 September at trainingcomplex de Toekomst. The winner qualifies for the main tournament of the women's version of the Champions League.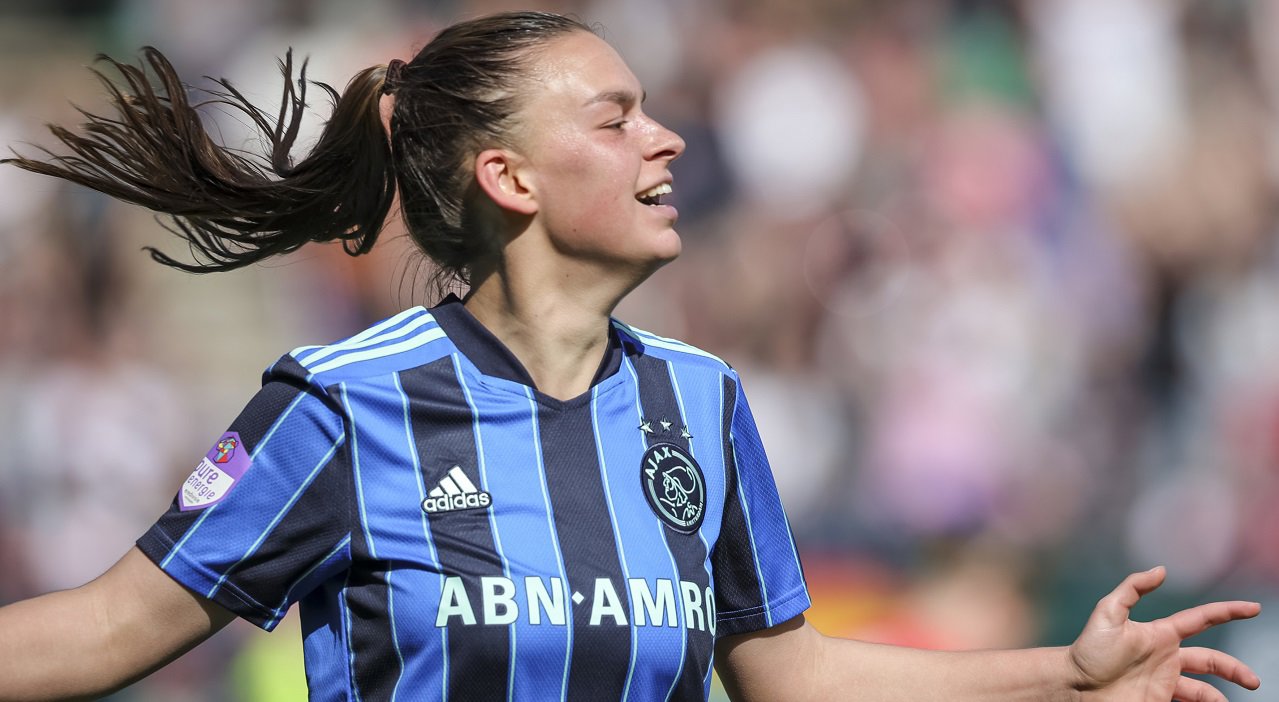 The Easter weekend was dominated by cup finals. For the Ajax Women the confrontation with PSV ended successfully. Danny Schenkel's team triumphed in Nijmegen with 1-2 and took the fifth cup win in the club's history.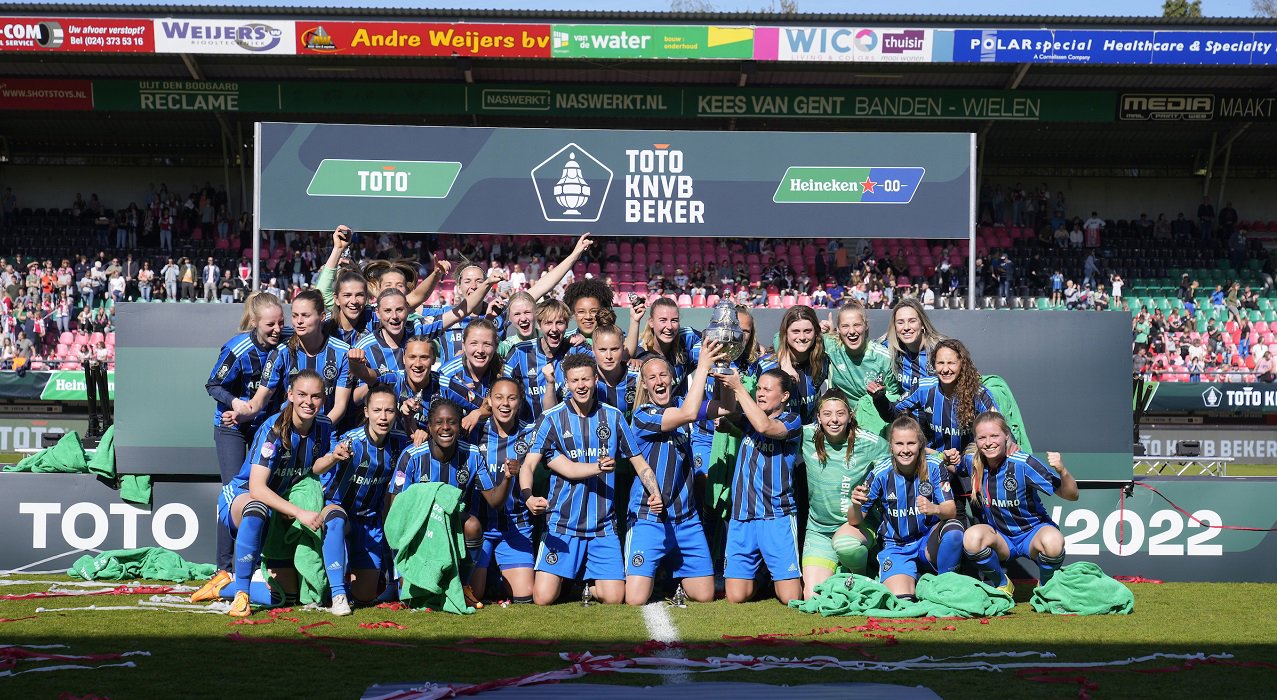 On Monday the Ajax Women won the first price of the season at the expense of PSV. In Nijmegen the Ajax Women beat the team from Eindhoven with 1-2. The Dutch Cup was won for the fifth time, thanks to goals of Nadine Noordam and Romée Leuchter.
Upcoming games
UEFA Women's Champions League

Wed 28 September 2022, 19:00

Ajax Vrouwen

-

Arsenal Women

Eredivisie Women

Sun 2 October 2022, 12:15

Ajax Vrouwen

-

SC Heerenveen

Eredivisie Women

Sun 16 October 2022, 12:15

ADO Den Haag

-

Ajax Vrouwen
Results
UEFA Women's Champions League

Tue 20 September 2022, 20:30

Arsenal Women

2

-

2

Ajax Vrouwen

Eredivisie Women

Fri 16 September 2022, 19:30

Ajax Vrouwen

4

-

0

Fortuna Sittard

Netherlands Supercup Women

Sun 11 September 2022, 12:15

FC Twente

3

-

2

Ajax Vrouwen
Ajax.CMS.Models.Competition
| | | | | |
| --- | --- | --- | --- | --- |
| # | Team | P | P | D |
| 1 | FC Twente Vrouwen | 2 | 4 | 5 |
| 2 | ADO Den Haag Vrouwen | 2 | 4 | 4 |
| 3 | Feyenoord Vrouwen | 2 | 4 | 1 |
| 4 | Ajax Vrouwen | 1 | 3 | 4 |
| 5 | PSV Vrouwen | 1 | 3 | 1 |
| 6 | PEC Zwolle Vrouwen | 1 | 1 | 0 |
| 7 | Excelsior Vrouwen | 2 | 1 | -1 |
| 8 | SC Heerenveen Vrouwen | 2 | 1 | -1 |
| 9 | Fortuna Sittard Vrouwen | 2 | 1 | -4 |
| 10 | VV Alkmaar Vrouwen | 2 | 1 | -5 |
Ajax.CMS.Models.Competition
| | | | | |
| --- | --- | --- | --- | --- |
| # | Team | P | P | D |
| 1 | FC Twente Vrouwen | 1 | 3 | 1 |
| 2 | Ajax Vrouwen | 1 | 0 | -1 |