Ajax wants to see talent blossom, both inside and outside the field and club. We use the appeal of Ajax to encourage young people to get the best out of themselves. This way, we hope to provide opportunities that they normally wouldn't get.
The club is committed to having a broad social value. Ajax is namely for everyone, no matter what their origins, religion, gender, politics, or skin colour.
The Ajax Foundation, founded on 18 March 2010 as an independent institution allied with AFC Ajax, believes and invests in a society where all children have equal opportunities. A society with the vision of a future in which they can use their talents and continue to develop them.
We organise projects and events on the themes of sport & health, education, and social integration for vulnerable children and youth under 19 years in Amsterdam and Capetown. With this, we strive to strengthen the resilience of children and youth by raising their consciousness. Ajax's norms and values serve as starting points and are integrated into education and football programmes.
Ajax Foundation Training Programme
The training programme of the Ajax Foundation is the common thread through the school period and is intended for socio-economically disadvantaged children and youth. The programme consists of various projects.
Life Skills & Clinics
Life Skills & Clinics for primary education is one of the training programmes offered by the Foundation. This programme teaches children in a game-based way about norms and values, safe use of social media, responsible use of money and healthy eating. And cooperation, respect, discipline and fun are high on the agenda in the football clinic.
Ajax Fair Play workshop
The Ajax Fair Play workshop is for students at secondary education level. The training programme links key values of the club to social themes such as diversity, discrimination, good citizenship and racism. Ajax wishes to set an example for Amsterdam's youth to become aware of these themes. The training programme is linked to a football clinic. And the students get to work with each other after the workshop.
S'Cool
Starting with the 2020-2021 season, a school competition for secondary education students will be organised where youth can get to work determining their own norms and values and the accompanying social skills. The values are linked to a football programme.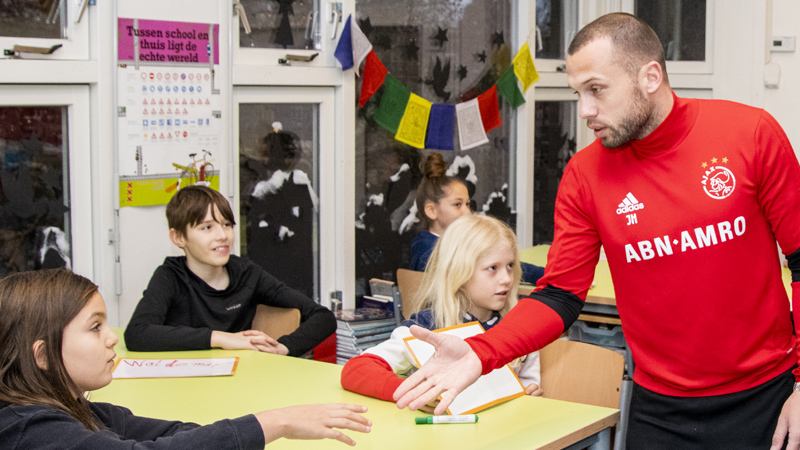 CBF Approval
The Ajax Foundation is a Recognized Charity. This means that we meet strict quality requirements, as verified by the CBF. This way you can be sure that we contribute to a better world, handle every euro with care and are accountable. Would you like to know more about the quality requirements and verification from the CBF? Check out Geefgerust.nl.
ANBI status
The Tax and Customs Administration has given the Ajax Foundation the status of a Public Benefit Organization (ANBI). Companies and individuals can therefore apply the tax benefits that apply to an ANBI.