Board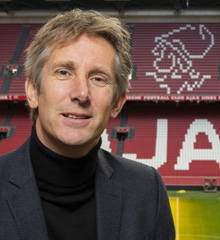 Edwin van der Sar: Chief Executive
Edwin van der Sar (Voorhout, 29 October, 1970) played 311 official matches for Ajax. He also played for Juventus, Fulham and Manchester United during his professional career. Van der Sar has made the highest number of appearances for the national team, with 130 international matches.
He is the winner of over thirty individual and team awards, including the UEFA Champions League twice (1995 and 2008), for Ajax and Manchester United. Playing for Ajax, he also won four national titles (1994, 1995, 1996, 1998), the KNVB (Dutch) Cup three times (1993, 1998, 1999), the UEFA Cup (1992), the UEFA Super Cup (1995) and the Johan Cruijff Shield also three times (1993, 1994, 1995). His career as a football player ended in the summer of 2011.
He then founded the Edwin van der Sar Foundation, and obtained a Master's Degree in Sport Management from the Johan Cruyff Institute. At the end of 2012, he was appointed Marketing Director for Ajax. Van der Sar has been Managing Director and Chairman of the Board since 11 November 2016. Between September 2015 and October 2017, he was also chairman of the Technische Hart for two years, in his role as board member. Van der Sar remains ultimately in charge, as Chief Executive.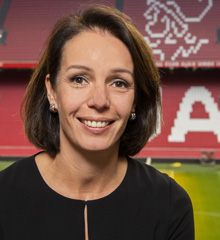 Susan Lenderink: Finance Director
Susan Lenderink (Warnsveld, 30/08/1977) studied accountancy at the University of Amsterdam, where she also completed postgraduate training to become an IFAC Registered Controller. She started her career in 2000 with PricewaterhouseCoopers as an accountant.
In 2003 she switched to De Bijenkorf, where she performed various financial and commercial roles, eventually joining the board in 2012 as CFO. Susan Lenderink joined the board of Ajax as Finance Director on 1 July 2019.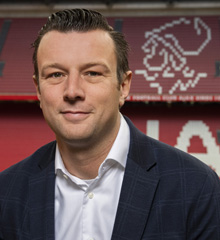 Menno Geelen: Commercial Director (executive)
Menno Geelen (Huizen, 22/01/1982) studied Business Administration at Radboud University in Nijmegen. Geelen has been working for Ajax since the summer of 2010. Before that, he worked for Eyeworks Sport and Sportmarketingbureau Trefpunt. At Ajax he worked for two years as Head of Sponsorship, and has been responsible for the entire commercial department the last four years.
On 1 November, 2016, Geelen joined the board of Ajax as Commercial Director (ex-officio). He was appointed executive director under the Articles of Association at the Shareholder General Meeting on 16 November, 2018.