"Let me first check how I look", the defender says smiling while looking at the team photo via WhatsApp. Botman is in Newcastle. The connection with England is easily made through a video call. "I know the boys that were in the U15 team before us (with Justin Kluivert, Donyell Malen, Noa Lang, Matthijs de Ligt and others) always bragged about them being the best team ever. That gave us extra motivation. It resulted in a wonderful season for us."
Botman started playing football when he was five, at Pancratius in Badhoevedorp. "When I was eight, I got a letter from Ajax about the talent days. I got selected and when I was nine, I played for Ajax." In his first season, Botman was put into the U11 team of Ajax. After the U11 team, the defender was promoted via the U13, to the U15 team in the 2014/2015 season.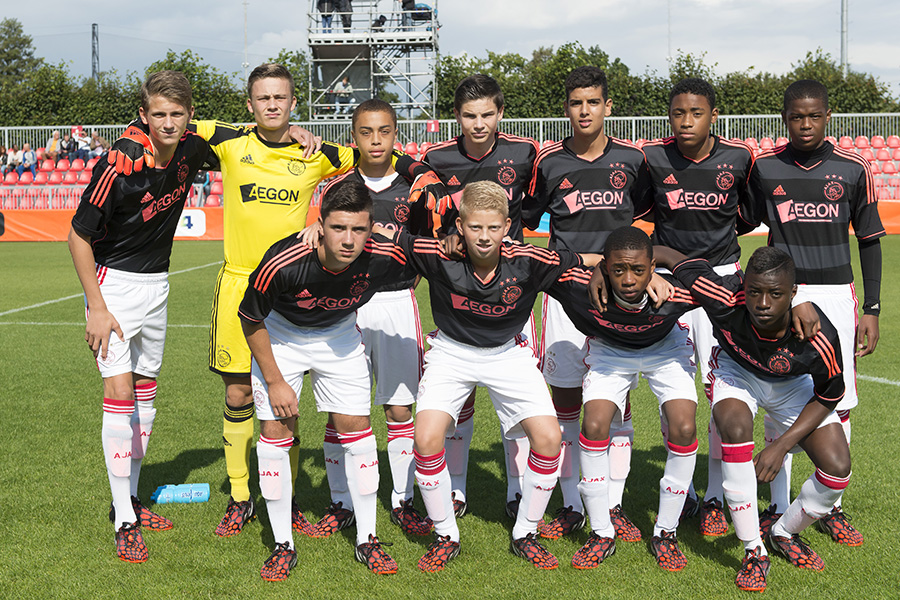 Ajax U15:
Back F.L.T.R. : Sven Botman, Terence Meuwese, Sergiño Dest, Jurgen Ekkelenkamp, Magid Suleiman, Juan Castillo, Daishawn Redan.
Front F.L.T.R. : Giovanni de la Vega, Kees de Boer, Quincy Nkansah, Eros Maddy.
The U15 team of the season before Botman started to play in that team won all possible prizes and wasn't shy to brag about it. "We wanted to be the best U15 team of Ajax, that was our goal." The start of the season was great. In the battle for the Supercup, Feyenoord was beaten 4-0. The competition of that season was divided into north and south, after which the six highest-ranking clubs were put into the champions group. "We ended sixth in the North-Netherlands competition. We did a poor job, but we were happy that we even made it to the next round. But after that, we became champions anyway." They also managed to win the Cup. This made the treble complete.

As captain, Botman received the prizes, but the defender profited more from his role as leader of the team. "I used to be more quiet on the pitch. I don't know if that's a problem, but I was lacking in that." After Botman received the captain's armband, he became more vocal on the pitch and during training sessions. That helped him in his development. "The coaches said I needed to become more vocal. For example, they would give me the task to decide who had to be in the middle of the rondo during training. Now that I'm older, it doesn't feel that special, but at that age, it helped to make decisions like those."
Botman developed himself further during his time at the Ajax youth academy. He saw many coaches come and go, but holds special memories of one in particular. "John Heitinga was the best coach I had." Heitinga was head coach of Ajax U19 in the 2017/2018 season, where Botman played. "He helped me to become a mature football player."

The 23-year-old Premier League player did not have his big break at Ajax, after which he went on loan to sc Heerenveen in the summer of 2019. "It was good for me to see that there was something else than Amsterdam and that I could make a lot of minutes in the Eredivisie". Via LOSC Lille, the defender ended up at the English Newcastle United in 2022, with whom he secured a spot in the UEFA Champions League. "I don't downplay a lot, but it's really cool and special what happened this year. It was always my dream to play in the biggest competition and it is about to happen."
To the question of what Ajax has meant to him, he can only respond positively. "It was my second home and made me the person I am today." When it comes to football, Ajax also meant a lot to him, and his current teammates feel that. "At Newcastle, players often tell me that they have never seen a central defender play football that well. I was not always the best at Ajax, but the way of playing learnt me what I know now."