Maduro made the switch from the Zwarte Schapen, now known as Almere City FC, to Ajax's youth academy as a teen. In Amsterdam, he was part of a team with big names such as Urby Emanuelson, Jan Vertonghen, Ryan Babel, Kenneth Vermeer and Tom de Mul. "The joy was overwhelming. We knew we were a special batch and that a lot was expected of us. We had such a good team. Sometimes we had players on trial who participated in a training session, like Moussa Dembele for example. Guys like that were really talented, but they fell out of our team because our players were even better. That is actually very special, in retrospect."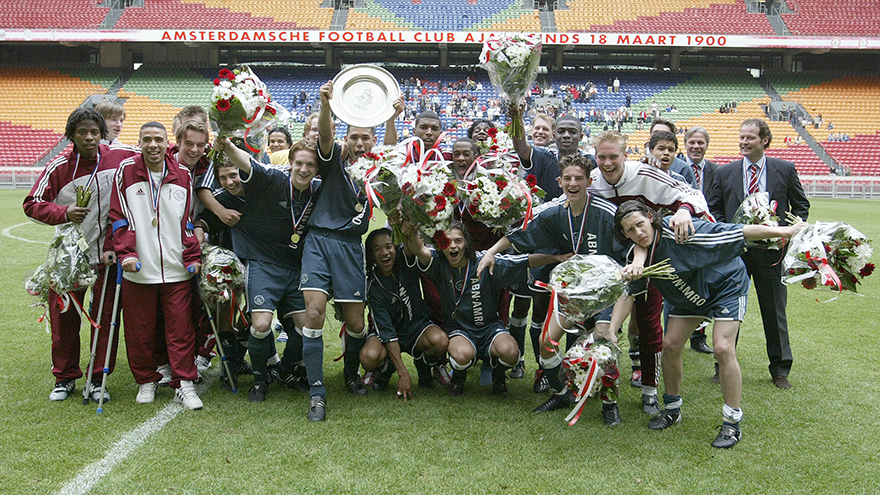 Danny Blind was the coach for a special U18 side in the 2003/2004 season. He opted for a personal approach, making the players aware of their qualities. "Blind shaped me. He provided some leadership and spoke to me a lot. He made sure I knew my strengths and weaknesses. I was able to respond to that and play smarter. My play style was similar to Daley's. In that season with the U18s, I learned by far the most as a football player."
"I was the link between trainer and my teammates and I played a very mature role. We we won the league in the ArenA. That was very special because, ultimately, that is what you want." The U18s were league champions after a resounding 5-2 victory over Feyenoord's U18s. In front of a crowd of several hundred fans, Maduro lifted the trophy high in the air.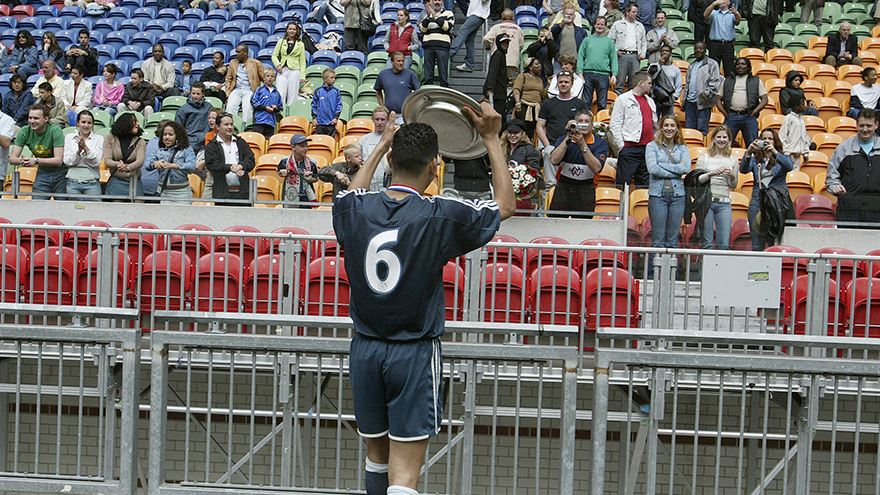 Recognition
Maduro was very important to his team and, despite his fairly defensive position on the field, scored constantly. "I sometimes scored a hat-trick within the first fifteen minutes. I was positioned as a defensive midfielder but I think I scored 23 times that season. We won everything with great stats. Opponents we knew from youth matches asked us to take it easy on them before the game," Maduro says with a laugh. "We tried everything during the games and knew we would easily become champions."
A year later Maduro was given the ultimate recognition. "I was quietly listening to the election of Talent Of The Year with my father, mother and brothers when I suddenly heard my name. At that time it came quite unexpectedly, but when I look back on it in hindsight, I think it is actually very logical. It remains special, I am in an illustrious group with players like Donny van de Beek and Wesley Sneijder. I still have the trophy in the cabinet at home."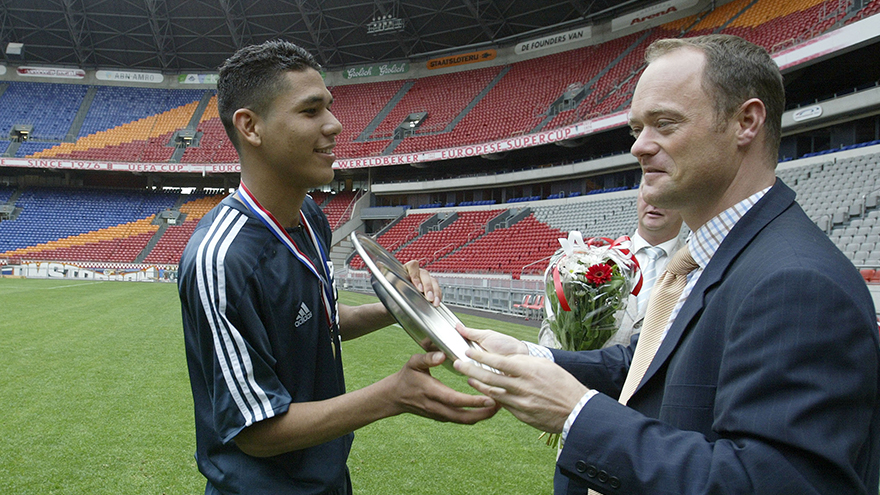 Maduro got along well with former teammates Babel and Emanuelson. There was, perhaps too much fun to be had with their group. "We laughed so much. People went crazy with us. I remember Gullit as the trainer of the Dutch Juniors lashed out against Babel, who was only chatting, and said Babel would never make it. He wouldn't make it to the top because of his attitude. A year later we beat Jong Feyenoord when Gullit was coach there and we met him in the lounge. 'I had to wind you up', Gullit then told him. Those are great memories that we still love to look back on."
But they – Babel and Maduro - did make it and played together for a few years in Ajax's first team. Maduro made his debut under trainer Ronald Koeman, after moving up from the U19s. "On the one hand, the switch was big because it really meant business. We could no longer be 'stupid' on the field and try things out, as we used to do in the youth teams. On the other hand, we already knew guys like Sneijder and Rafael van der Vaart and I didn't find it difficult to speak out in the dressing room."
Trainer
In January 2008, Maduro signed with the club he had turned down at the age of sixteen: Valencia CF. After several seasons in Spain, with both Valencia and Sevilla, one season in Greece, and two years with FC Groningen, Maduro ended his career in Cyprus.
"I am currently training the Almere City U21s. I try to apply a lot of what I learned from Blind, Koeman, and Unai Emery. I see myself as a mix of those three. I try to take my players into account and value their background. Players are not robots. Emery would just give me a few days off after a win, Koeman could put an arm around you and walk you through things. That was very special."
Maduro now applies the lessons of his own playing career as a trainer. "I try to make my players smarter, so that they are aware of their unique qualities. Just like I did in my playing career, I want to take smart steps. I prefer to work at a club where everything is not perfectly arranged. Then I am obliged to be flexible, which is very educational. In two years' time I hope to get my UEFA Pro License and be able to work with it everywhere. I hope to be able to work as head coach in Spain or at Ajax."