Yet a clear-cut breakthrough in the first team eluded him; after one season on loan to Excelsior, he went back to Ajax Juniors. Zeegelaar decided to try out his luck abroad. After a number of colorless seasons in Spain and Turkey, he regained his former self again in Portugal. He was even called up for the Dutch national squad and played for Portugal's Sporting CP in the UEFA Champions League. These days Zeegelaar plays for Italian side Udinese, where he still reaps the benefits of his training at Ajax.
We take a look back with him at the season where his career started to take off, the first team of 2008/2009, and talk about the other highlights in his career.
It was no culture shock for Zeegelaar when he left Volendam to go to Amsterdam in 2006. Even so, the forward did notice a clear difference between FC Volendam and Ajax. "I suddenly went on tours and tournaments abroad, stayed in beautiful hotels, the strip was made to measure by the club. Those are things you really appreciate. I'll never forget the big names who I had as youth coaches. You don't get that everywhere, either."
After two years in the youth reserves, one being under trainer Bryan Roy, Zeegelaar ended up in Gery Vink's A2 squad. The winger learned plenty and greatly appreciated the trainers. "At Ajax I had a very good relationship with the trainers. Vink especially gave me a lot of confidence. I don't know how he managed it, but he seemed to boost you in a way that made you play beyond your ability. That was in the A2 team. For me he was a really great trainer. He really made me feel great."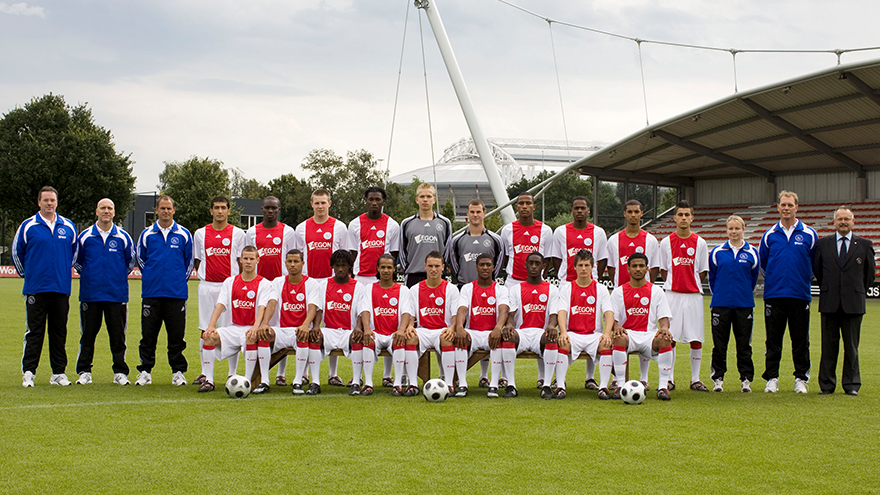 The following year, the wing forward played for the first team under Frank de Boer - the year that things started to take off for him. De Boer's mindset especially had a positive influence on him. "You see, he is of course a football player who played at really a very high level. You can tell. I think I learned the most specific lessons there. Under him I think I really got a superb lesson about a winning mental attitude."
Debut
Zeegelaar clearly felt at ease in Amsterdam. He was also fine in the A1 squad. "I was bonding well at the time, especially with the guys who also came from Amsterdam. Take Jarcinho Antonia and Timothy van der Meulen, for example. Those were the guys I hung around with outside football."
Just two months after his promotion to the Ajax A1 squad, Zeegelaar was able to make his debut for Ajax Juniors on 10th November, 2008. Fifteen minutes before the whistle he went on as substitute for Eyong Enoh, who came off due to injury. The wing striker scored straight away. "Zeegelaar made a very strong entrance", said the Young Ajax coach at the time, Adrie Koster. It would foreshadow a (very) soon-to-follow debut for the first team.
Just two days after his debut with the reserves, Zeegelaar was there at the kick-off for the Dutch Cup match against his old club: FC Volendam. "Van Basten got me right into the squad. It was one training session and I was there. It all happened in a flash, of course, from the A1 squad to the juniors, to the first team. At the time, it really was a boyhood dream come true. I was playing left forward then, alongside Luis Suárez, no less. My debut was certainly the highlight of my career at Ajax."
Yet Zeegelaar was unable to continue his rise to glory; he couldn't find
a permanent place in the first team that year. After Van Basten departed, he continued to play the only matches under Martin Jol for the Ajax first team, but the counter stopped at six official appearances.
'I can't complain'
After two seasons, with variable form and time on loan to Excelsior, he left Ajax in 2011. Years later, Zeegelaar can explain perfectly why, in his opinion, no clear-cut breakthrough ever happened at Ajax. "When I look back, I'd like to say to myself, 'take things a little more seriously'. Of course I was just a young lad, but you still have to live for the game: really live for football."
His positive feelings about his initial period at Ajax nevertheless remain intact. "At the end of the day, I really can't complain. I see it now as an incredibly good start to the rest of my career. Of course, you carry the Ajax school with you forever. It really did me good being able to experience that year and the rest of the youth academy. I am an Amsterdammer, so of course that holds something special for me."
After the Ajax chapter, Zeegelaar embarked on a tour through Europe. It took him through Spain, Turkey, Blackpool FC for six months, Portugal, England again, and Italy. His time at Sporting Lisbon marked an important turning point in his later career. He reinvented himself in Portugal as a left-back and entered the Champions League with Sporting CP. As a reward for his hard work, he was called up for the Dutch national squad in 2016.
"The first few seasons in Spain and Turkey saw varying results, but I invested in myself a lot in Portugal. That was ultimately a very good step for me. The trainer at Sporting Portugal, Jorge Jesus, also put me at left back. That's when things started going really well. Being called up for the Dutch national team really was a great accolade."
Cristiano Ronaldo and Zlatan Ibrahimovic
These days he plays for Udinese, currently in position 14 in Italy. Although he has played against many great names over the years, this year he has appeared against players such as Cristiano Ronaldo and Zlatan Ibrahimovic. These experiences have given his career an extra shine in recent months.
"Of course, my career has been very varied. I started at Ajax and then went on to play in the greatest competitions, against the greatest teams and the biggest names. I think I have been able to experience everything. Overall, I can look back and feel very satisfied."