Ajax's current goal record leaves little to be desired. In fourteen matches, Erik ten Hag's team has found the net 52 times. This exceptional total is only a few short of the record set in the 1966-1967 season where Ajax had scored 57 goals in the same number of games. That team consisted of players such as Sjaak Swart, Johan Cruijff, Piet Keizer and Wim Suurbier and was crowned Eredivisie champion with 121 goals for and only 34 against.
The 52 goals Ajax have scored this season are divided amongst fourteen different players. Despite this, the top scorer in the league does not currently play in Amsterdam, though he is under contract with Ajax. Danilo, who is on loan at FC Twente currently leads the league. The Brazilian has scored eleven goals, two more than the top scoring Ajax player, Dusan Tadic, who has nine. Tadic is then followed by Lassina Traoré who has scored seven goals so far.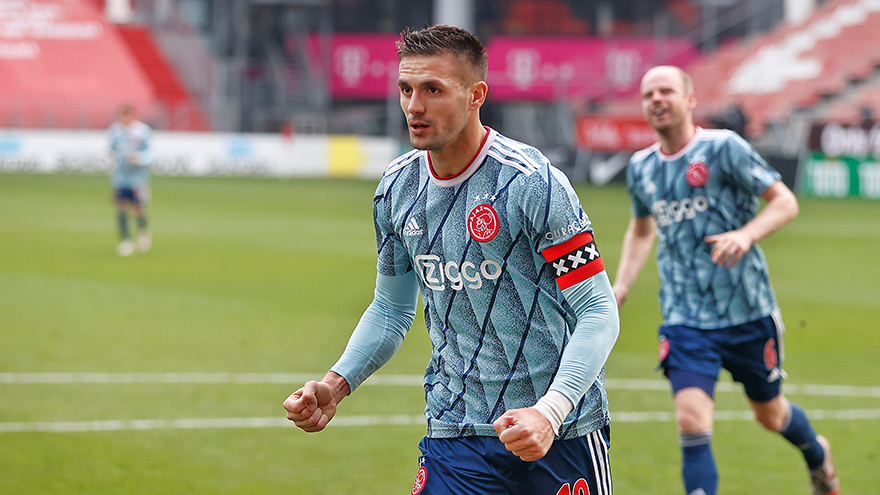 When it comes to providing goals, Ajax do have the league's top man in Brazilian forward, Antony. The 20-year-old leads the Eredivisie with seven assists. He also has six goals, bringing his total goal contributions to 13, the most of all Ajax players. Not far behind is Tadic, who, in addition to his nine goals, has provided three assists, bringing him to a total of 12 goal involvements.
Topping the table is a team effort, though. Of the 52 goals Ajax have scored, thirteen of them came in the record victory away at VVV-Venlo: 0-13. Ajax also set a record for the most shots in that game, with 41.
Ajax are thriving, both in the scoring and preventing of goals. The Amsterdam side have produced the most shots of any club in the first half of the season with 325. Seventeen percent of these shots have resulted in goals, which is also league leading. PSV, AZ, en VVV-Venlo are just behind with sixteen percent. Feyenoord is the team with the second most shots with 236. With so much traffic towards goal, it is logical that Ajax have also generated the most scoring chances so far this season with one hundred in total. PSV is second with just 51 and Feyenoord and FC Twente are even in third with fifty. Tadic and Quincy Promes are the players who have had the most goal scoring chances with fourteen each.
It is no surprise that having so many chances on goal comes from dominating the ball. Ajax are also leading the Eredivisie in possession. The team averages 68 percent of the ball in matches. PSV is second with 61 and Feyenoord are third with 55. FC Emmen come as a bit of a shock. Despite being last in the table, they are fourth in terms of possession with 54 percent.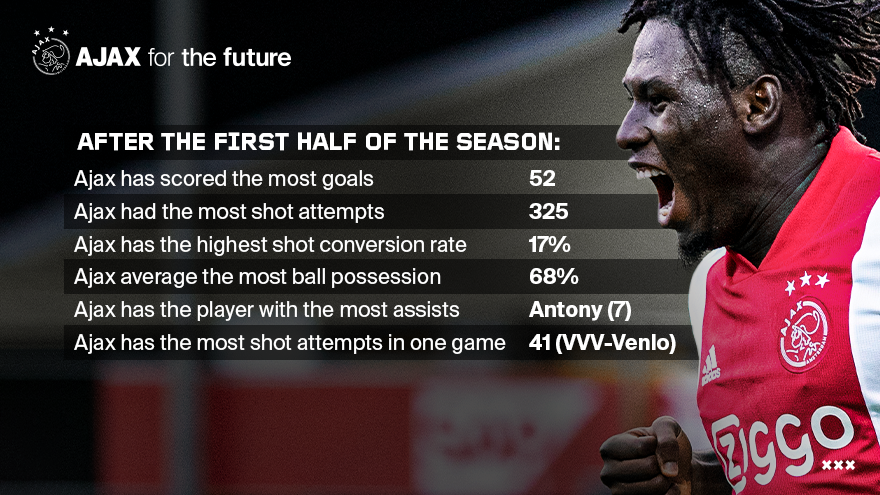 Ajax are equally strong defensively. Erik ten Hag's side has allowed the fewest shots against with only 122. Of that total, 49 were on goal and 46 were not. An additional 27 shots were blocked with only 10 shots actually resulting in goals. AZ has allowed the second fewest shots gainst, with 128.
On and individual level, Andre Onana is one of the best goalkeepers in the Eredivisie. The Cameroonian has a save percentage of 80%. He is only behind Feyenoord keeper Nick Marsman who leads the leage with 87%. However, Onana has played fourteen matches to Marsman's eight. Onana also leads the league in clean sheets with seven.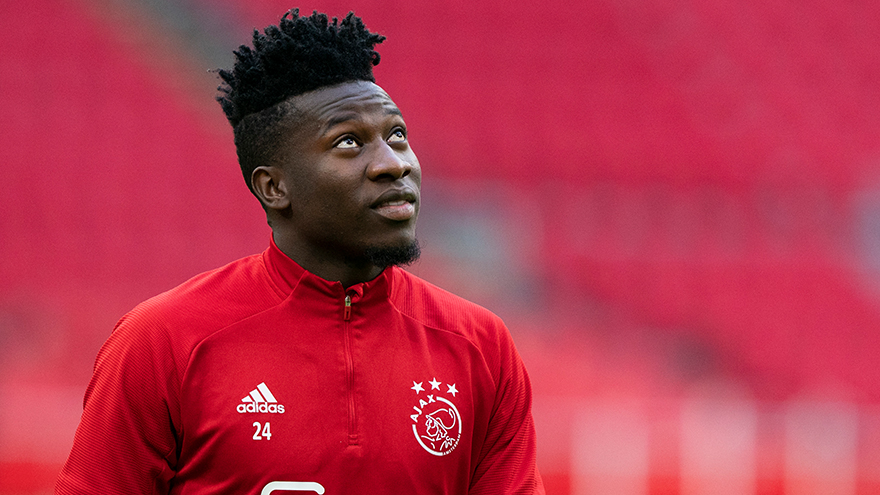 The statistics show that Ajax are strong at both ends of the pitch. But where can the Amsterdam side improve based on the data from the first half of the season?
Undoubtedly. Ajax can improve in their conversion of corner kicks to goals. Although Ajax lead the table in goals scored from corners with five, that is mainly a result of the 127 corners that Ajax has taken. Feyenoord, for example, is more effective than Ajax from corners, scoring on 6.8 percent of their chances. Clubs like Heracles Almelo (6.5 percent), AZ (5.8 percent) and Vitesse (4.9 percent) are also doing better. FC Groningen and FC Twente also stand between Ajax and the top four in terms of corner kick scoring percentage.
Furthermore, whereas Ajax have many players in the top scoring and assisting categories, ten Hag's men are lagging behind in terms of their effectiveness when it comes to scoring. VVV-Venlo has taken 38 shots and scored with 26% of them. Danilo (FC Twente) and Henk Veerman follow just behind with 24 and 20 percent, respectively, of their shots resulting in goals. Steven Berghuis leads the league with 53 shots attempted, having scored 19% of them. The Ajax players with the most shots is Quincy Promes with 34. He has scored on 15 percent of his attempts.