We start by comparing Gravenberch's statistics from the final stint of the 2019-2020 season with his stats from the first half of the current campaign. Between the restart of the second half of the season on January 19 and the last game before COVID shut down football, the 18-year-old played seven matches. In the current season has already played nineteen.
Gravenberch himself has said that he has begun to feel more and more comfortable. In the early months of the calendar year, he claims he was too much in his own head, which kept him from trusting his intuition as he actually wants to. He seems to have shaken off that overthinking more and more.
Gravenberch toonde tegen Liverpool zijn ontwikkeling op het middenveld.

De middenvelder maakte op zijn zeventiende zijn Europese debuut thuis tegen Getafe op 27 februari.
A first look at the numbers confirms Gravenberch's enormous growth both with possession and without it. Gravenberch has made progress in almost every facet of his game. This is especially remarkable given the quality of the opponents Ajax has faced in recent months. Even including the matches in the UEFA Champions League, Gravenberch has been consistent statistically.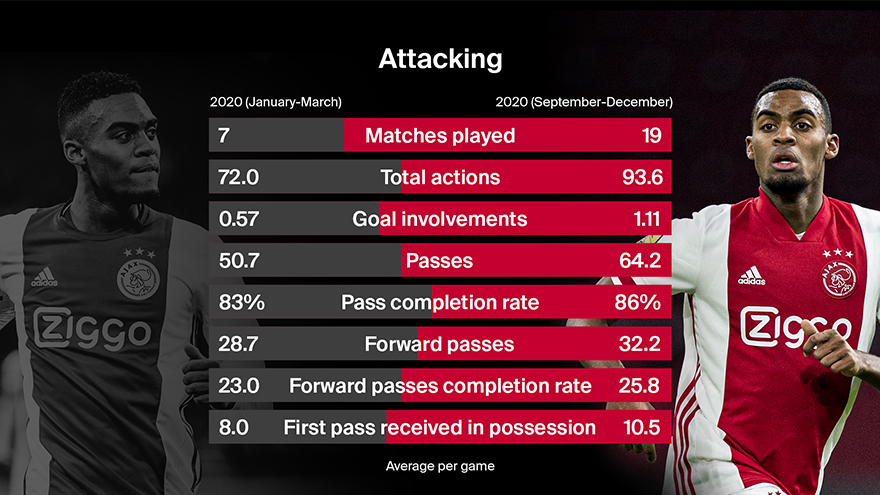 Next, we can look specifically at Gravenberch's numbers in possession. One figure that is immediately telling from an attacking standpoint is his average goal involvements per game, which has doubled in recent months. Whereas the Dutchman was first involved in only 0.57 goals per game, he has been involved in 1.11 goals per game in the 2020/2021 season. In any case, he is far more active this season, with 20 more actions per game than before.
Gravenberch is, therefore, more dominant in possession. Because he drops deeper in his role as a left midfielder, he often receives the first pass when Ajax are on the ball.  From that position, he makes an average of 14 more passes per game than previously. His forward passing has also improved, with almost three more forwarded passes per game. Finally, his dribbling stats have also seen growth: where he used to complete 4.4 dribbles per game, he is currently averaging at least nine.
Duel winning
Gravenberch has also made strides defensively. He is involved in more aerial duels (an increase from 0.6 to 1.7 times per match) and wins them more regularly. Although he is involved in less regular duels, his win percentage has increased to 44 percent from 38 in recent months.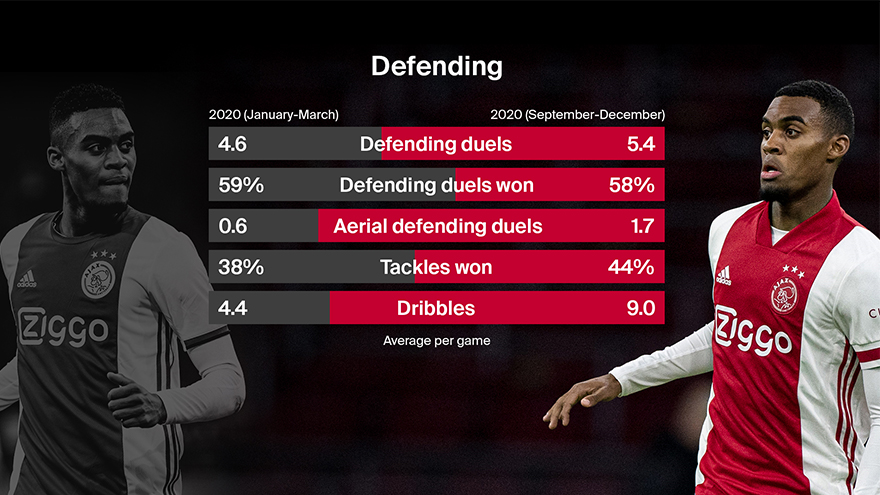 The Ajax youth academy product has also seen an improvement in his interceptions per match, a vital stat. Graveberch is currently intercepting one more pass per match than before.
Mental clarity
The picture that Gravenberch has painted in his interviews seems to be reinforced the numbers themselves. His newfound mental clarity is most evident while on the ball – that being the area he has made the most progression in.
With improvements in his dribbling stats, his growth in ball wining and his increase involvements mean that if he continues at this rate, 2021 will be a fantastic year for the young Dutchman.