We go back to January 2017 when Martínez played a match with Argentina's U20s against Peru U20. The first signs of the Argentinian are good. "He plays as a left center back and has a good technique with pinpoint short and long passes."

2018 – Interest is concrete
More than one year later, in April 2018, Martínez stood out again. This time during a match for his club at the time, Defensa y Justicia, against Boca Juniors. "Great kicking technique and extremely versatile. He leads the field, is tough as nails and plays with grit."

After that, the interest from Ajax became more concrete. In September of the same year, Martinez's physical prowess stood out during a match against Banfield. "He has a sturdy build, is physically strong and his agility is good. His jumping power and speed are also excellent." Despite his current position on the left side of the defense at Ajax, he played right back during that match. "Almost two-footed with a functional technique."

It was clear in that match that he would fit in well at Ajax. "In possession of the ball, he participates well in the build-up and is always available. Lisandro wants the ball and is always on the move even if he doesn't receive the ball. When the opponent has possession of the ball, he can play with space behind him and is strong in one-on-ones." His 'grinta' also stood out, of course. "Lisandro is sharp, fierce and rock hard when needed. He has a real winner's mentality, stays calm but quickly hits the switch when things need to be brighter or sharper. Always everything at one hundred percent."

The conclusion after this match was clear in the scouting report: "Continue to follow emphatically and review again as soon as possible. This may well be the second Nico Tagliafico; a real defender who knows what's what."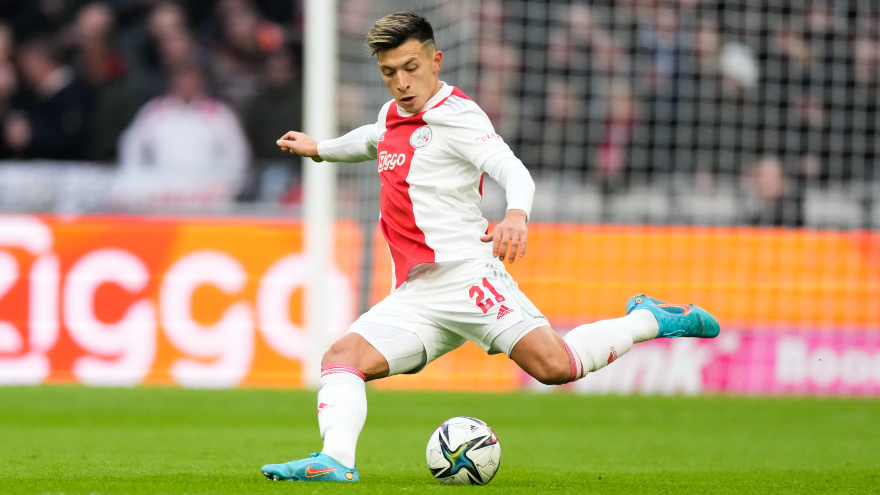 Meeting
In March 2019, the interest continued unabated and the scouts were more and more convinced by the talented Argentinian. "Martínez is a player who reads the game and plays with insight. He is proactive, dares to cover and anticipates balls that are played. A player who makes the right choices and has excellent touch with his left foot. He also likes to dribble into midfield."

After this match, Lisandro was also introduced to the scouts for the first time. The introduction was very positive. "The player appeared calm and confident and is eager to take the next step in his career."

Champions League Level
In the report from April 2019, the scouts are convinced. "His play-in pass with the left is top notch; hard and clean so that a number of opponents are immediately cut out of the play. His long ball is also good. He plays a ball thirty to forty meters to midfielders running in behind the defense, so that they are directly one-on-one with the keeper. He has the ball on a string when he dribbles in and almost always has a good follow-up in his passing. His timing is good, so Lisandro wins many headers. He takes on physical duels with full dedication and partly due to his good insightful qualities, he does this excellently."

The scouts were clear in the latest report. Lisandro Martínez would be a reinforcement for Ajax: "Technically and insightfully, a player who can play at Ajax's Champions League level."

Ultimately, Martínez signed a contract with Ajax in May 2019 that took effect on July 1, 2019. The Argentinian played a total of 120 official matches for Ajax 1.