A week after the first match against the recently promoted Heracles, Excelsior will be the first opponent in an away match. The Klassieker, which will be played at home in play round five, is the first big match in the Eredivisie for Ajax. Although, the opponent in play round four, FC Twente, also played impressively during last season.
So far, there are three Eredivisie matches planned in October. On Sunday, October 8, the home match against AZ will be played at 14:30. Three weeks later, on Sunday, October 29, PSV-Ajax will be played at 14:30. It will be the first battle against the team from Eindhoven. Another match that stands out is Almere City – Ajax. The team from Amsterdam will play against Almere for the first time in history on Sunday, November 12 at 14:30.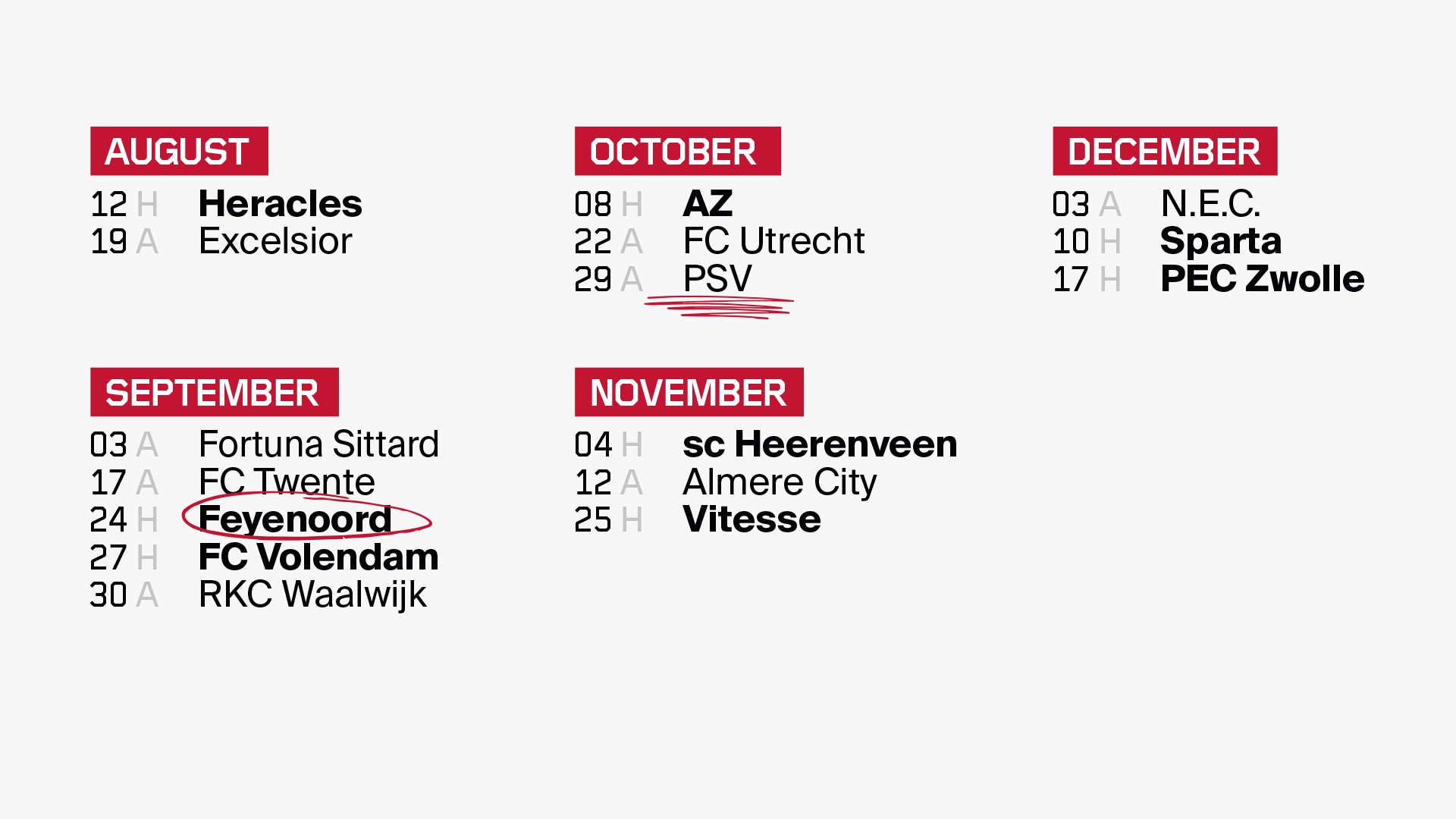 In the second half of the season, Ajax – PSV will play against each other in February 2024. The traditional clash with the team from Eindhoven will be played on Saturday, February 2 at 20:00. In the last match of that month (on February 23 or 25) AZ – Ajax is an important match to look forward to. In the new calendar year, many match dates still have to be determined. Feyenoord – Ajax will be played on April 5 or 7, and the home match against FC Twente will be played on April 12 or 14.
The Ajax players will finish the season on Sunday, May 19, with an away match against Vitesse. All matches in that last round will start at 14:30. A week earlier, in the second last play round of the 2023/2024 season, Almere City will visit Ajax in the Johan Cruijff ArenA on Sunday, May 12, at 16:45.
The schedule is subject to change.
Ticket sales
The ticket sale for all home matches of the first half of the season will start on July 11.