The former goalie was immediately handed a massive task upon his appointment. Shortly after announcing that he was joining the board, the shirt sponsor at the time, Aegon, indicated it would not renew the contract. As of 2014, Ajax had to look for a new main sponsor. Which was found in Ziggo. A loyal partner that still adorns the white-red-white Ajax shirt to this day.
It was his first success in his Ajax tenure as director. But where did Ajax stand in 2012 and where does the world stand in 2022?
Ajax had become national champions for the second year in a row after several years without titles, with Frank de Boer responsible for the sporting success.
Trophy cabinet
Van der Sar chose a different path in football than his former teammate. Not the grass of the pitch, but the office. And with great success. Since the former international joined the board, the trophy cabinet has been revitalised:
Dutch Championships since 2012:
5x: 2013, 2014, 2019, 2021, 2022
*In 2020, Ajax were also first when the league was cut short because of COVID-19.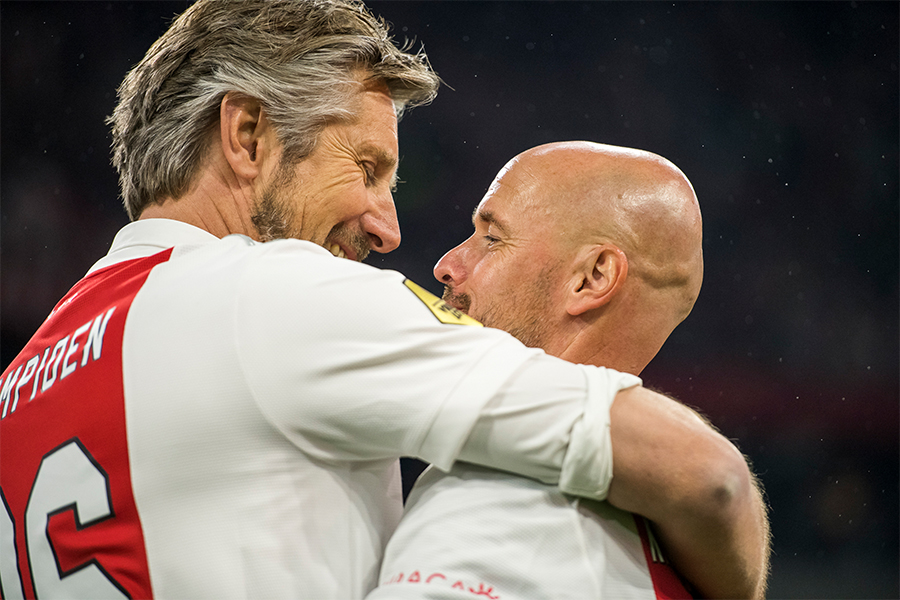 Dutch Cup since 2012
2x: 2019, 2021
Johan Cruyff Shield since 2012
2x: 2013, 2019
The women's branch of Ajax had already been founded just before his arrival, but since joining the management, it has won the KNVB Cup five times, two national titles and the Eredivisie Cup once.
Ajax also made their presence felt in Europe. In spring 2017, Ajax faced their first European final since 1996. The Amsterdam team did lose to Manchester United in the UEFA Europa League final, but Ajax were back on the European stage. The matchday video 'We are back' reinforced that feeling once more.
The European success, as well as the national titles in the Netherlands caused the club to grow in many areas. Ajax became popular inside and outside the Netherlands.
This was also directly reflected in Ajax's net turnover and football revenue. Net turnover increased by over eighty million in ten years.
Revenue in 2012:
Net turnover: 104.1 million
Revenue in 2022:
Net turnover: 189.2 million
Ticket sales also increased and because of good performances in the UEFA Champions League, among others, Ajax received higher European premiums. This is summed up in Ajax's 'football turnover'.
Football turnover 2012: 48.0 million
Football turnover 2022: 98.9 million
Ajax got bigger as a club, growing from 242 FTEs to 448 FTEs. Those successes were more visible to the outside world on social media. And growth is still visible on several platforms.
Social media and Ajax App/site reach:
Facebook 2012: 530 k
Facebook 2022: 3.5 million
Twitter 2012: 144 k
Twitter 2022: 1.7 million
Instagram 2012: n.v.t.
Instagram 2022: 7.9 million
YouTube abonnees 2012: n.v.t.
YouTube abonnees 2022: 946.014
Tiktok 2012: n.v.t.
Tiktok 2022: 7 miljoen
Users Ajax.nl + App 2012: 400.000-1.2 million 
Users Ajax.nl + App 2022: 1.7 million
Thanks to the successes on the field, Ajax players also became more popular. Transfer records were broken in ten years. In 2012, Klaas Jan Huntelaar was still the Ajax player with the largest price tag: 27 million. Ten years later, that amount had tripled. Brazilian Antony left last summer for 95 million (excluding bonuses) to Manchester United.
Team achievement
Van der Sar leaves no opportunity wasted in defining all developments as team achievements. Just as he laid down the organisation on the pitch as a goalkeeper, he also sees his directorship as a role he cannot fulfil without the people around him.
In the 10 years that the ex-pro has held a management position at Ajax, he has championed the club's role in society. The club's CEO is therefore also chairman of the Ajax Foundation.
Solidarity Payments
Van der Sar achieved more than mentioned above. Outside his position at Ajax, the general manager holds various positions in European football. For instance, he was involved in setting up solidarity payments within football.
What exactly does that entail? If a player moves from club A to club B, club C (where the player was trained) still gets compensation because of his youth years at the club. If that same player eventually moves from club B to club D within the same country, thanks to the introduction of solidarity payments a contribution continues to flow through to the club where he was originally trained.
UEFA Conference League
Also, as vice-chairman of the European Club Association (ECA), the former goalie, along with several others, made the case for the introduction of the UEFA Conference League. They saw that new European competition as a safety net for top clubs from the 'subtop countries'. In doing so, he wanted, among other things, to prevent a country like the Netherlands from missing out on many European points after an early elimination in the UEFA Champions League following a busy summer win in which key players had been sold. 
So in ten years, the club's director has been able to make his mark to a considerable extent, both within Ajax and outside. A contract until the summer of 2026 for Van der Sar ensures continuity at the top of Ajax.