"I had mixed feelings", Pasveer said about the match in Portugal. "I helped set up the 0-2, which really gave us a boost. But then I made a mistake on the goal they scored after. I doubted whether I could get to the ball then I was out of position. That just didn't look good."
"That was disappointing. The focus then had to be right back on the next moment. Fortunately, I've been around for a long time and then you know that something like this sometimes happens. It does put you on edge and I'm glad I was able to play again against Cambuur."
Build-up
The pass that initiated Sébastien Haller's second goal against Sporting certainly didn't come out of nowhere. "I talked about it with Antony before the game; we knew that the spaces there could lie behind their defense. It worked out perfectly, after an excellent move and cross from Antony. That was fantastic."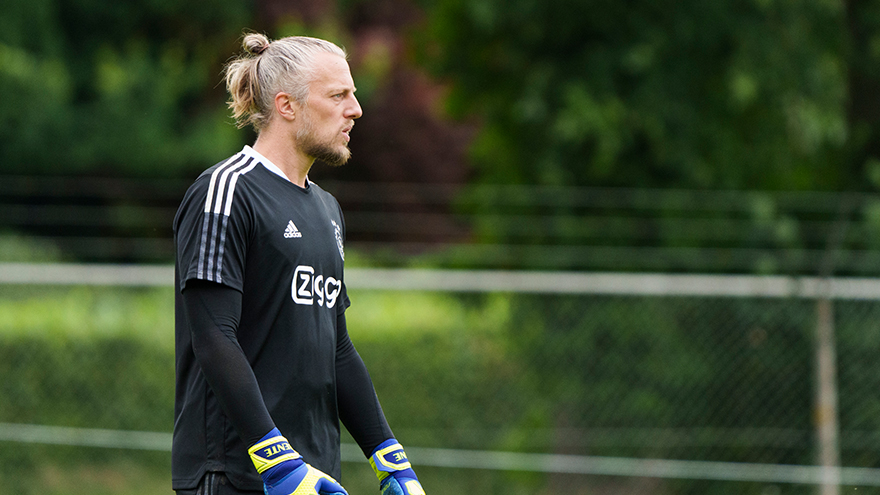 In terms of pressure and intensity, the duel with Cambuur was very different from that with Sporting. However, the goalkeeper did not have any trouble with that, not even when his team was well ahead. "It was not boring, especially not in the beginning. You come off the back of a European match and you know that you have to be very sharp again. Cambuur has fast players and can counter well, which means you have to be very attentive."
Team process
Pasveer, who joined from Vitesse this summer, is starting to feel more and more at home in Amsterdam. However, the adjustment did not go smoothly. "I have had to adapt at a competitive level, not physically. That is more about team process."
"You have to find out how certain teammates time their defensive actions and who wants to receive the ball in which way. That is a process that sometimes takes a while."