Marko Pantelic played in Amsterdam during the 2009/2010 season. The striker made 38 official appearances for the Ajax first team and scored 21 times. "I look back at that time with pride. We were playing great football back then, scored plenty of goals and many of my teammates went on to play for great teams, too. Ajax is great for everyone who plays there. I'm hugely grateful to have been part of that club."

Challenges
The Serb joined Martin Jol's squad on the final day of the transfer window in 2009. "I had other offers from the Premier League, too, but I didn't want to go there just for the money. I'm not like that. I was seeking a challenge and didn't think about financial aspects. At that time, Ajax represented a challenge, in my review. That spurred me on every day, otherwise I would never have come to Amsterdam."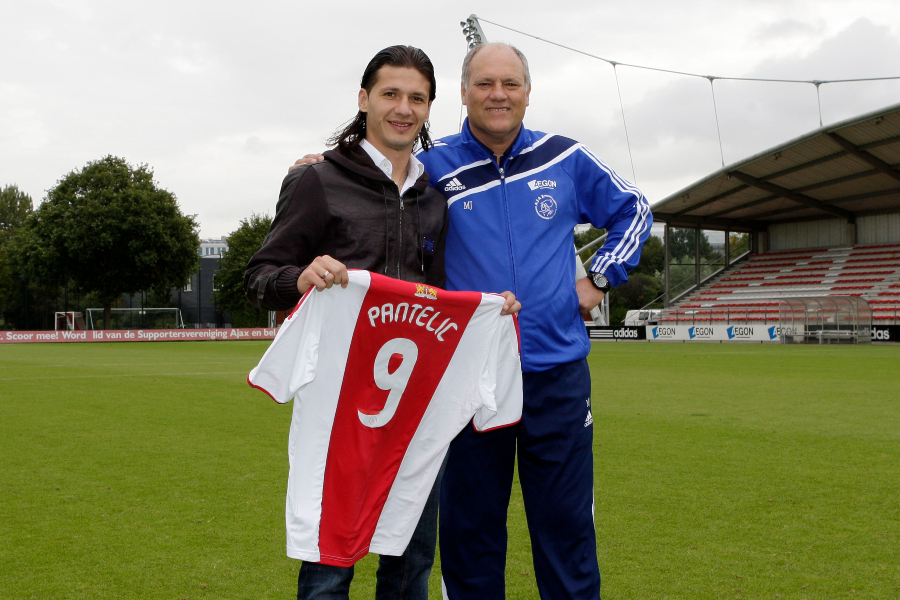 Pantelic claims some media had their doubts about the striker when he arrived, owing to his age. "Unlike now, Ajax weren't so quick to take on older players back then. I think things changed once I arrived, because I had something to contribute to the squad, in more ways than one. After that, Klaas Jan Huntelaar, Daley Blind and Dusan Tadic were brought in, for example. I made a good impression over ten months, something I'm very proud of. In the 5-1 victory over Feyenoord at home in early November, the supporters took a shine to me: I provided three assists."

The chemistry between him and Luis Suarez was highly productive that season. "What's most important is respect for each other. You have to earn that from each other and it's not related to someone's status. Despite my age and experience, I just had to show it, and earn it, out there on the pitch. This is something you just expect from high-profile players. Luis and I put on a lot of great play, which fans flocked to the stadium for."
PSV at home
Because Pantelic only came to Ajax on deadline day, he missed the match against PSV in Eindhoven. But he did make the home leg in Amsterdam. Ajax won 4-1. "Rivals clashes are always special. These are not everyday fixtures. This is what you live for, you have to stand out and be prepared. We had to win on home turf, and this we did resoundingly against PSV with four goals. Just like Feyenoord, we beat them good and proper that season."

An incredible back heel kick from Pantelic led to a great Ajax goal by Urby Emanuelson. "I saw a gap near Urby and decided to try a back heel. Luck also played a part. My pass was amazing, but Emanuelson turned it into something magical," the striker laughs.
"That game against PSV was important for me as well as for the team. It was a good time for us, and we were winning everything. Before that match, they told me in the dressing room just what a clash against PSV really meant. I told them not to worry because I had played in derby matches in Serbia. Losing those was also out of the question. Whatever happened, I was a fighter, that was my mindset."

Ajax is Ajax
Pantelic soon won people over at Ajax. The former striker appreciates that enormously, but knows that things like that don't just happen automatically in Amsterdam. "What I learned at the club is: Ajax is Ajax. It doesn't matter where you come from or what you've achieved. At Ajax, you have to prove yourself out there on the pitch. I worked at proving myself, behaved accordingly, and finally demonstrated it with my legs. What we ultimately achieved together, and the interaction out on the pitch, are things I am very proud of. I loved the fans while I was at Ajax. In the world of football, everyone else always knows better. All that really matters is how you perform on the pitch. There's no talk out there: out there with the ball, your legs do all the talking. Ajax fans could tell I was giving it my all on the pitch."
Fellow countryman Tadic can count on huge admiration from Pantelic. "I know him really well. He is a very significant player and has been proving so for years. It's to be expected that he sometimes draws criticism, that's just part of football. But people should never forget that we Serbs give it our all on the pitch."

Dedicated
Pantelic still follows his old club very closely. "Ajax has said goodbye to many decent players in recent years. It's sometimes difficult to see why, but I see plenty of decent players every season. They are currently putting a new team together. It's quite a challenge, but you can see where they're headed. It gives me confidence that they will continue to flourish in the years to come."

Thinking ahead to the match against PSV, Pantelic looks back to 2010. "It will be the same match. The Ajax players on the pitch will sort out who wins the game. The most important thing for the Ajax team is to stay calm. They know it's a big rivals clash, but they have to stay level-headed and believe in themselves. Ajax has better quality. They need to make it clear that PSV don't stand a chance in Amsterdam. We're going to win, helped along by the fans. They have to support the team and cheer for the three points."