Stekelenburg was allowed to join coach Ronald Koeman's first team during the 2002/2003 pre-season friendlies. "The year before I was with Ajax reserves, or Ajax 2 as it was then known. I was just a young lad and occasionally trained with the first team. Bogdan Lobont and then Joey Didulica were the original goalkeepers, but they were both injured in pre-season friendlies. At that point, it wasn't in my mind to become the first goalkeeper at that moment, I was just happy that I could take part in the pre-season friendlies."

Final
But because of those injured players, a potential debut suddenly loomed large. "I just knew there would be an automatic transfer when they both dropped out. Did I think they might have to buy someone to fill that gap? No, I went to training, did my best and then waited for the call." In the end, the then nineteen-year-old goalkeeper got the call just two or three days before the Johan Cruyff Shield against PSV. "I was slightly nervous, but I was able to prepare properly. I was straight into a final. We won 3-1 and in the end it was a great debut, It could have been a much worse start."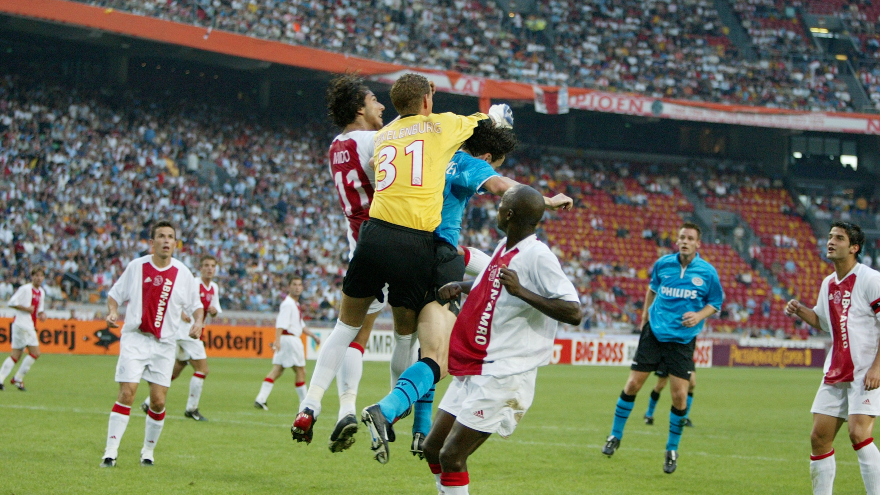 Stekelenburg made thirteen official appearances in his debut season. "I got off to a good start, but soon got injured. As a young keeper I was trying to get up to the first team's standard quickly. Although I did feel the step up to the Ajax first team was huge, especially in terms of intensity and endurance. Fred Grim helped me a lot In the early days, although mostly I just did my own thing. I feel I settled in pretty quickly."

Physical step
"Settling in is important. You have to, otherwise you'll fail. The same goes for the young lads we have at the moment," the goalkeeper goes on. "We had a fantastic team at Ajax 2, who reached the cup semi-finals - and yet the physical step up was enormous. And that meant I suffered a slight injury towards the start. Which was a shame, as I was really enjoying my first season. It all turned out fine in the end, because I hadn't expected to play in goal much that season."

In 2010, Stekelenburg experienced one of his career highlights at Ajax. "We hadn't made it into the UEFA Champions League for a long time. In the years running up to that, we had been knocked out several times in the qualifying rounds, so it was also a thing within the group. It was quite a tough time, because we had not been champions for ages. We felt that pressure, but we also brought it on ourselves. Letting off that pressure against Dynamo Kiev after we qualified was insane."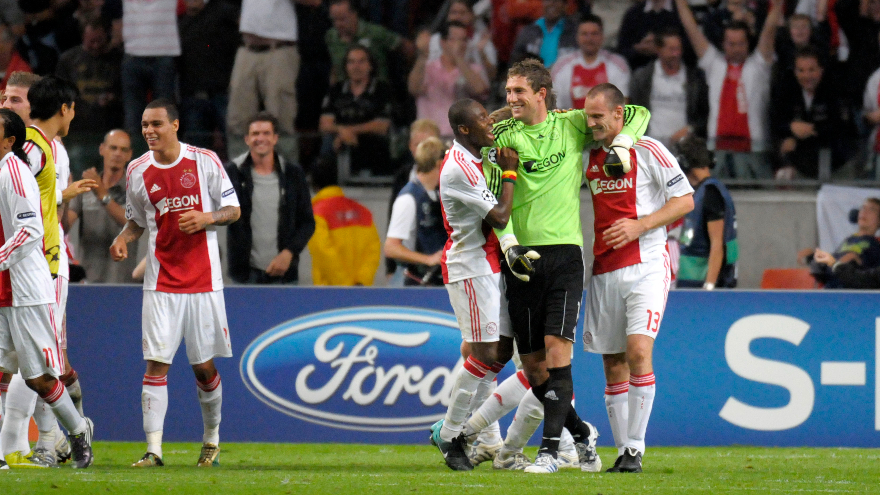 Return
Stekelenburg also names winning the third star in 2011, his debut and his return in 2020 as highlights of his career. "Once Andre Onana dropped out, I was selected to play again and I was there for the double. I'm really proud of that. I had been abroad for nine years and when I decided to come back to the Netherlands there was only one club I was hoping for. Fortunately, Ajax made the call. When my agent called, I didn't give it a second thought. For it to have turned out like this in recent years, with so much time spent in goal and so many trophies, that is fantastic."

Before his return, Stekelenburg had played for AS Roma, Fulham, AS Monaco, Southampton and Everton. "Of course you never really know how a career has been going. Compared to others my age, I have been at Ajax for a very long time. But that was deliberate; I didn't want to leave until I was ready. I always had a great time here and never felt the need to leave. After the World Cup final in 2010 and the third star in 2011, I thought the time was right. That's when you look at options and start making decisions. And you don't know whether it's the right decision. To this day I don't regret any of the decisions I made."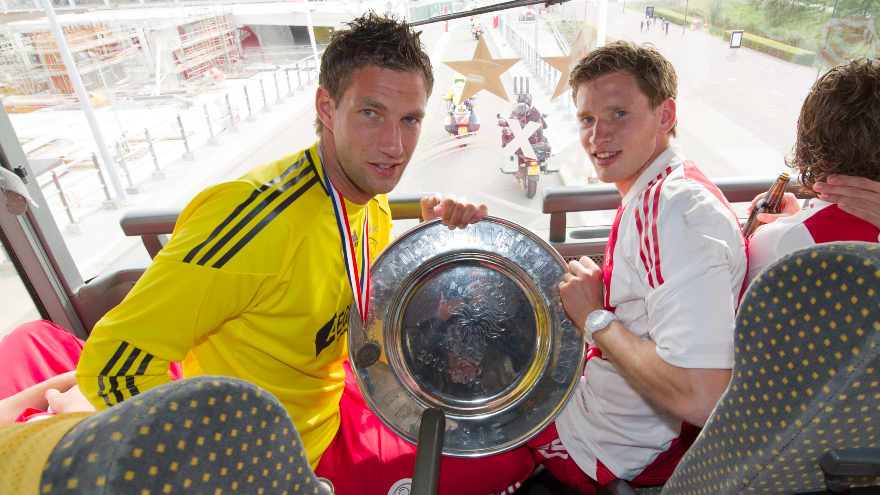 Abroad, the goalkeeper faced true disappointment and setbacks for the first time. "I think you need that. It makes you tougher and moulds you as a person. Things don't always go the way you want in your career." At AS Roma he got to know just how tough the footballing world can sometimes be. "I was brought in as their main goalkeeper and played almost every match in the first year. In 2012, after the European Championships, I went away on holiday with the Orange squad for two weeks. When I went back, they had bought a new goalkeeper and I hardly played at all. After that I was put on a plane to London to see out my loan to Fulham and then Roma pulled the plug at the last minute, it was all over. Those are the knocks, you have to learn to deal with them. It makes you tougher - it's awful at the time, but with hindsight, it didn't do me any harm."

Calm
Now, twenty years later, Stekelenburg thinks this goalie has changed. "I'm a lot calmer now, because I've seen it all already. I exude calm a lot, and don't panic so easily. We have a lot of younger guys these days, so I'm coaching a fair bit. I think my experience is a definite plus for this young team."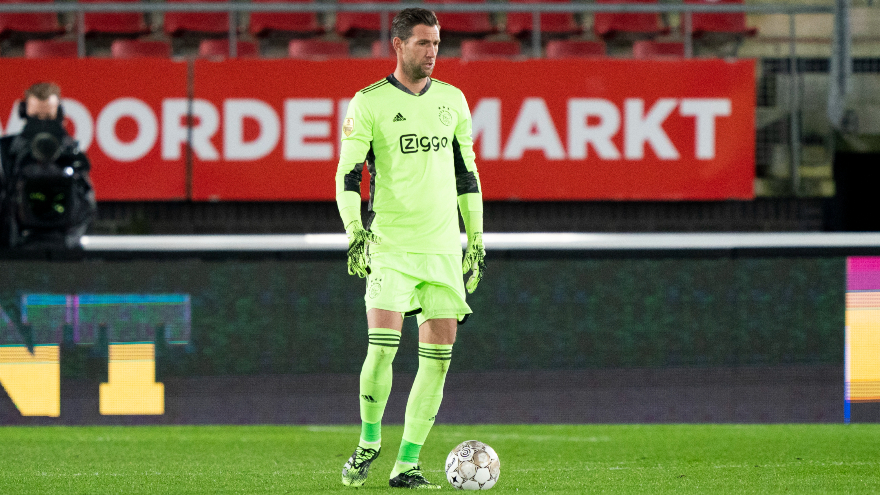 "I've been through it all. I don't panic so easily these days. If I had a bad game, it would play on my mind for ages. That doesn't happen now. No one wants to play badly, but we all have a bad day once in a while. I don't obsess about it any more. If I make a mistake in the tenth minute, there's still another eighty to go. I can easily get over it these days, but that only works once you've been around a bit."

Increased level
What's more, he also sees that demands are greater, at both club and individual level. "All of football has changed. At Ajax we always had to win the European championship and the cup, but in my early days it was fine just qualifying for the Champions League. Now we have to go all the way through each winter. The bar has been set higher, but that's how it should be. Football from back in goal has also grown enormously, not just at Ajax. For young goalies in the Netherlands the emphasis is sometimes more on the football part, I think. But of course football evolves, it just keeps on going forward."

"Training drills have also changed. When I came back to Ajax in 2020, Erik ten Hag used variations on positional play that I had never done abroad, I really liked that. Abroad, goalkeepers don't normally get so involved in positional play," the goalkeeper continues.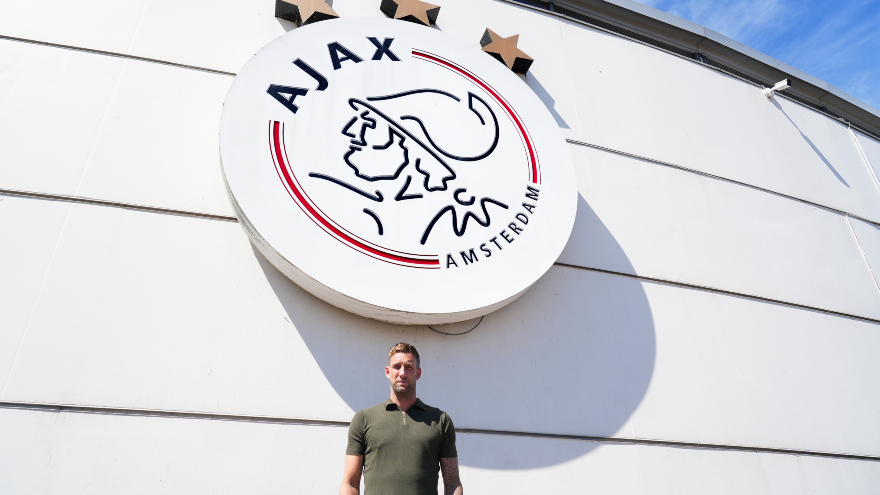 Stekelenburg has now been in goal for 311 official fixtures for the Ajax first team, and has no thoughts of giving up just yet. "I feel great, I'll be 40 next month and provided the club is happy and I'm having fun, I'll keep going. As long as I keep fit, I have no intention of retiring. I also can't think what to do next. The moment I decide to stop, I know I will take some time out. So I can find out what it's like, spending time with my wife and children. Then fate will decide. As long as I'm still playing football, I don't have time to think about that."