Check out the league tables on our website, on page 819 on Dutch teletext, or on your football app, and take a look at the final positions in the Eredivisie. With a sixteen point lead over second-place PSV and a goal difference of +79, the numbers really make it clear how things stand in the championship.

But what does a closer look at all those numbers reveal? For example, at what point in the matches did Ajax score most often? How does the percentage of wins this season compare to other seasons, and which players featured most in the 102 goals Ajax scored over 34 matches played?
Goals grouped into match periods
First, let's take a look at those goals. They were split evenly over both halves. Ajax scored 50 goals in the first half and even went one step further after half-time: 52 goals.
Those goals can be further split between the 15-minute sections in a game. Interesting: most goals were scored in the final section of the match. This can be seen as direct proof of the Ajax players' fitness compared to their opponents.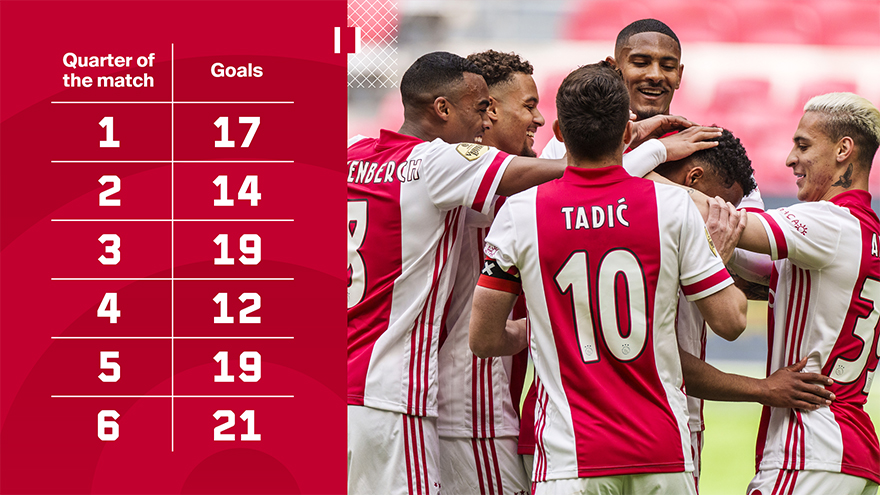 Of the 102 goals scored, 93 were shot from inside the penalty area, nine were scored from outside it. We can also look in even more detail at how the goals were scored. Was it the left foot, or the right, or perhaps just a header which made all the difference in a match? Incidentally, this does not add up to exactly 102 goals. Own goals have not been counted:
| | |
| --- | --- |
| Goals by part of the body | # |
| Right foot | 42 |
| Left foot | 40 |
| Head | 14 |
| Body | 3 |
Ajax had a total of 627 shots at goal. Looking at the 99 goals Ajax scored itself (not counting the three own goals), those shots at goal were successful sixteen percent of the time. That is the highest percentage in the Eredivisie. AZ is just behind Ajax, at fifteen percent. It is interesting that both PSV and relegated VVV-Venlo are in third place after that, at fourteen percent.

Goalscorers
Of all Ajax's goals, 26 arose out of normal play. These too can be split up into different categories; eleven penalties, eleven corners and four free kicks.
So who scored for our team? Here are all the Ajax goalscorers at a glance:


Dusan Tadic 14
Davy Klaassen 12
Sébastien Haller 11
Antony 9
Klaas Jan Huntelaar, Lassina Traoré 7
Quincy Promes 6
Zakaria Labyad 5
Mohammed Kudus 4
Brian Brobbey, David Neres, Jurgen Ekkelenkamp, Ryan Gravenberch, Lisandro Martínez, Devyne Rensch 3
Edson Álvarez 2
Daley Blind, Perr Schuurs, Nico Tagliafico, Jurriën Timber 1
Both Dusan Tadic and Antony were also heavily involved in setting up goals. Tadic made no fewer than seventeen assists. Antony set up goals on eight occasions.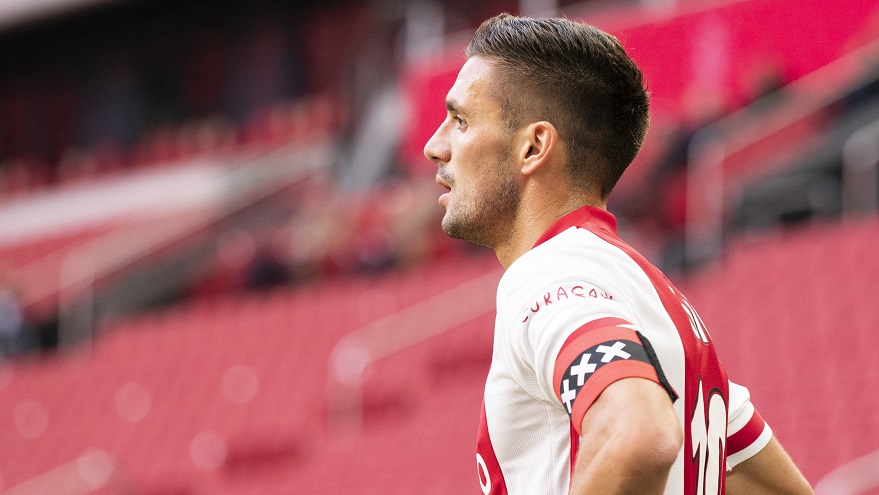 Thirty players went on for Ajax
Altogether, thirty players appeared for Ajax in the last Eredivisie season. It might sound a lot, but it's fairly typical. Teams like Feyenoord, Fortuna Sittard and Willem II used similar numbers of players throughout the Eredivisie season. By comparison, ADO Den Haag and PSV used 37 and 36 players respectively, the highest this season. Sparta used the fewest: 23.
Both Ajax and PSV saw a fair few substitutions. Seventeen of PSV's goals were scored by a substitute, while for Ajax it was sixteen. FC Emmen and sc Heerenveen saw the lowest numbers. Substitutes scored just twice for those two teams.
Manager stats
So, Erik ten Hag used thirty players this year. But can he look back on a great season himself, too? In terms of silverware, the 51-year-old trainer took the double with Ajax, but his percentage of wins in the Eredivisie is also impressive. He equalled the fantastic 2018/2019 season in terms of three-pointers: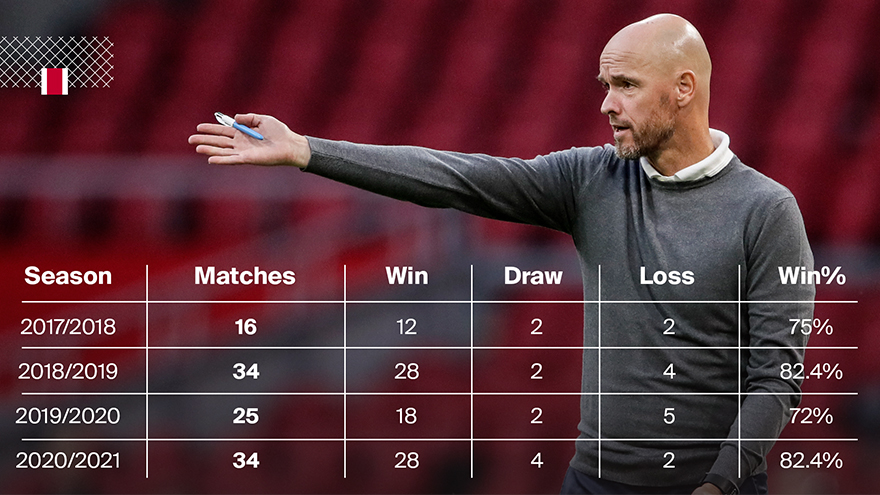 We can also look a little deeper into the average age of the players who went on for Ajax. On 31st October, 2020, the manager selected the youngest line-up of the season. In the 5-2 victory over Fortuna Sittard, the average age of the opening players was 22 years and 358 days. These then were the eleven names at kick-off:

Onana, Mazraoui, Schuurs, Blind, Martínez, Klaassen, Ekkelenkamp, Gravenberch, Neres, Traoré, Antony.

Six weeks later, against PEC Zwolle, Ten Hag rolled out his "oldest" line-up of the season. On that occasion, the average age of the opening players was 26 years and 354 days. Ajax won that game 4-1 and started with this eleven:

Onana, Klaiber, Schuurs, Blind, Tagliafico, Klaassen, Promes, Gravenberch, Antony, Huntelaar, Tadic.
The opening line-up for the final match (against Vitesse) was somewhere comfortably in-between, in terms of age: 23 years and 337 days.
In total
This was a season when Ajax broke through 100 goals for the fifteenth time in the team's history. Ajax also achieved a total for the season of 88 points. Only Ajax (89 points in the 1997/1998 season) and PSV (88 points in the 2014/2015 season) have succeeded in doing this since the three-point system was introduced.