There was no better place for the conversation with De Haan than the sports complex De Toekomst canteen. De Haan has been working here as a youth coach since 1998, having played in the youth academy for eight years before that. ''I started as a coach and was already familiar with working here. That was an advantage'', he starts.
Parents
''Norms and values. Time is time, and agreement is agreement. That is what I teach the children to this day'', De Haan continues. ''Discipline is essential to me; I was brought up with it.'' De Haan grew up with a mother working in education and a father who was a professional football player and coach at Ajax. ''The human aspect and the way of working with children or people are what they taught me the most. It's not just the player on the pitch, but also the situation at home, the personal background and feelings that are crucial.''
De Haan considered playing football the best thing there was when he was a child. Despite that, his parents gave him some good advice. ''I needed a backup plan in case I did not become a professional football player. I wanted to learn a profession, which is how I became a coach. It never proved to be a bad choice.'' De Haan looks around and calmly says: ''Do you know what it is? I don't see it as a job. Till this day, I love working at Ajax, and I have developed myself greatly as a human.''
In those 25 years, De Haan worked under several heads of the youth academy. Without selling someone short, he stresses, he mentions a few. ''With John van den Brom, I really liked the human aspect, and Hans Westerhof and Jan Olde Riekerink were powerful in teaching forms of training and the technical aspects that came with it. Danny Blind was very involved and knew everything about every player. He often stood on the sidelines during the youth training sessions. The way of thinking and playing football has always stayed the same at Ajax. But I learned things from every person and took them in 'my backpack'. That also shaped me.''
Youngsters
De Haan led the F1 (now U9) for thirteen years and continued to rotate between the U11 and U12. Now, he has been tied to the U11 team for five years. ''My heart is with the youngest youth. They are so pure and enter the pitch so uninhibited, that gives me energy.''
''Wim Jonk always said: your ambition might be to get higher up, but ambition can also be that you want to specialise yourself in an age group. My ambition is to continue to develop myself in the junior age group. A lot of self-reflection, what can I do better and what gives me satisfaction? That is very important to me'', De Haan continues about his love for the youth academy.
Leadership and team spirit. De Haan is clear about what he considers the most important thing with his team. He adds power to his words by using a chain as an example. ''A team is made out of shackles. If one shackle is in the wrong place, the chain falls apart. I like that my players always enter the pitch feeling like they are the best. Not arrogant, but with bravery. Dominate, passing, and technical skills at a high level. Developing the individual is central, but if you make every individual stronger, the team gets stronger, too. Every child is different, and approaching everyone personally can still be challenging. I consciously work with assistant coaches and interns to create a deeper understanding.''
2023
Now, 25 years later, the times have changed, De Haan thinks. ''The discipline is different, but that's how society is. The foundation at home needs to be good, and we can only support that. That's what I tell parents, too. I see myself as a coach and as an educator. We will not change children, but we can teach them a lot.''
The current technological developments and the possibilities that come with them are being not only embraced by De Haan and his colleagues but also used to their full extent. ''This generation likes visual things. Kids practice a lot at home. They film their passing movements and send them in the group chat. It's not mandatory, so they don't feel pressured, but that's how they inspire each other and how I can give feedback. But we are also busy coding match footage, and I discuss those with the children. We show them footage of top players and themselves and link that to each other. That's how they learn the most. I really like that technical development.''
Another thing of great importance within the Ajax U11 team is doing keepie uppies during an Ajax 1 match in the Johan Cruijff ArenA. I. The battle for the Richard Witschge Trophy. ''We draw who can do which match at the start of the season. It's a big thing because one person gets the big matches, and another one gets the match against a 'smaller' opponent. We added a mat and a smaller ball to make it more difficult'', he says.
Talents
Ryan Gravenberch, Abdelhak Nouri, Steven Bergwijn, Kenneth Taylor, and Brian Brobbey. These are a few of the many young talents De Haan had under his wings and who ended up making their debuts for Ajax 1. ''It makes me proud, absolutely. It was not only because of me that they became professional football players, but I played my part.''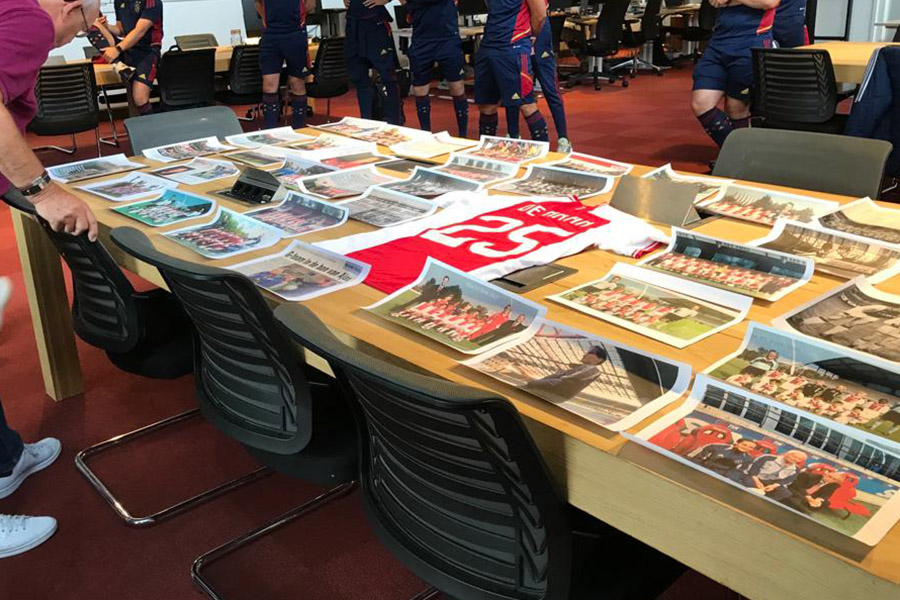 De Haan is still in close contact with the families of Nouri, Gravenberch and Bergwijn. ''They are interested in me too. They still message me, and I appreciate that a lot.'' After the question about what he considers his most beautiful memory of 25 years as a youth coach, he falls silent. De Haan starts talking about a moment that still gives him goosebumps. ''One day after Nouri came on during the Roda JC match with Peter Bosz as coach, I ran into him at De Toekomst. He came up to me and gave me his match-worn shirt. He said: the first year stuck with me the most, and that was with you. That gesture came from the bottom of his heart, which was incredibly beautiful.''
Recently, De Haan was put in the limelight by his colleagues at De Toekomst. A bunch of photos and a wonderful shirt were laid out for him. He also got an emotional video in which everyone congratulated him. ''Everybody was in that video: players, coaches, colleagues, friends, and family members. Goosebumps. All of the messages of the players that I still receive are very dear to me. I don't want to be in the spotlights, but I greatly appreciate those small things'', De Haan concludes with a smile.