Klaassen was the first of the two players to make his debut for Ajax 1. On November 22, 2011, nearly ten years ago, he played his first minutes under Frank de Boer in a UEFA Champions League match against Olympique Lyon. The game ended 0-0. A few days later, Klaassen also made his Eredivisie debut. The Dutchman came on as a substitute against NEC Nijmegen. With one of his first touches on the ball, he scored to make it 0-3 after just 42 seconds on the pitch.
Back to Amsterdam
Klaassen, who was born in Hilversum, has spread his time at Ajax over two spells. In 2017 the midfielder earned a transfer to Everton, after becoming a game-changing player in Amsterdam. After a year in England, Klaassen played two seasons in the Bundesliga at Werder Bremen. In October of this past year, he returned to don the famous red-and-white shirt once more.
Of the 200 matches he has played for Ajax, 138 have been in the Eredivisie and nine have been in cup matches. He has made 51 appearances for the club in European contests. He also played two matches for the Johan Cruijff Trophy. Should Klaassen score against FC Twente, it would be his fiftieth goal for the club.
Klaassen and Onana are not the current record holders in the squad, though. So, who is?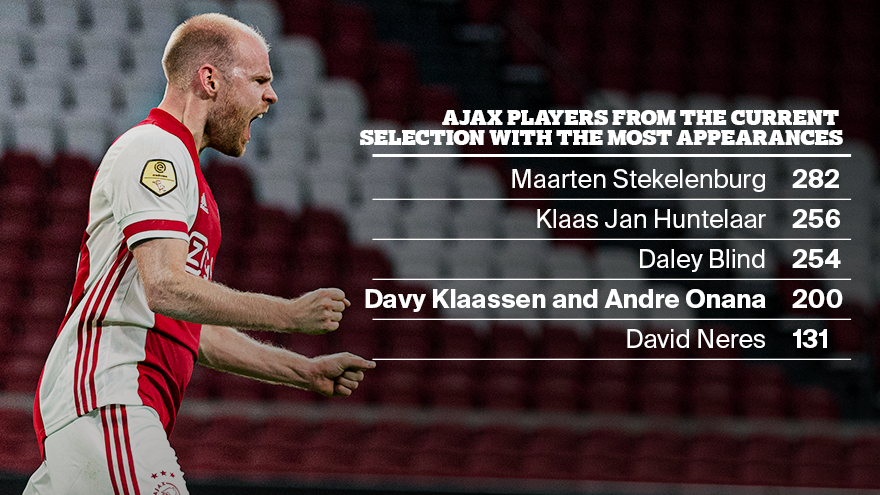 In the nearly 121-year history of Ajax, only sixty players have played two hundred or more matches for Ajax 1. Klaassen and Onana are now just behind Tomas Galasek (202) and Velibor Vasovic (204).
The top three, however, are still a long way off. Sjaak Swart, also known as 'Mister Ajax', is first with 603 appearances, followed by Wim Suurbier with 509, and finally, Danny Blind who played 493 matches for the club.
Important goalies
What about Onana? It took a bit less time for him to reach his 200th match than Klaassen. The goalie made his debut in 2016 against Willem II. Unfortunately, that match ended 1-2. The Cameroonian then played 137 games in the Eredivisie. He has played an additional 53 matches in Europe as well as eight Dutch Cup matches. He also played in one match for the Johan Cruijff Trophy.
With his 200 appearances, Onana can already call himself one of the most important keepers in the history of the club. Only seven goalkeepers featured more often.