Want to visit an Ajax match? On this page you will find all the information on our ticket sales. 
How do you order tickets?
General information
When you have a Club Card for disabled fans or special acces for disabled fans you are allowed to buy tickets for these sections in our stadium. It is not possible to use the tickets if your are not disabled. Acces will be denied at the entrance of the stadium. 
Accompanist and accompanist ticket
When you select a seat one ticket will be addes automatically for a accompanist. This accompanist gets a free ticket to guide and help you during your match visit. It is not possible to add extra tickets for more accompanists. 
The accompanist needs to be at least 18 years or older and needs to be able to guide or evacuate the disabled fan if necessary for safety reasons. 
Acces to ticket sales for disabled fans
Should you be looking to purchase accessible tickets for home matches, we kindly ask that you follow this process:
Please send us your proof of disability by email: mindervalide@ajax.nl. When your request is approved, you will receive a confirmation by e-mail. After that you are able to select the sections for disabled fans in our stadium. 
Season ticket for disbaled sections
Currently there are no tickets season tickets available. 
Sections for disabled fans
There are 136 seats in the stadium for disabled fans. We have 70 seats available on the platfrom (016) on the north side for disabled or fans who have less vision. On the north and south side between the first and second tier we have another 66 seats for fans in a wheelchair (sections 812, 816, 825 and 829).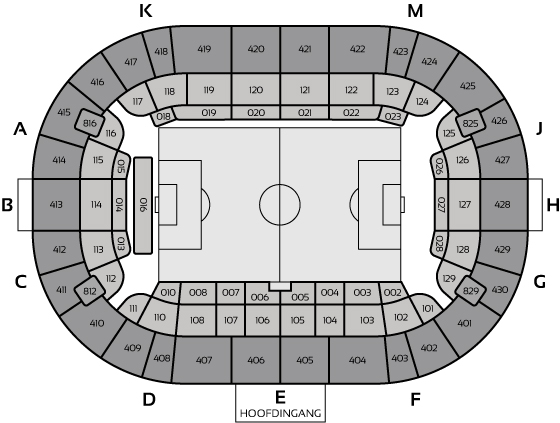 Ajax Women and Jong Ajax
To visit matches at Sportpark de Toekomst for the Ajax Women or Jong Ajax you don't need a special ticket. You can just order regular tickets. When you arrive at De Toekomst, you will be guided by the stewards to the special spots for disabled fans. 
Stadium tour and Ajax Gallery
The stadium tour are daily available from 9.30 AM until 4.30 PM. A new tour starts every half hour, except on matchdays or other special days with events. 
Fans with a disability can reserve a tour by e-mail: Tour@johancruijffarena.nl. 
Service point for disabled fans
Do you have any questions or comments for this matter? In this can you send an e-mail to mindervalide@ajax.nl. Do you a have general question or need help? Please see our contact options at Ajax.nl/contact.