Martínez joined Ajax in the summer of 2019, as an unknown and quite surprising transfer. He had excelled at his club Defensa y Justicia for some time, but he was not yet on the radar of the average Ajax supporter.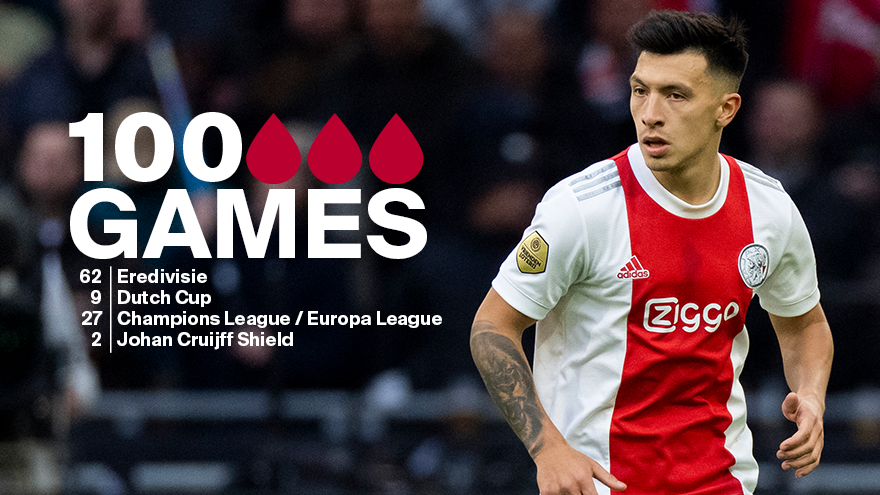 Good start
In preparation for the new season - in the aftermath of the fairytale UEFA Champions League run in 2018/2019 - the left-footed defender already stood out in a positive way.
The result, which was unexpected, was a starting spot in the first official game of the season. Martínez made his debut against PSV in the Johan Cruijff Shield and began his journey to a hundred matches with the Ajax first team.
In those first months in Amsterdam, Martínez was convincing. He made his debut in the groupt stage of the Champions League at home against Lille (3-0) and was one of the best players in the Ajax team as a controlling midfielder.
His first goal followed in the home game against FC Groningen: a beautiful, placed shot with which he broke the deadlock, helping to win the game.
The creation of 'Martínez the Butcher'
Martínez, then, needed very little time to adapt to his new environment. In that first season (disrupted by COVID) the supporters already had a place for him in their hearts. All around the Johan Cruijff ArenA, stickers with 'Licha' began popping up, showing him with a large knife and an apron on. 'Martinez's Butcher Shop' had opened, and a nickname emerged.
Although Martínez saw his nickname as a token of appreciation, he did not think it suited him from a technical point of view. "I understand where it comes from, because of that Argentine mentality. When I'm on the field, I forget the world around me and I want to win at all costs."
"But the comparison is not quite right. I will never intentionally injure an opponent. In Argentina they called me the 'pitbull'. That covers my playing style better. I bite into my opponent. But I also have to rely on my technique."
The Argentinian has a point. The hard edge to his game is accompanied by an excellent overview of the pitch, good passing and excellent technique.
The dip
In that first season, in which Martínez played 41 games and scored two goals, all was well with Licha. As a fresh newcomer, he played nearly every game and brought something extra to the team. Only Andre Onana and Dusan Tadic played more minutes that season than Martínez.
Still, when football resumed in empty stadiums, it was an extremely difficult period for the Argentinian. Because Erik ten Hag now saw him more as a defender than a midfielder, Martínez had to focus on a place in the rear guard. With the presence of Nico Tagliafico and Daley Blind, the competition there was fierce.
"Sometimes I feel sad and angry," he said at the time. "But you have certain decisions that you have to respect. I have to prove myself in training and in matches. If I am chosen, I know that I am ready and I will be there for the team."
And indeed, a new chance came and Martínez was there. After the winter break, he played a bit more and when Daley Blind was injured, a spot opened up in the heart of the defence.
He played there alongside Jurriën Timber, who had just broken through to the first team. Together they formed a very reliable duo, which especially excelled in the UEFA Europa League, in which Ajax reached the quarterfinals.
Straight line to the 100 Club
With Martínez back in the starting lineup, Ajax won the double in the 2020/2021 season. The Argentinian eventually played in 42 games, in which he scored three goals.
His good play as a central defender not only resulted in an undisputed starting spot at Ajax, but also a selection for Argentina's Copa América squad. Martínez played one game and saw his country win the Copa.
After that successful summer, Martínez returned as undisputed starting player and a pillar for the Ajax team for 021/2022. This season, Martínez, Jurriën Timber and Edson Álvarez are the silent force and the defensive foundation behind Ajax's success.
In October, the reward of a contract extension was given for his fantastic commitment and excellent play. "I've grown a lot here," Martínez said at the time. "I've become a much stronger and smarter player here, and more calm on the ball."
He's now part of the 100 Club and the bond with Ajax is stronger than ever. "I always have felt a lot of love from people within the club. I am very happy with that too. It's nice for every player to feel important at your club."