Both Sporting CP and Ajax share a similar approach to the game, the Ajax coach explained, "the philosophy that the Sporting coach tries to convey to his team has the same elements we have at Ajax."
"That also applies to the youth academy," ten Hag continued. "They have produced some gems, such as Cristiano Ronaldo and Figo. We've all been lucky to enjoy that."
Ready for the Champions League
The conversation at the press conference soon shifted to the match itself. In response to a question about what kind of form Ajax is in now, ten Hag answered, "No team is in top form at the moment. That form will come in the spring if all goes well. But we must be ready for the Champions League. And that's on us. For example, players are now in better physical shape and have built more team chemistry."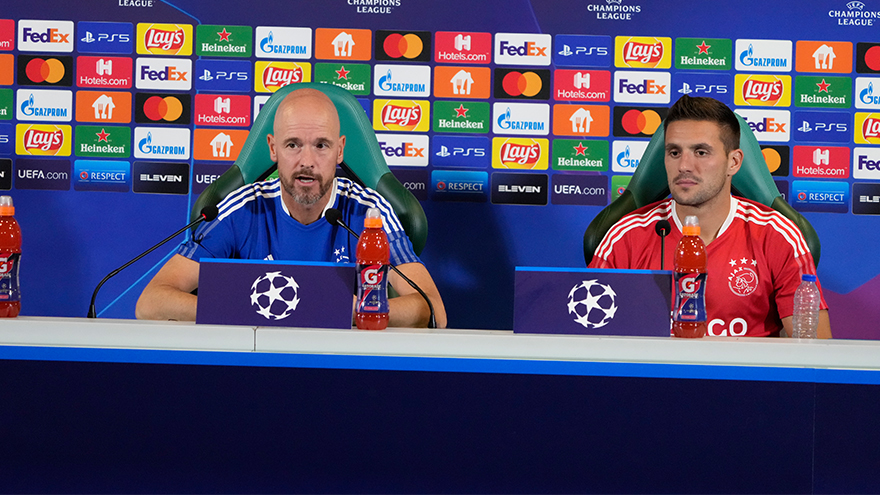 Captain Dusan Tadic agreed with his manager, "This is what we want. The Champions League is always our goal. We are ready for the competition."
The team, however, did not travel with a fully fit squad. Mohamed Kudus has been out for some time. Zakaria Labyad is ill and Davy Klaassen was left behind due to an injury. The midfielder came back from the international break with an issue. Ten Hag is a little disappointed about that.
"Davy was in top condition before he went to the European Championship. After that tournament he was in worse shape. We built that up again, but not enough for him to be able to play three matches in one week. He did. We enjoyed having him with the national team, but we're missing him now."
"In preparation for the season, we actually had five 'number 10s'. Fortunately, we can now absorb setbacks like this. With our deep squad, we will also be able to and need to use players in other positions. Kudus is now, at least, making steps towards returning to the team, having trained this morning with them."
Final training sessions
The final training session already took place in Amsterdam. "That was mainly tactical and work on set pieces," explained Ten Hag.
On Tuesday evening there will be an additional session at the José Alvalade stadium in Lisbon. "Such training is not very important, but it is nice for everyone to get into the experience of the competition."
The Portuguese opponents are missing two players themselves: their striker and captain. Yet Ten Hag does not consider himself spoiled at all, "It is never a disadvantage. But Sporting, like Ajax, has such a deep selection that they can deal with it. I could also see that in last Saturday's big match against Porto. I don't think it is an issue for Sporting. "