Tadic is Ajax's own 'marathon man', especially with performances in the Eredivisie. From his very first appearance for Ajax in the Eredivisie on 11 August 2018 he has never missed a single league game. Each of the 2018/2019, 2020/2021 and 2021/2022 seasons had 34 matches. The 2019/2020 season was not played out due to the Covid pandemic. Even in that special - or actually bizarre - season, the Serb took part in all 25 of Ajax's Eredivisie matches. In the current 2022/2023 season, Tadic has also taken to the pitch in all four rounds of the Eredivisie so far. In fact, with four starts, the captain is still proving to be an important force in the Ajax team.
Record holder
In club history, no other Ajax player has had a longer streak of consecutive Eredivisie matches. Tadic has been the club record holder since the closing stages of the 2021/2022 season. He broke the age-old record of 123 consecutive Ajax matches which had been held by Gert Bals since 2 April 1969. For four years between 22 August 1965 and 2 April 1969, Bals kept goal for 123 uninterrupted league matches.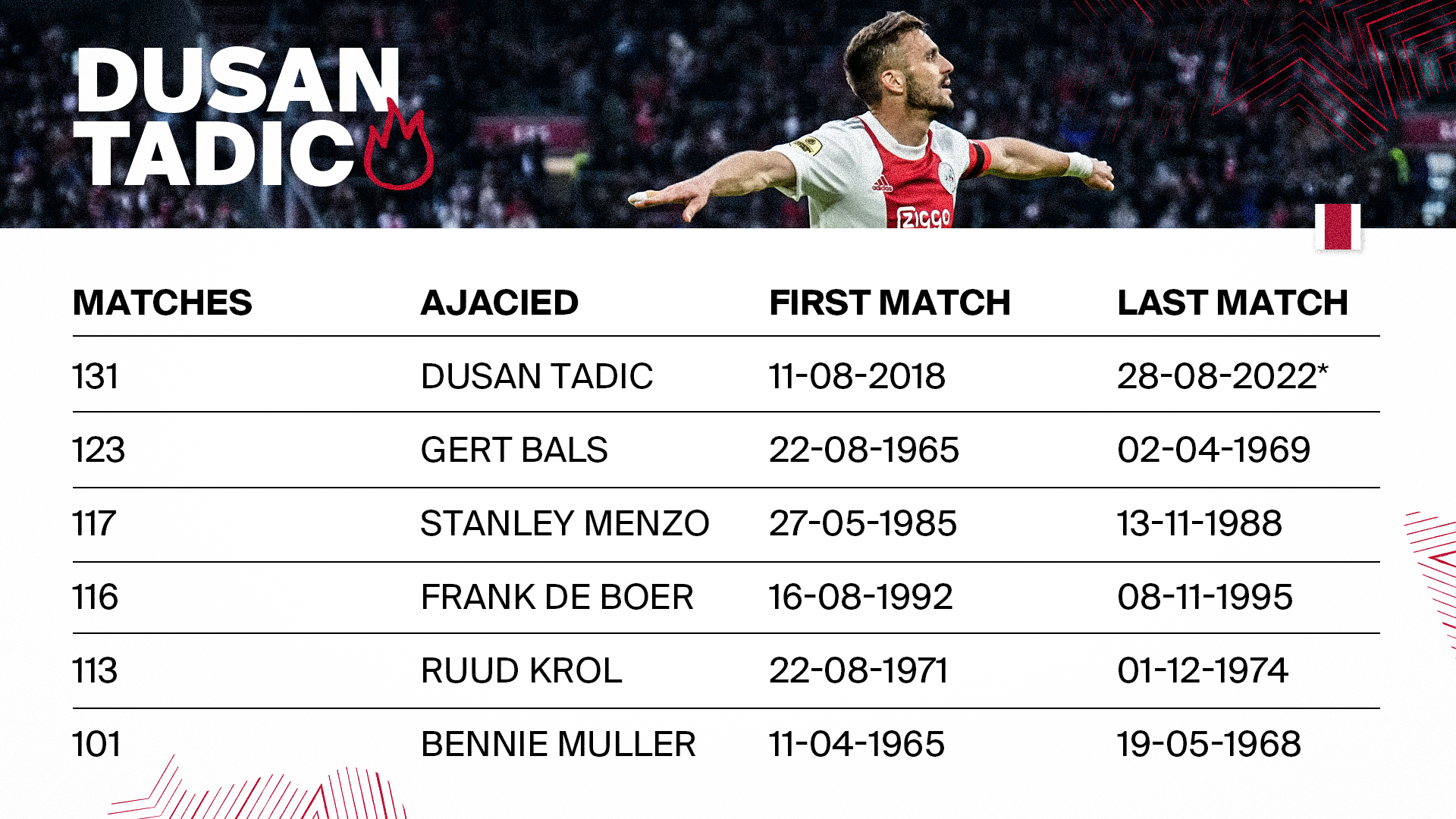 Including the league matches during his time at FC Twente, Tadic has now played 164 straight Eredivisie matches. This is the longest-ever streak for a foreigner in the Eredivisie (Gábor Babos is next with 144 matches). The all-time Eredivisie record of 334 matches is held by Ruud Hesp, so that is still a long way off. What stands out in both rankings is that Tadic is mostly beating goalkeepers.
Fine run of four MVP titles Playing matches is one thing. Being particularly valuable in them is another story. In each Eredivisie season, the player with the most goals and assists is named Most Valuable Player. That means the MVP has had the largest share in his club's goal production. Tadic has earned the title of Most Valuable Eredivisie Player in each of his four seasons at Ajax: in 2018/2019 (41), 2019/2020 (25), 2020/2021 (31, title shared with Steven Berghuis) and 2021/2022: 32.
Tadic amoung Ajax's top strikers
Including his two assists in 2022/2023 (Tadić has not scored yet this season), the tally stands at 66 goals and 65 assists after 131 league games. With this, Tadic had had 131 goals and assists in 131 league matches. A fantastic average!
Who has achieved a similar or even better average in goals plus assists in the past? In Ajax history, only Marco van Basten, Ruud Geels and Luis Suarez put up even better statistics after their first 131 matches in the Eredivisie. Klaas Jan Huntelaar completes the top five. Like top strikers Van Basten and Geels, Huntelaar scored much more than the Serbian, but Tadić has provided considerably more assists. Suarez did achieve his better stats in remarkably fewer matches: 110.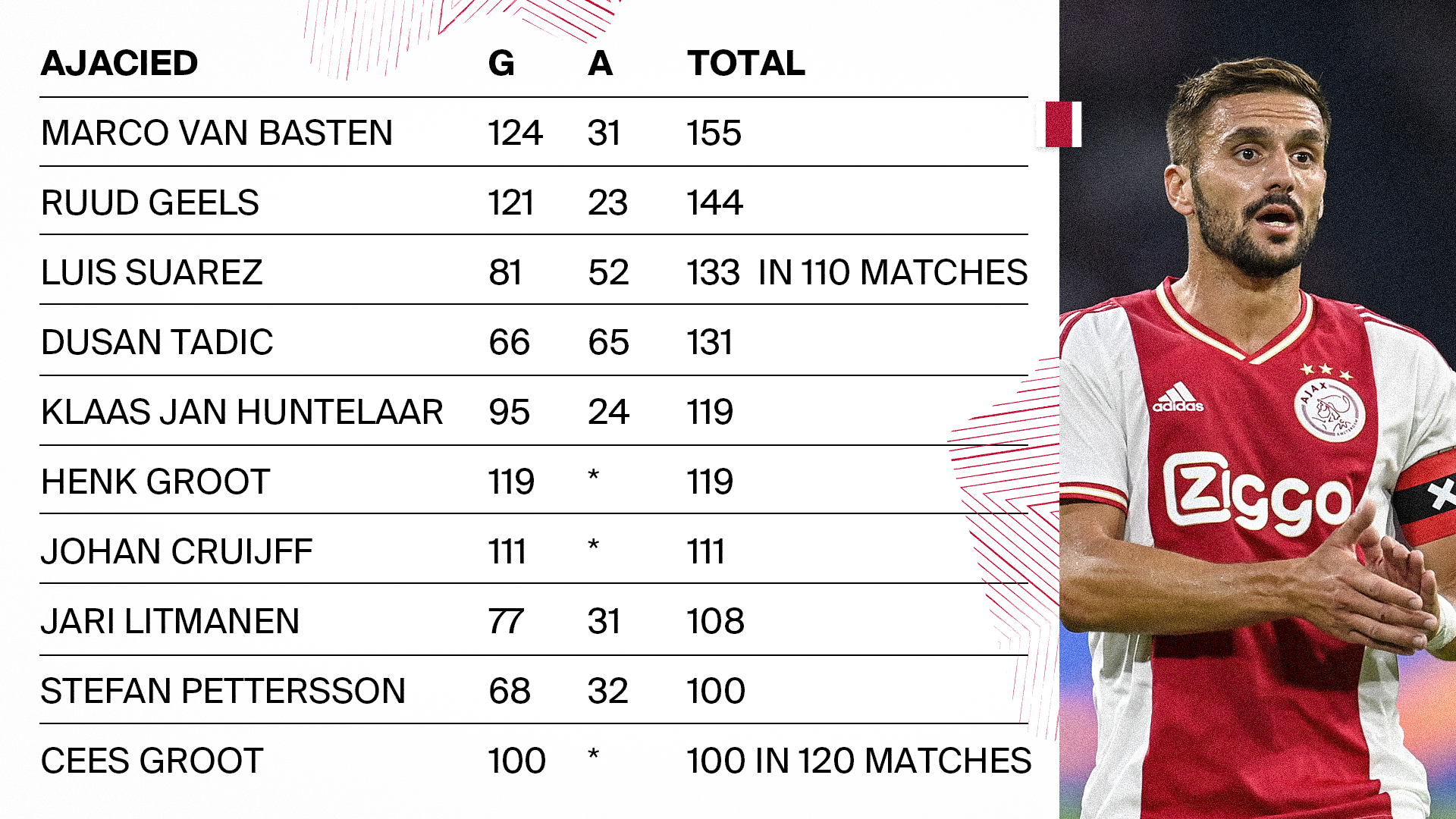 Tadic in the Club of 100
If Tadic reaches 200 matches, he will share 64th place in the list of most loyal Ajax players with Joop Stoffelen (Ajax player between 1940 and 1950) and Frans Couton (1916-1927). Tomás Galásek, with his 202 official matches, is one place higher. The Czech was a valued Ajax player between 2000 and 2006. Mr. Ajax Sjaak Swart, with his 603 appearances for Ajax 1, also remains unreachable for Tadić.
Next milestone beckons
Another milestone awaits Tadic on Wednesday. When Ajax open the European season with the first group match in the UEFA Champions League against Rangers FC, it will be the captain's 50th European match. Most of those who played more European matches are former Ajax players from the golden years (1971, 1972, 1973 and 1995). Danny Blind is Ajax's record holder with 78 European matches. Piet Keizer follows with 77, and Sjaak Swart and Ruud Krol (72 European matches each) complete the top three.
In Alfred Schreuder's current squad, only Daley Blind (69), Davy Klaassen (64) and Maarten Stekelenburg (57) have played more European matches than Tadic.