What was your first match against AEK Athens like?
"I first played an away match with Ajax against AEK Athens in the 1994/1995 season. That was the UEFA Champions League year. We won the match 1-2. Jari Litmanen and Patrick Kluivert scored the goals. It was pandemonium, primarily because of their passionate supporters, I remember. An authentic Southern European atmosphere. Their supporters are a weapon in itself for AEK."
Louis van Gaal's  Ajax players did not care much for the Greek ultras on September 28, 1994.
"We had such a strong team that we did not let the supporters affect us. I played the last fifteen minutes of that group stage match in the old AEK stadium. It was a true South European match. As a twenty-year-old, I was pretty impressed. Also, because I did not have that much experience with ultras and very fanatical supporters yet. In 1992, I played away matches for the UEFA Cup against Genoa and Torino. Those were pretty intense, too. But this was on another level than in Italy. It's more hectic and noisier. More intimidating, so to speak. It's a beautiful environment to play in."
"In 1994/1995, it was Ajax's first season in the Champions League. Our group was so good back then that we were not easily impressed. It's great if you can oppose your will to your opponent in that kind of environment. We did not win easily, that is not the right word, but we won convincingly against AEK. Convincingly for a European away match. It was a wonderful experience. After we were done, there was Greek respect for Ajax. AEK and its supporters saw that we were on a different level than they were at that moment."
Eight years later, you were a player of AEK yourself. How did that happen?
"Years after that match with Ajax in the Champions League, I played against AEK with Vitesse. That was in the UEFA Cup. It was a similar match when it came to the atmosphere. When I wanted to leave Vitesse, AEK showed up. I had the ambition to go on an adventure abroad, and I instantly connected to that club. I had played there twice and knew the supporters. Hectic and warm. I knew what I could expect. For the opponent, supporters like those are impressive. But if you have those fans standing behind you, it's very nice. I left for Athens in 2002."
"Before I started at Vitesse, I had played in Italy for three years at Padova and Perugia. In Italy, I was alone, but by then, I had a family. And as a family, we wanted to go on an adventure abroad. AEK quickly offered me a contract lasting two seasons. When we moved to Greece, we had a son, and my wife was pregnant with our second child. Our second son, Dimas, was born in August 2002 in Athens. That's why that city will always hold a special place in our hearts. Diman is a Greek name, by the way."
What were your two seasons as an AEK player like?
"We played nice matches like the one against Real Madrid, AS Roma, AS Monaco and Deportivo La Coruña in the Champions League. It was all very nice, even though I did not play much that first year. Looking back at it, the start was very hectic, like we are used to in Greece. I remember that our main sponsor went bankrupt two weeks after I started at AEK. The president was under pressure, too; there were many problems. But the Champions League matches and the Athens derbies made up for many things. They made my stay there pretty special."
"The unrest within the team is less noticeable when you are a player. The Greek newspapers - every day they print eight different ones - I could not read. I got the news from my teammates. It gave me peace."
"My first year was pretty hectic, which continued up until the start of the second year. But then, a new structure and base were laid within the club. In my last six months, we decided to return to the Netherlands. Willem II offered me a contract, and our oldest son had to attend school. We wanted to give him a peaceful start at school. In 2004, I had seen enough of Greece."
You got to know both Ajax and AEK from the inside out. Are the two clubs similar?
"In Greece, you used to have a traditional top three, where Olympiakos Piraeus has the role of Ajax. Panathinaikos is more like Feyenoord. The clubs are archrivals. AEK was Greece's third club."
"AEK originated in Istanbul, and the K stands for the first letter of Constantinople. Whenever we played a European away match, there were always a lot of supporters. They were throughout Europe. The club's reach is pretty big. In Greece, you are connected to a club your entire life. People experience that very intensely. Supporters are incredibly fanatic."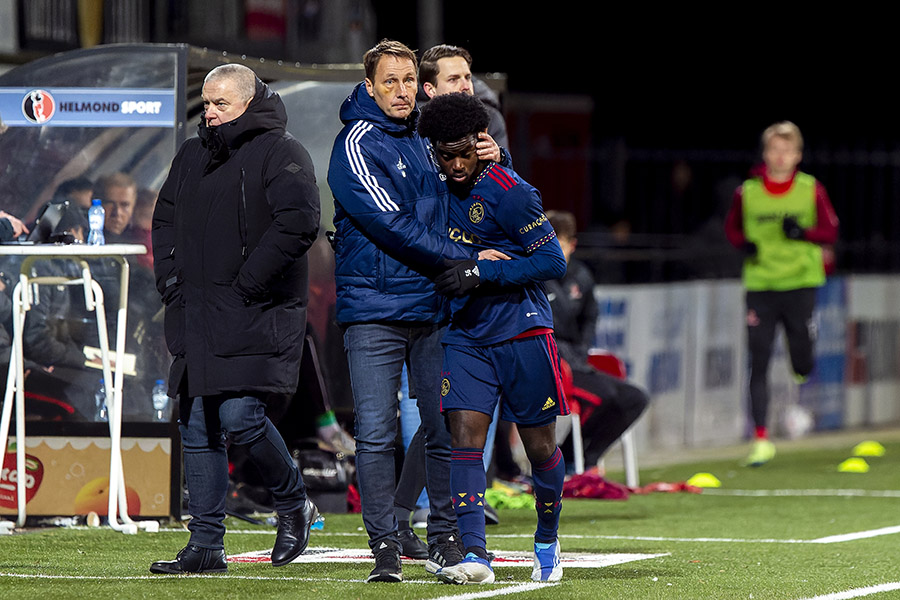 "Over the last years, AEK has become a lot more stable. The hegemony of Olympiakos has ended as well. AEK even became champion. Inside the club, a change has happened. Also, because of the new stadium and training facilities, I feel like the club is more stable now."
Are you still in contact with your former AEK teammates?
"No, I'm not. We are still in contact with our landlady. When I played there, we moved into a club-owned house. She was the owner of the house and became our babysitter grandma. We always stayed in touch. In Athens, we don't talk about AEK but more about the families. It's more about the social aspect of it. Or if AEK becomes champion or plays European football, I notice it. But I don't follow the Greek competition very closely."
What can Ajax expect from AEK on Thursday night in Athens?
"AEK won its first match against Brighton & Hove Albion. If you score three goals there and win a European away match, you have certain qualities. In Athens, AEK might be even stronger with the support of their fans at home. Those Greek fans can really be an extra force. We sometimes think things are hectic here, but what happens there is the superlative. It would be great if Ajax could achieve a positive result in Athens."