It's the 61st minute on December 7, 2008. Blind is on the sideline at the Kras Stadium in Volendam. Eyong Enoh has just been injured and left the field. Blind, 18 years old, stepped off the sideline and makes his first minutes for Ajax. After less than 10 years, there is a second Blind playing for Ajax. The young defender follows in his father's footsteps, who retired as an Ajax legend in 1999.
Debut against FC Volendam
His substitute appearance 20 kilometers from Amsterdam turned out to be the beginning of more than 300 games in Ajax their red and white shirt. After his debut at FC Volendam, he played against NAC Breda, ADO Den Haag, and De Graafschap (twice) before he went on a loan to FC Groningen in the winter of the 2009/2010 season.
When Frank de Boer became the head coach of Ajax in December 2010, Blind's chances to start in the first team increased. De Boer saw the son of his former teammate as the perfect backup for Urby Emanuelson, who was a wingback for Ajax at the time. When Emanuelson left for AC Milan in the winter break, Blind became the new left-back for Ajax. This was the start of a successful story.
Blind made his return to the Ajax team against Feyenoord in January 2011. The match ended 2-0 at the Johan Cruijff Arena. The then-21-year-old Amsterdam-born player became a regular. Later that season, Ajax won the championship in a match against FC Twente. It was Ajax's third star and Blind's first trophy of many. When Blind left for Manchester United, the record champion went without a trophy for a while. His winning streak started again when Blind returned to Ajax in 2018.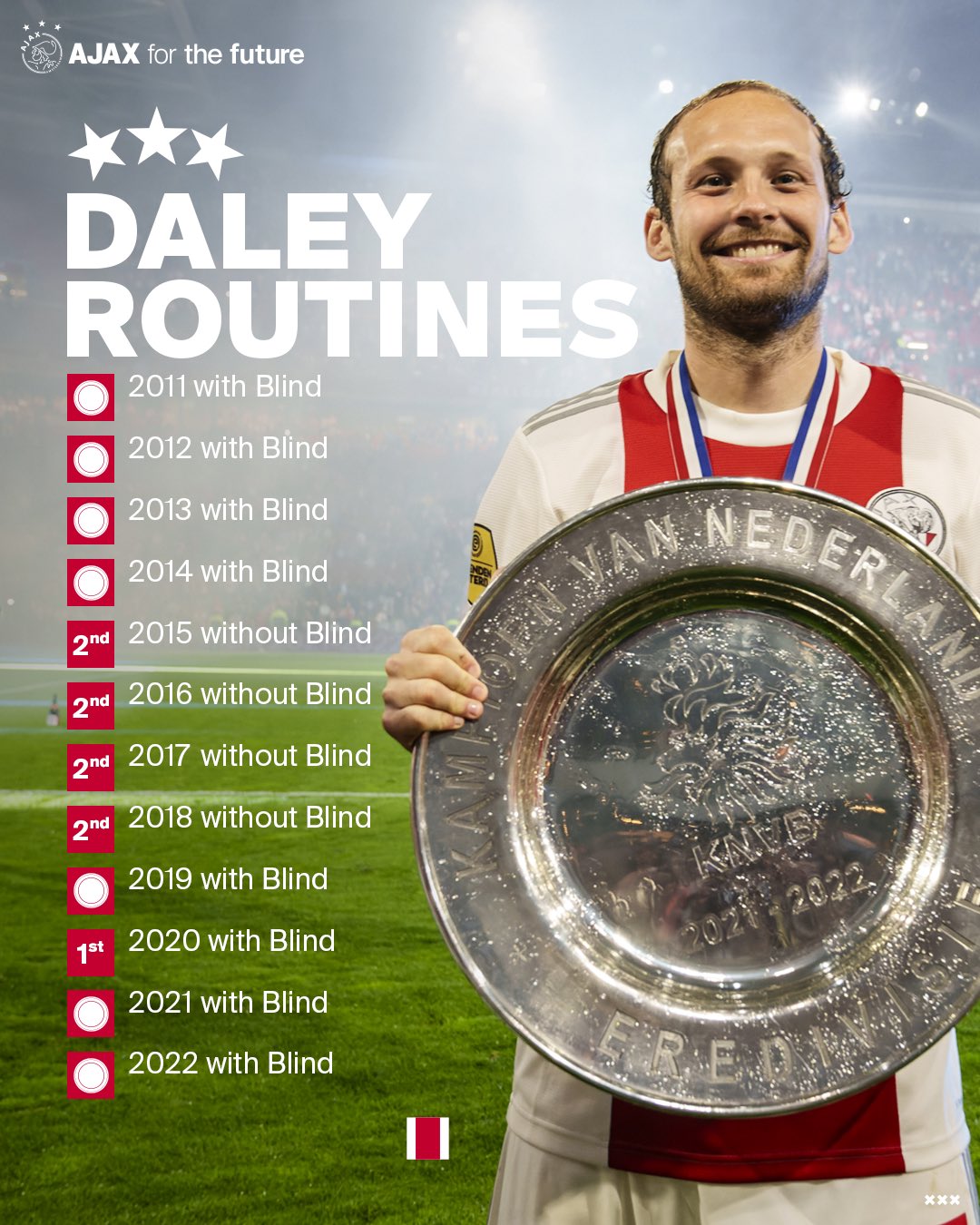 Blind is an essential member of the Eredivisie. Of his more than 300 games, he played most of them in the national competition. He scored ten goals in the Eredivisie. In 2018, Blind had one of the highlights of his career during an evening against De Graafschap. In the 8-0 win, he scored three goals. It was the only time he scored a hattrick for Ajax.
Whenever Blind scored for Ajax, the team never lost. In total, he scored 13 goals as an Ajacied, spread over 11 games. Ajax won nine of those matches, and two ended in a draw.
| | | |
| --- | --- | --- |
| Daley Blind | Matches | Goals |
| Dutch Championship | 226 | 10 |
| Champions League | 49 | 1 |
| Champions League play-offs | 10 | 0 |
| Dutch Cup | 27 | 1 |
| Europe League | 14 | 0 |
| Johan Cruyff Shield | 6 | 1 |
| UEFA Cup | 1 | 0 |
| Totaal | 333 | 13 |
Blind played as a left-back for Ajax. However, that has not always been the case. He played as a central defender and in the midfield as well. As a left-back, he played 152 of his 333 games in the red and white of Ajax. Ajax won 100 of those matches. With Blind as a central defender (122 times), Ajax won 86 games. Blind played 45 times as a midfielder for the club, with Ajax winning a total of 27 matches with him in that position.
Of the 333 games he played for the club, Blind was most often accompanied by Dusan Tadic (187), Davy Klaassen (136), and Lasse Schöne (134). A funny detail: Blind never lost a game in which he played with Ismail Aisatti (12) at Ajax.
On the same list as his father
By playing 333 games for Ajax, Blind has easily made it into the Club of 100. His father is also on the list of Ajax legends. 'Daddy Blind' played 493 games for Ajax and is in the top three of Ajax players with the most games to his name. Son Daley is the seventeenth on the list.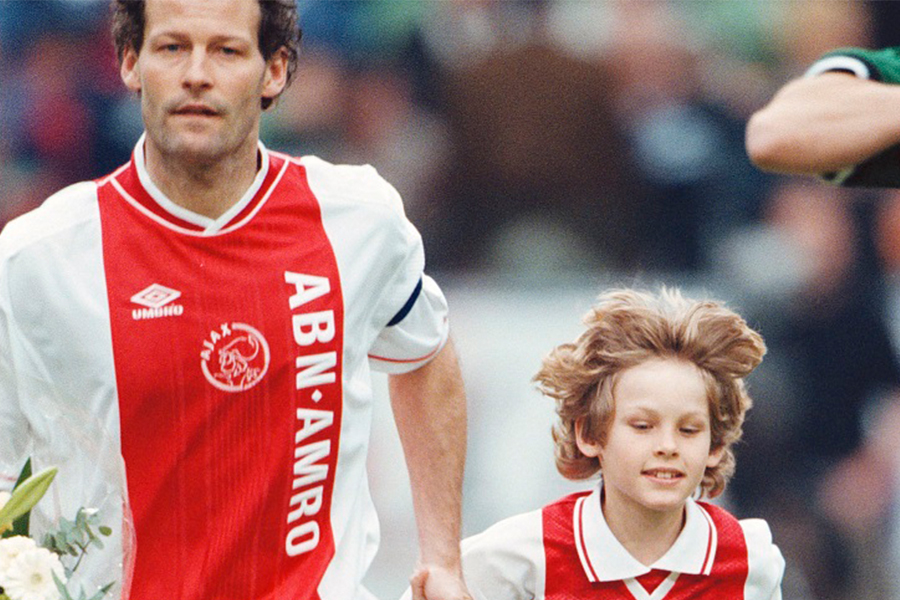 Blind in Europe
Let's take a closer look at those more than 300 games for Ajax 1. Blind played 74 of those games on the highest European level. On February 23, 2022, he reached a beautiful milestone. The defender played his 43rd UEFA Champions League game for Ajax, against Benfica. This makes him the Ajax player with the most games in the biggest European club tournament. He leaves Jari Litmanen behind, who played 42 games. Blind is currently at 49 Champions League games for Ajax.
He played his other European games in the Champions League qualifying round, the Europa League, and the old UEFA Cup. With his 74 games in Europe, he is third on the list of Ajax players with the most European games. Only his father Danny (78) and Piet Keizer (77) have played more games for Ajax in Europe.
Outside of the Netherlands, Blind encountered Real Madrid (five times) and Borussia Dortmund (four times) the most often. The defender has good memories of both clubs. He scored for Ajax against Borussia Dortmund on October 19, 2021, in a 4-0 home win. Blind gets the ball on the edge of the penalty area and hits the goal. It's 2-0.
Although Blind had his hardships against Real Madrid, the most recent encounter is one to never forget. On March 5, 2019, Blind started in the Santiago Bernabeu as Ajax won 1-4. The Amsterdam club reached the quarterfinals of the Champions League with this win. That adventure ended in the semi-finals against Tottenham Hotspur.
Daley Blind's years at Ajax had many highlights. After 7.5 seasons, the Blind era is over, for now. Thank you for all the great memories, Daley! Good luck to you.