He secures a nice place in the gallery of honour of Ajax players with his 100th game for the Amsterdammers,. Mister Ajax Sjaak Swart remains top of the list. Players who recently joined the Club of 100 include Devyne Rensch, Jurriën Timber and Ryan Gravenberch.
With his joining, Berghuis becomes the 131st Dutchman to get a portrait on the wall of fame at the Johan Cruijff ArenA. Danes are the second best represented with seven members after the Dutch. Brazil, Morocco, Belgium and Germany collectively complete the top three nationalities with three members each.
But what about Berghuis and his previous 99 duels in Ajax 1?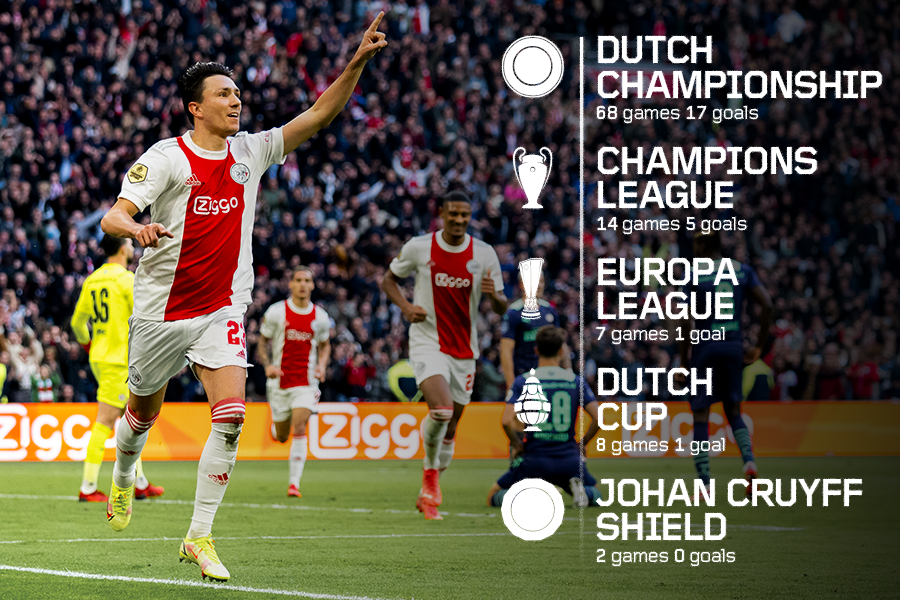 What other great numbers have those hundred matches offered us? We take a closer look at his Ajax career on the basis of five statistics.
1. Berghuis' best Ajax match
Steven Berghuis was golden in the home game against Fortuna Sittard on Sunday 9 April 2023 with two goals and two assists. He was involved in four goals in an Eredivisie game for the first time. Ajax won 4-0. Berghuis was honoured as King of the Match afterwards.
2. Berghuis: the man of the assist
With 28 assists and 24 goals in hundred matches, it would seem that the striker cum midfielder not only has a nose for the goal, but that he also looks out for his fellow players. But with which Ajax players did (or does) he have the best connection and prepare a goal for?
Berghuis played a total of 28 assists in Ajax 1 (20 Eredivisie, 2 KNVB Beker, 3 UEFA Champions League), to the following players:

-Haller, Álvarez: 5x
-Brobbey: 3x
-Kudus, Bergwijn, Akpom: 2x
-Mazraoui, Lucca, Hlynsson, Taylor, Timber, Tadic, Klaassen, Bassey, Antony: 1x
For the complete picture, it is perhaps interesting to see which fellow Ajax players made it possible for Berghuis to score.
In total, Berghuis scored 24 goals in Ajax 1 (17 Eredivisie, 1 KNVB Beker, 5 UEFA Champions League, 1 UEFA Europa League), with an assist from:
-Tadic: 5x
-Kudus 3x
-Timber, Sánchez, Bassey, Gravenberch, Álvarez, Blind, Brobbey, Bergwijn,Klaassen, Sosa: 1x
-Six goals without a forwarder (rebound/interception).
In other words, Berghuis has the best connection with Dusan Tadic and Edson Álvarez (in both six goals/assists in total).
3. Berghuis' best period
Steven Berghuis had his strongest period as an Ajacied player in September 2021. Between 11 and 28 September, he accounted for at least one assist or goal each time in no fewer than six consecutive games. Ajax played four league matches and two UEFA Champions League games in that time. In those six games, Berghuis made four goals and six assists.
In the first game in that series (Sporting CP-Ajax (1-5) in the Champions League), Berghuis also signed for his first goal as an Ajax player.
4. How did Berghuis score his goals?
Berghuis scoed most of the goals for Ajax with the left (nineteen times). He was successful three times with the head and twice with the right. There is one more thing to say about this statistic. It does not include the goal in the suspended match against RKC (which he scored with the left).
5. Winning percentage and favourite opponent
With Berghuis on the pitch, Ajax won 61 times. The total scores are W61-G15-V24. Hence RKC was considered Berghuis' favourite opponent. On behalf of Ajax, the midfielder was most often on target against the Waalwijkers (five times, including his goal in the suspended match).
With Berghuis joining, the Club of 100 at Ajax now has 176 members. The next member could be Brian Brobbey, who now stands at 92 appearances including the game with Brighton & Hove Albion.
The next member could be Brian Brobbey, who now stands at 92 appearances including the game with Brighton & Hove Albion. Congratulations 'Stevie', on your 100th appearance in white-red-white!