David the Host and Eyong Enoh will be joined by Corné Groenendijk (head of the Ajax Coaching Academy), Sonny Silooy (technical coordinator at Sharjah FC in the United Arab Emirates), Edwin Petersen (technical coordinator at Guanghzou in China) and South African former Ajax player Hans Vonk.
Real development
Groenendijk, on a working visit to his colleague Silooy in the Emirates, explains how the Ajax Coaching Academy came about. "There was a lot of international demand to take a look behind the scenes at Ajax's training methods. We saw this and wanted to find a way to keep our international footprint as a club alive in that way. We wanted to figure out how to structure all of our knowledge. Edwin van der Sar was also enthusiastic about that."
Ajax received a number of concrete offers for this demand. Japanese club, Sagan Tosu, Chinese side, Guanghzou R&F FC, Australian side, Sydney FC, and Sharjah FC from the Emirates were interested in a collaboration. Since forming partnerships, these clubs have received both theoretical and practical support from Amsterdam.
"We want to have partner clubs all over the world. We have so much knowledge and there is so much demand for it. We are not a branding company: just putting a sticker with "Ajax" on something is not enough. We want to achieve real development. By working this way, we can only achieve growth."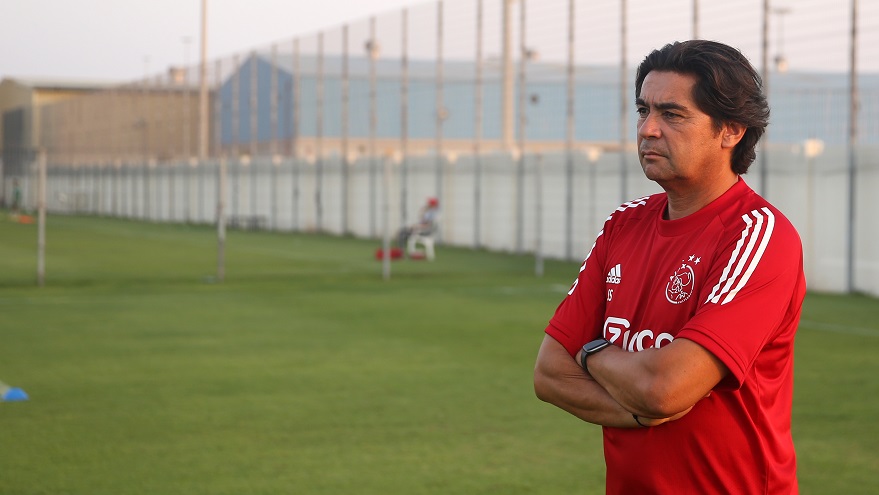 Added value
Although the Ajax Coaching Academy has a clear revenue model - knowledge is purchased by partner clubs - there are several ways to benefit from the partnerships. "We are looking for multiple forms of added value for Ajax", Groenendijk explains. "That could be in finances, talent, or knowledge. These three pillars are equally important to us. If we can help a Japanese player to develop himself there, who then eventually breaks into the first team at Ajax, that is of enormous value."
Developing young talent in this way is what Silooy and Petersen are working constantly to do, which is not always easy during the COVID pandemic. However, in recent months hard work has continued in China and the Emirates. "We want to do things in the same way as in Amsterdam; extending the same learning lines abroad", says Silooy. "We try to have fun while doing so. The world itself is difficult enough, so I want people to have fun on the field."
Edwin Petersen - a highly experienced youth coach - is happy with the opportunities that working with Chinese talent offers him. "I wanted to go on an adventure with Ajax. It's exciting and challenging here. It's very different from what I did in Europe. No two days are the same here."
Hans Vonk, former goalkeeper at Ajax, has been working at the Ajax Coaching Academy for six months now, and has a personal mission to help young talent. "I am now focusing on the project in China. I also work from Amsterdam for Sagan Tosu in Japan and Sydney FC in Australia. In the next five years, we can play a major role on an international level. That is also important for Ajax itself. "
Growth
The ambitions of the Ajax Coaching Academy are therefore enormous. Just like Vonk, Groenendijk aims to grow considerably. "It is a real people's business. Before we start something, you have to put in a lot of work. When the world opens up again, I really want to meet people at new partner clubs."
"We are close to a collaboration with up to four to five clubs, including one in North America and one in South America", Groenendijk concludes. "I hope that in six months' time the number of partnerships will at least double."