CF Pachuca - like Ajax - is known for training talent. The club has one of the largest youth academies in Mexico, and so produces a host of players for the national youth teams. The Mexican club have been national champions six times, has won the CONCACAF Champions League five times and was the only Mexican club ever to succeed in winning the South American equivalent of the Europa League, the CONMEBOL Sudamericana.
Academies
While visiting this North American nation, the Ajax delegation also toured the leading Mexican club's facilities. There, first steps were taken towards sharing know-how with several departments. Ajax soon gained some insight there into what the talent is like, their working methods and how the club is structured. Meetings were also held regarding social projects in Mexico and the academies which fall under the remit of CF Pachuca. The leading Mexican club has some 300 academies (including ten in the United States) involving as many as 30,000 players.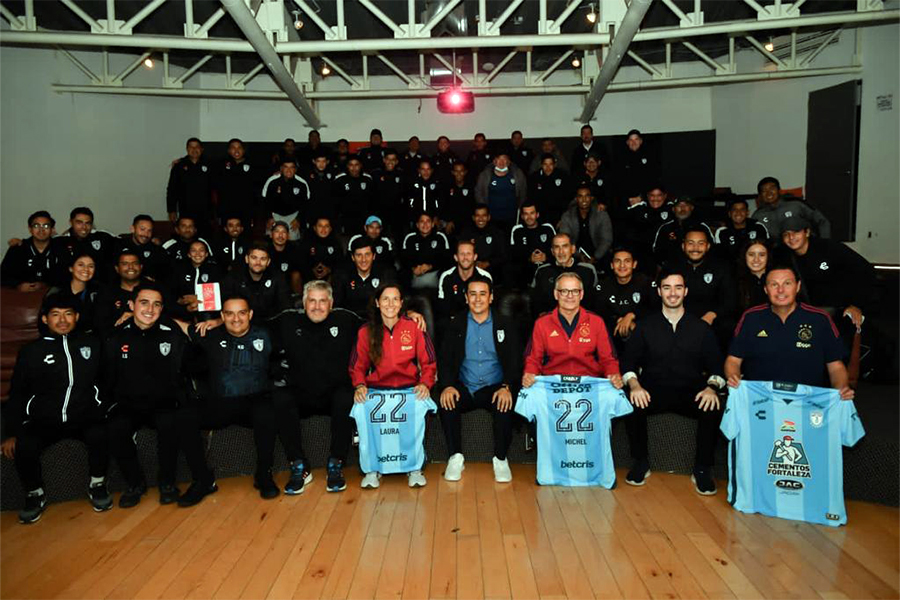 The Ajax delegation also attended a number of youth matches. CF Pachuca's U20 coach gave them a detailed briefing at one of his team's fixtures. Also, under the attentive eyes of the delegation, the first team won their match against Tijuana with an astonishing 6-1 victory. The Ajax scouting department was also able to exchange some initial thoughts with the Mexico team's head scout.
Ajax DNA
Ajax delivered an interactive presentation, discussing the Ajax DNA and how this is rolled out in training. More than fifty coaches and other staff from both the men's and women's teams attended. This presentation was a first step in sharing Ajax know-how with CF Pachuca, to be followed by many webinars and several visits planned for the short term, where the clubs will work together intensively towards mutual benefit.
Finally, they visited the local area and held a press conference in Mexico all about the trip and the partnership between the two clubs.