Gregory van der Wiel is a product of the Ajax Academy, and was a key player in the first team between 2008 and 2012. During that time he scooped 3 prizes: 2 league titles and the Dutch Cup. The attack-minded right-back has formed his dream first team at the request of Ajax.nl, based on the players whom he played with in Amsterdam.
Keeper
"I find this really hard, and not just this position, by the way. I can't decide between Kenneth Vermeer and Maarten Stekelenburg. I think I'll go for Maarten, as we played together in so many important matches. To start with, he was an outstanding keeper. That save against Brazil during the 2010 World Cup immediately springs to mind. It was mad, he grasped Kaka's ball from the far corner just like that."
"But his pass was fantastic too. He could pass the ball from any corner with precision. It's not a given that keepers can do that, you know. Kenneth was also very good, a real dude. He didn't miss a thing, but still, I'll go for Maarten."
Right back
"I saw from the previous instalments that everyone positioned themselves. So, I'll position myself as right-back. I wouldn't actually know who else to play in this position. There was even one season when I didn't miss a single game. Incidentally, it wasn't always a given that I'd become a right-back, I made my debut as a central defender. But under Van Basten I was shuffled to the right-back position. Bruno Silva had gone abroad, I think, so I grabbed my chance. I loved it."
"My best memory is my 1st league title in 2010. The way in which we finally trounced Twente after 7 years on our home ground ... Crazy! The entire stadium was in an uproar. That really was one of my best matches."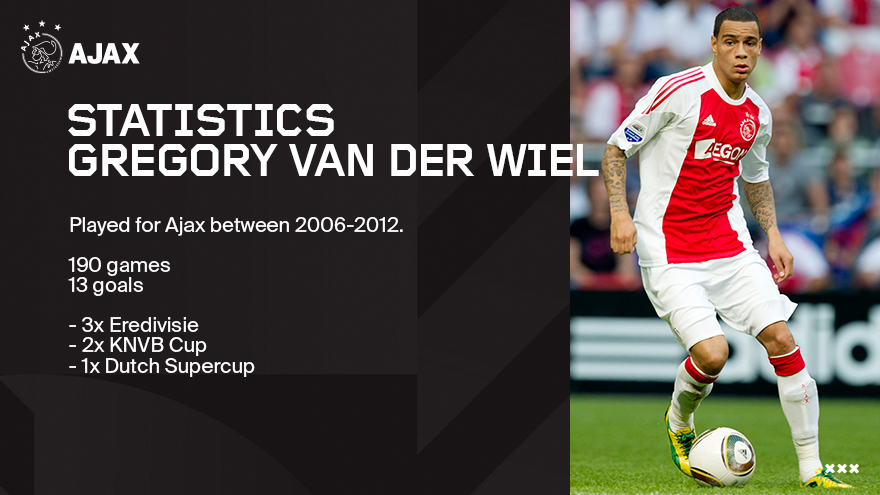 "Knowing what I do now, I sometimes think I could have made more out of my career. But life follows its own course, you make certain choices that in turn give rise to opportunities. One example: I made a decision to stay at Ajax, whilst I could have moved to Van Gaal's Bayern Munich for a record sum. I was young and headstrong, and didn't do it. Now and again I wonder what on earth I was thinking."
"Luckily, after that I had some great years at Paris Saint-Germain. I was able to play at the highest level there for many years, together with the big stars. I could have signed up for 3 seasons, but chose to go to Turkey instead. I wanted the acclaim. But the transfer was a good deal; I was king there. Times have changed though, you make certain decisions."
"After my time spent in Turkey, I approached Ajax again, but nothing came of it unfortunately. I've still got the football itch. At the moment I live in Amsterdam and am not doing anything. My ultimate dream would be to play for Ajax again, I'd even play for free."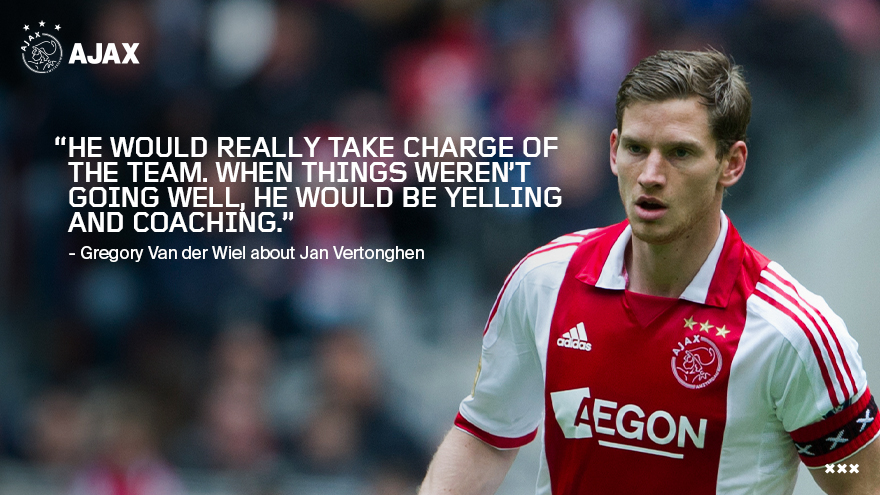 Right-sided central defender
"At central defence I'm going to pick the Belgian duo, starting with Toby Alderweireld. He's still doing really well, it's great to see. His kick aroused true respect. Quite simply, Toby could pass the ball to wherever he wanted, so clever. In the meantime he's also evolved into an outstanding marker. An out & out defender."
Left-sided central defender
"Besides Toby, I'm choosing 'Super Jan', of course. Vertonghen really could do it all, was a true all-rounder. Physically he was strong, had a great pass and proved to be an outstanding leader. He really took the team to task when things were going wrong, then it was all yelling and coaching. He took his responsibility seriously."
"But he was also a great leader when training too, if things weren't going well, he wouldn't hold back. He was the life & soul, both on & off the pitch. A great, fun guy."
Left back
"This is another tricky position, I think. Back then, Nicolai Boilesen was a big talent, of course. But, all the same, I'm going for Urby Emanuelson. In terms of playing style, we were quite similar. Not surprising really, both technically defence-oriented and strong. I really appreciated his style, thought it very good."
"Just like me though, Urby might not have quite managed to make the most out of his career. The stakes were higher for him though. You make choices and follow a certain path. Sometimes it works out differently to how you'd hoped."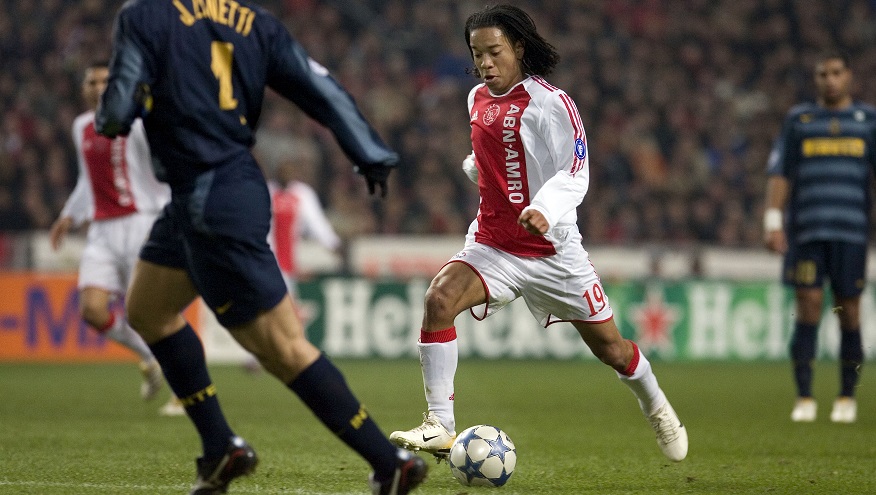 Right-half
"That'll be Gabri. Of course, he arrived at Ajax as the big man from Barcelona, but didn't act that way. He always worked hard and hoovered the ball up, whether in attack or defence. I really looked up to him when I first joined the team. He didn't say much, but that was more a language thing than anything else. I had the same thing when I was at Cagliari in Italy. When you don't speak the language you take more of a back seat. You don't grasp everything, of course. But Gabri was really good."
Left-half
"For this I'm choosing the legendary Edgar Davids. He was full of energy and had the right amount of aggression. He really pulled you up if you went off-piste. Friendship wouldn't come into play. He would really be yelling at everyone. If we ended up winning the game, it would all be business as usual afterwards. That's the way it should be. You don't win titles by always being nice to one another, you have to dare to pull teammates up."
Number 10
"We move on to the phenomenon known as Wesley Sneijder. I take it I still have to explain why? Everything Wesley has done and achieved is unbelievable. He was pure magic with the ball, and that came across too. He was always razor-sharp in training as well. He always trained super hard. Although we all did, to be fair."
"But Wesley was in a league of his own, he truly could do it all. Kicking left or right, taking free kicks, scoring and providing assists. Incredibly versatile in other words. It was with good reason Wesley moved to Real Madrid."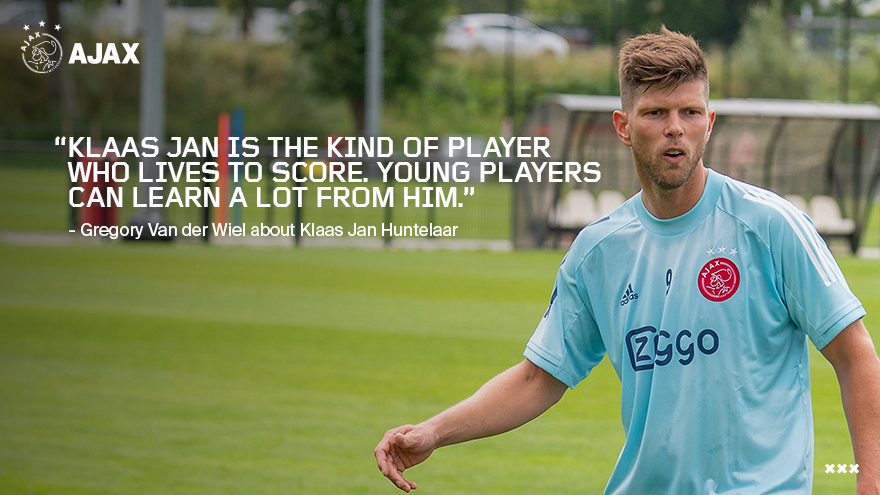 Right wing
"For this I'm going for Luis Suarez, particularly because of how we played down the right side. We really worked in tandem. If I say so myself, during the 2009-2010 season we were superb. We wiped everyone out, playing football with him was incredible. Sometimes I scored and he provided the assist, but other times it was vice versa. That has to have been my best teamwork with another player."
"Later on in my career I ended up playing against him with PSG. When it was great to catch up. But not so great to play against him, haha!"
Striker
"Klaas Jan is a bone fide striker who had a great nose for the goal. He always seeks the goal out. It amazes me that he's really got the goal touch so much still. He has to score - and does. Klaas Jan is one of those who really lives to score. A great many young players could learn a lot from him."
Left wing
"My choice is Ryan Babel. A fantastic right foot on the left side, enabling him to cut back and score. Back then, Ryan was already very fast, strong and had a really powerful pass. I really respect his career path, I admire it. Ryan was, and still is, a very good footballer."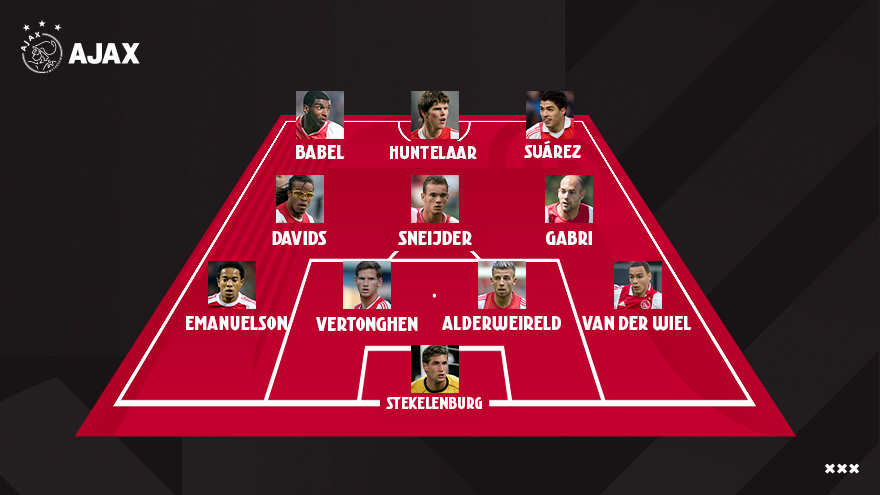 Read also: Maxwell's favourite Ajax eleven