Van de Beek made his 1st appearance on November 26th 2015, under coach Frank de Boer, in the Europa League match against Celtic. The weekend after that victory in Glasgow he made his Eredivisie debut against PEC Zwolle. Van de Beek scored his 1st goal for Ajax against Molde; he scored from a bizarre header, from which he did not escape unscathed.
Van de Beek ended up playing 175 matches for Ajax. In all, Ajax claimed victory almost 70 percent of the time (119 matches) and drew 26 times, but the side from Amsterdam hit the rocks on 30 occasions with their boy from Nijkerkerveen. Van de Beek appeared regularly, in 79.5 percent of the matches Ajax played since his debut.
Van de Beek ended up scoring 28 times in the Eredivisie. The numbers reveal that his biggest value lies in the forward play, the so-called "penetration" into the opposing team's penalty area. The midfielder scored no fewer than 26 of his 28 goals from within the penalty area.
This was also the case in Europa games: all the goals he scored in the amazing 2018-2019 Champions League season originated in the penalty area.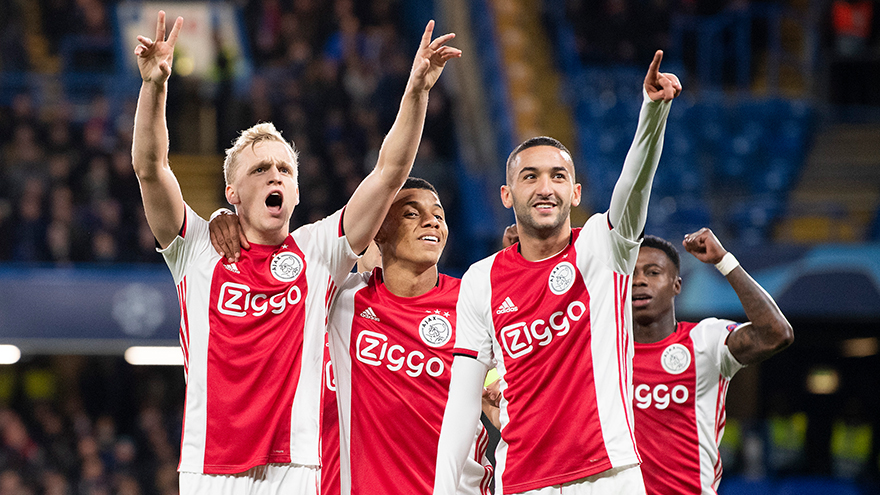 Van de Beek was not only a goal scorer at Ajax - he also brought home a roughly similar number of assists: 23 in all. It was David Neres, Klaas Jan Huntelaar and Hakim Ziyech who usually benefited from his setting up work.
View the table below how Van de Beek's assists were spread among his teammates.
David Neres 4
Hakim Ziyech 4
Klaas-Jan Huntelaar 4
Kasper Dolberg 3
Justin Kluivert 2
Davinson Sánchez 1
Davy Klaassen 1
Dušan Tadic 1
Frenkie de Jong 1
Lassina Traoré 1
Noussair Mazraoui 1
As well as depth and goals, Van de Beek is also leaving behind a great deal of experience at Ajax. He is the player with the most games to his name since the 2017-2018 season. He played a lot of those matches under manager Ten Hag (110), for whom he averaged 79 minutes per game.
Coach Marcel Keizer also had great confidence in him: over 22 matches, Van de Beek played for an average of 82 minutes each time.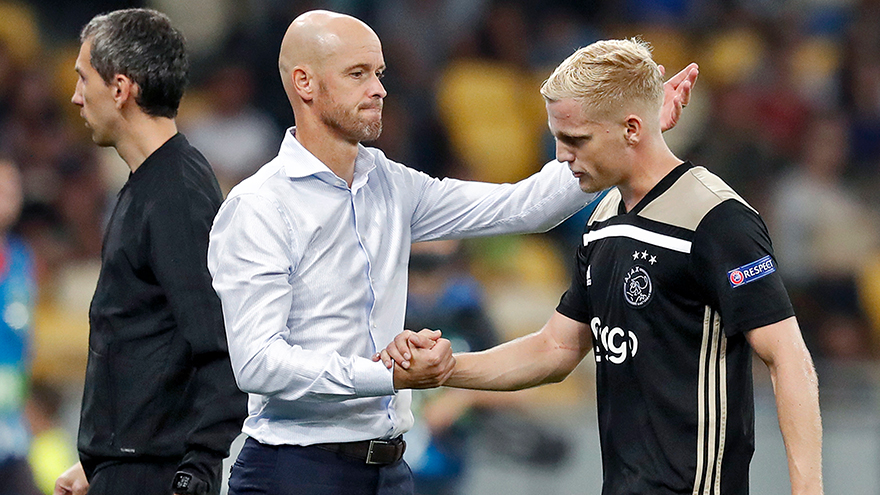 Van de Beek played 112 of his 175 official matches in the Eredivisie. He made all those appearances before his 23rd birthday. Only 16 players over the years have appeared in more matches before they were 23.
Here are the top five:
1. Gerald Vanenburg 173
2. Dennis Bergkamp 157
3. Frank de Boer 147
4. Johan Cruijff 147
5. Frank Rijkaard 141
Read also: Ajax and Manchester United reach agreement voor Donny van de Beek
Text: AFC Ajax
Pictures: AFC Ajax