"Coach Sonny Silooy's D2 team can rightfully be called the super champions, with the maximum score of 66 points in 22 games", was the caption in Ajax's 2004-2005 yearbook. Promes smiles broadly as he looks at the team picture.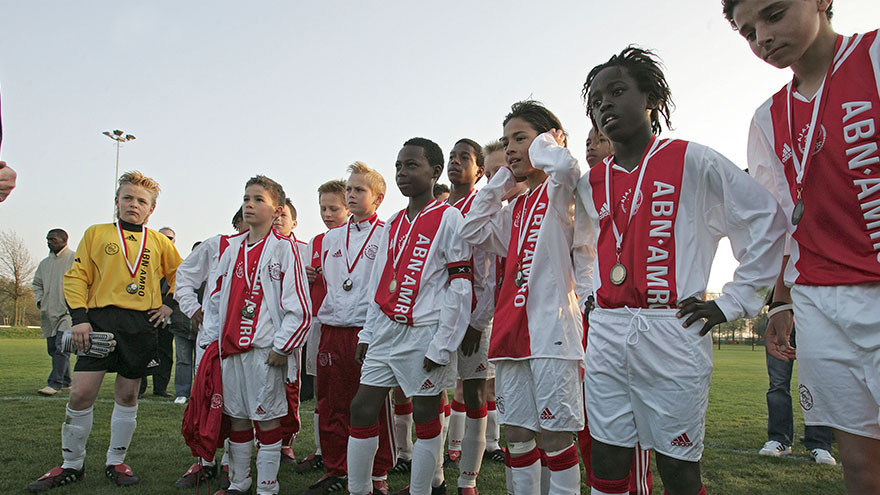 Ajax U13
"We had a really good team! Lesley (de Sa) was super-fast. Joepie (Akihary) was super technical. He was the smallest, but the most technical. I'm a big fan of players like that. When he had the ball, he was a pain in the neck. He passed everyone and was constantly handing out pannas. Together with Bouy, he was the most talented player. Bouy was sent through early on, as he was pretty big for his age. His long-distance shots were bizarre. His shots always hit their mark."
"I'm very curious where everyone ended up. I only know the first names, because last names didn't count yet back then. I still see Bouy regularly, I used to bump into his sometimes when we went out to eat. And I still speak to Stefano (Denswil) a lot."
Back when everything was still good
Promes points to the picture in which he's wearing the captain's band. "I think I was captain because I had a big mouth. When we were told to do laps, I'd always ask 'why?'. Other guys would just start running even before the coach said it, but I always wanted to know why. I wasn't a bad apple, because everyone liked me, but I just didn't know when to shut up."
But coach Silooy saw that as a positive. He saw that young Quincy was further ahead of his peers in terms of his thinking, and didn't mince his words. The coach recognized the rascal in himself, while Promes calls him his favorite youth coach.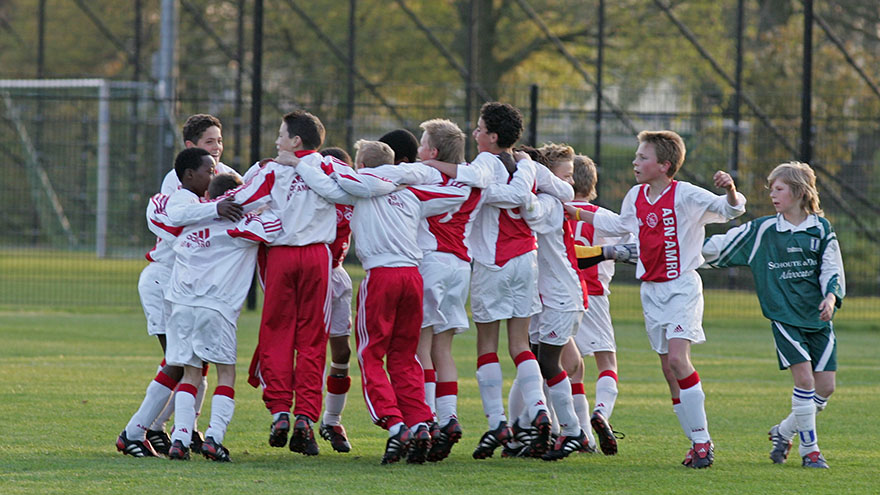 Promes: "I don't know what it was, but he saw something in me. And I was very fond of him. He understood me and made me captain. It wasn't a coincidence. I gave confidence to everyone, I was a true Amsterdam street wisecracker. I wanted to pass on that mentality, because not everyone was from Amsterdam. Don't be scared, even if the opponent is a head taller. I always went full-on ahead into battle."
His eyes remain fixed on his own picture: "Yes, that was the happiest period of my youth."
All gone at once
The proud Ajacied had the 'normal' life of a youth player. He developed technically, and established the foundation for his career, until his parents decided to split up. This brought in a difficult period for 16 year-old Quincy.
"Until that moment, everything had been going well, but when my parents split up, I had a hard time. The whole picture was messed up. I lived with my mother, moved from neighborhood to neighborhood, made lots of the wrong kind of friend, and was generally in a tornado. At first, everything was stable and calm, and then all at once, all of that was gone. Because of that, I became impossible to handle at Ajax. I'm not blaming my departure from Ajax on that, but it was a factor. And looking back, it was good that I got sent away by Ajax at that moment…"
"Leaving Ajax changed me as a person. I suddenly realized what it was like to no longer be an Ajacied. I had played at the best youth academy of the Netherlands, we would get picked up by a bus and we had the best facilities. At that moment, that felt normal. But if suddenly you get put on a different track, then you realize how good you had it. When I left, I had a survivor's mentality to get back on top. That's why I'm an international now. It's strange for me to see where the others from the team have ended up. There are lots of guys on that picture who were more talented than I was, but football is more than just talent."
"Of course I was angry, but once an Ajacied, always an Ajacied."
'Shit, I did it'
"I never thought I'd make it to Ajax 1, but I kept dreaming. When I put on my Ajax jersey and walked into the Johan Cruijff ArenA for the first time, I had goosebumps. When I looked at the ball boys, I always think back to when I was one. They look at me the way I used to look at players like Wesley Sneijder and Klaas Jan Huntelaar."
"When I got sent away, that dream was gone. But now that I'm an adult, I've processed all of that. Of course I was mad at the time, but once an Ajacied, always an Ajacied. Every time I score in the ArenA, I think: shit, I did it!"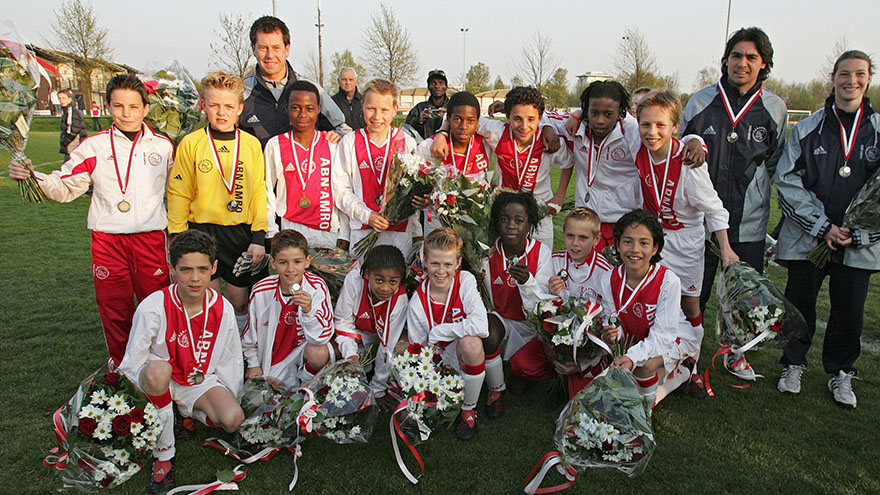 Top row - from left to right; Tom Aussums, Joey van der Pol, Quincy Promes, teammanager Rob Stol, Sjoerd Vlasma, Ruben Ligeon, Ouasim Bouy, Stefano Denswill, Xandro Schenk, coach Sonny Silooy.
Bottom row - from left ro right: Sven Nieuwpoort, Joep Akihary, Randill Verwey, Martijn Kok, Lesley de Sa, Mike van de Laar, Tobias Kistemaker
Read also: From Lassina Traoré's photo album
Text & photos: Ajax.nl