In the 'Favorite Ajax eleven' articles, we talk to former players about their favourite Ajax team. We use a 4-3-3 formation. In the first articles, we spoke to Ronald de Boer and Hedwiges Maduro.
"Before I talk about the line-up, I want to state that Ronald Koeman is the team's coach. I'll explain why later, but he was a very important person for me. I'll probably give him a disco team line-up because I'm going to play an offensive game."
Keeper
"Here, I'm going to choose Bogdan Lobont, of course. He gave the back line so much confidence, which was super-important. Moreover, he was light on his feet and incredibly fast. His aura was a weapon too, he was a huge presence in the goal. He was constantly yelling and setting up the defense. A real character."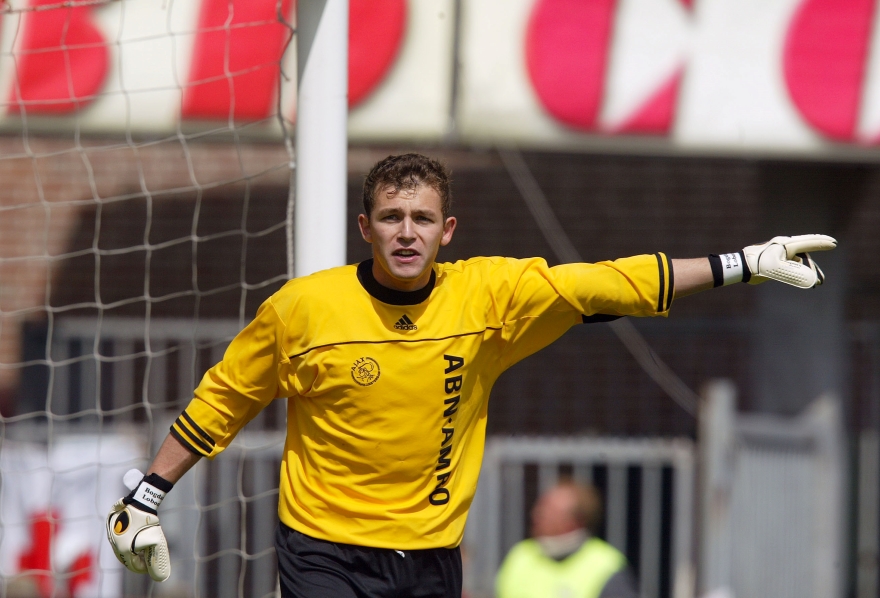 "Bogden was full of energy off the field also. He gave us confidence and provided inspiration to the team."
Right back
"I thought of Hatem Tabelsi right away, he was so good. Hatem's timing was perfect, he knew exactly when he could move forward, and he was so quick in coming back. In him, the team had an extra offensive weapon. He had amazing stamina, unbelievable, he was like a machine."
Off field, Hatem was reserved and quiet, but he had a sense of humor. We appreciated each other's contributions and the years we played together were fantastic.
Right central defender
"I hesitated between John Heitinga and Nigel de Jong. But from a playing perspective, I'm going to choose Nigel. In theory, he could play everywhere. He had such a knowledge of the game; he knew exactly when he could move in. He was also fast, technical, and he could also defend pretty aggressively."
"Nigel was young when he joined the selection and he was polite and reserved. But he immediately exuded leadership, and he quickly grew into a fantastic player. He was also a leader off the field, and a really nice guy on top of that."
Left central defender
"Next to Nigel, I choose Cristian Chivu, who is also my captain. He's the best central defender I've ever played with. He had such amazing qualities, unbelievable! He was a leader at a young age. He helped me a lot and gave me so much confidence. He sat with me often to explain how building up worked, and how I could make the plays."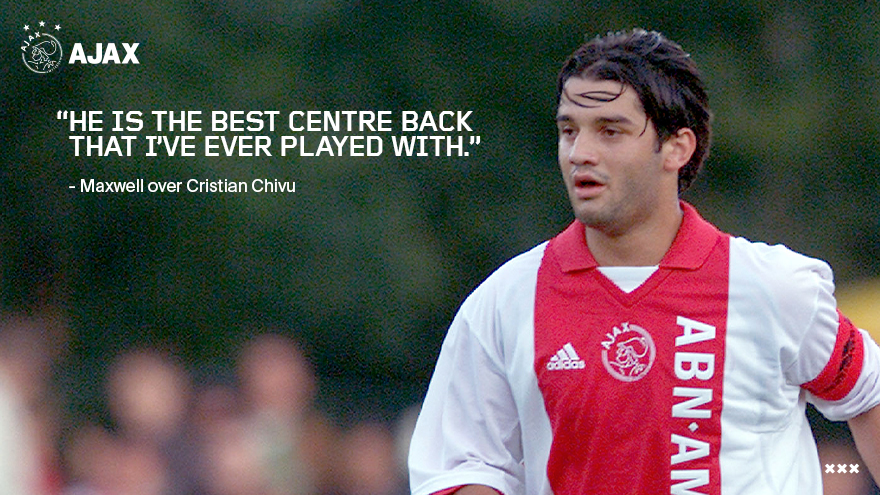 "We had a great click, both on and off the field. Cristian was extremely smart. He also had good technique, he could jump high, and he was exceptionally good in anticipating. He gave confidence to the team: playing with him was truly fantastic."
Left back
"You guys are making me put myself in the line-up, because otherwise I wouldn't do it. I hate talking about myself, so fire away. My favorite memory? Hard to pick just one, all of my memories at Ajax are good ones."
"I came from Brazil to the Netherlands as a young player. I remember how impressed I was by the stadium. I still recall that Adriaanse and Koeman taught me to choose the right moment. As a young Brazilian player, I constantly wanted to play offensively, especially back in those days. I learned to understand the game on a tactical level, especially with Koeman's help."
"I've always kept a good relationship with Koeman. I sent him a message recently after I saw in the news that something was going on with him. We've always kept in touch, even during the time during which I considered stopping. I called Ronald and asked: 'What should I do?' He reminded me that playing was the best part of football. 'You shouldn't stop if you feel that you can still go on', he said."
"Thanks in part to him, I ended up winning prizes as Ajax's best player, and the Eredivisie. When I look at these prizes at home, I'm still so proud. These were really my highlights in the Netherlands. Although really, I have Zlatan to thank for them. He had had an operation during that time and couldn't play. Otherwise, he would have won!"
"Those prizes were a true blessing. During that time, I was learning a lot and I wanted to make my parents proud. They taught me to be grateful, and thanks to this upbringing, I've always remained down to earth. The way you treat people is far more important than football. That's something that top football players don't always remember."
Right half
"I warned you beforehand: this isn't going to be a balanced line-up. At midfield, I'm going for a 'defensive' block of 2 players: Wesley Sneijder and Rafael van der Vaart."
"Sneijder was so good, a complete player who controlled everything. He could pass with both feet, was very dynamic, and always knew where there was room. Next to that, he was good at scoring and, in the big games, he showed leadership by taking the team by the hand. He was also funny in the locker room. Unfortunately, later in my career, I had the misfortune of having to play against him. That wasn't fun, especially that semi-final Champions League game from 2009 that Barcelona lost to Inter. Wesley was unparalleled in both games."
Left half
"I almost chose Tomas Galásek, because he was really good. A very humble leader, someone who fought for every ball. A real team player. But I'm going with Van der Vaart, because I'm going the attacking route. Rafael's fame exploded during the time we played together. He was very strong technically and had a fantastic left foot. He could do anything he wanted with it. I don't need to say much more about him: everyone knows how good he was."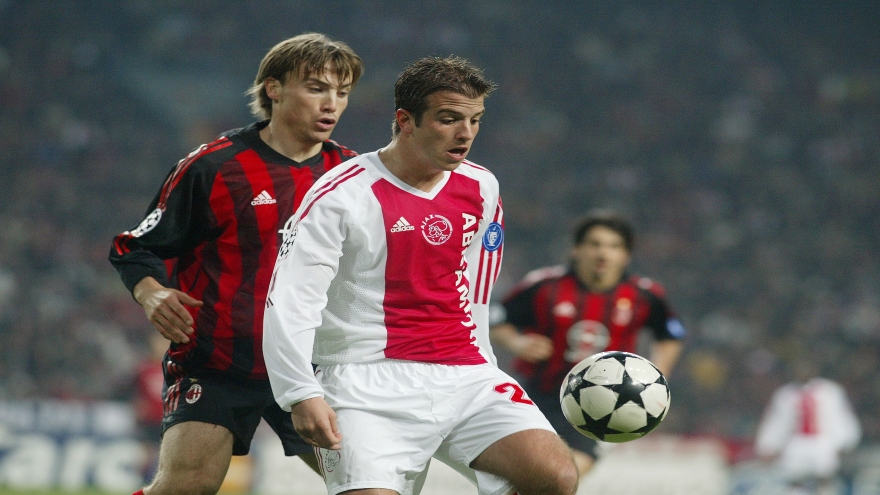 Attacking midfielder
"At 10, in front of Rafael and Wesley, I'm putting Jari Litmanen. When I first trained with him, I could see right away why he was a legend. It was such a shame that he was injured so often. He had a fantastic pass and amazing insight. A very intelligent player."
"Off the field, he was genuinely nice. It was a true honor to be able to play with him, talk to him, and learn from him."
Right wing
"I choose Andy van der Meijde in this spot. He was amazing at passing. Andy could also score really easily and had a great feel for the ball. Hatem and Andy were strong together on the right side, truly unbelievable. Next to that, he was so nice off the field, obviously everyone in the Netherlands knows him. It was a pleasure to be on a team with him."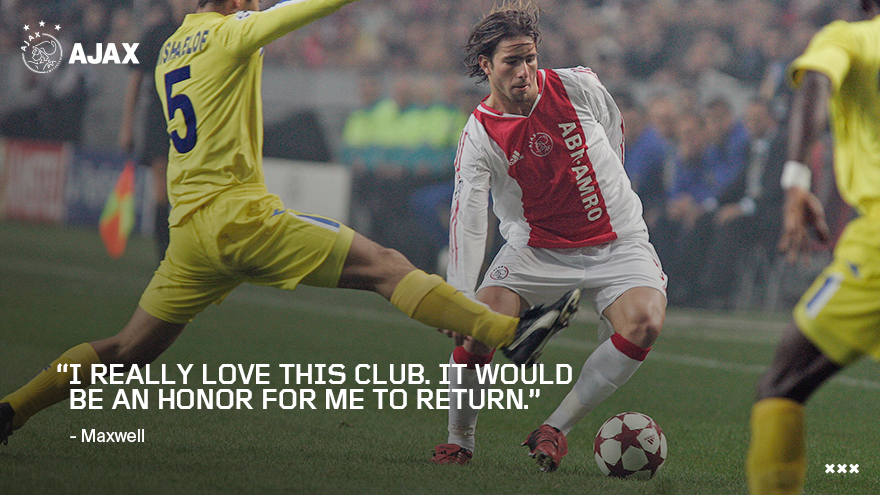 Centre forward
"There can only be one: Zlatan Ibrahimovic. He was, and is, a legend for me. I am so happy that we played together at other clubs too, and because of that, we became close. He's like a brother to me, and I consider him to be family. When we were at Ajax, we did almost everything together when we were off the field."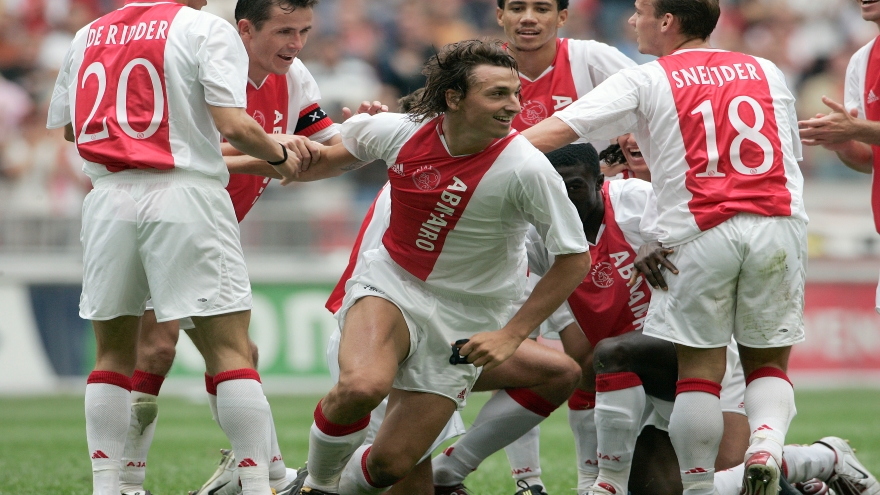 "To get back to his qualities; well, everyone knows them. He was already so good and well-rounded at a young age. He always wanted to win and to be the best. We even used to challenge each other to duels after training. Zlatan was a real fighter from early on, someone who knew what he wanted, and worked hard to achieve it."
"Just like with Sneijder, I had to play against Zlatan pretty often later on. The same goes for guys like Van der Vaart, Lonbont, Chivu. That was always special. There were many young, good players at Ajax back then. It wasn't strange that we would face each other after that, abroad."
Left wing
"That would be Steven Pienaar. He had the lungs of a horse. That's why I'm picking him, because he helped me defend and that gave me more room to attack, haha. But he had amazing qualities. Steven was very technical, knew exactly where there was room, and had a great eye for the last pass. He was always really nice and humble off the field."
"Obviously, there are other players that I could have picked, but Steven was a great teammate for me."
Honorable mention
"I still get along really well with Yannis Anastasiou. We are very close and still talk a lot. He taught me so much, and he still does. He's a real friend. During my Ajax time, I got along with many guys, it was such a talented group. I learned so much during that time: it was the foundation of the rest of my career."
"Would I ever want to come back? If Ajax would open that door, and ask me, I would say yes without hesitation. I really love the club. It would be an honor to return. Amsterdam is a great city to live in."