Giovanni was connected with football from birth. He was named after former Santos and FC Barcelona player Giovanni Silva de Oliveira. The new Ajax player saw the light of day in Bauru, which also happens to be the birthplace of one of the greatest football players ever: Pélé. In quiet surroundings it was all about 'futebol' for the very young Brazilian.
"Well yes, Giovanni... I've watched YouTube footage of him because I wanted to know why I was named after him. "My dad was a big fan and loved his style of playing. But Ronaldinho was my role model. The way he dribbled and scored goal was really special."
'I had to go to a host family at a young age and I really missed my family'
Squares, football school & Santos
No poverty and/or crime, but a quiet childhood in Bauru – a municipality and city in the Brazilian state of São Paulo – allowed him to focus on football."I was constantly on the squares, playing football with friends. When I was 4 years old I went to a football school in Bauru. Playing football on the street and training at the football school were experiences that formed me as a football player. After that, I was discovered and at the age of 10 I made the switch to Santos' youth ."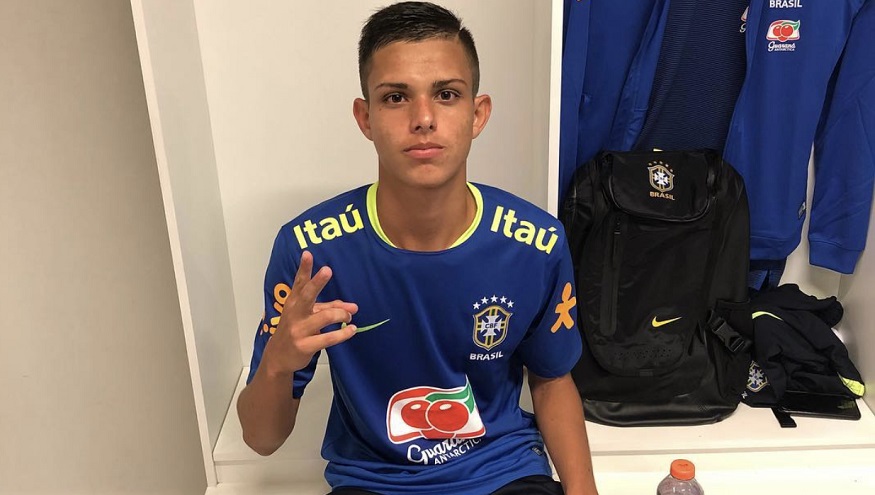 Giovanni had a hard time at first. "I had to go to a host family at a young age and I really missed my family. Especially because I'm calm, conservative and a little shy, too. Eventually my parents moved closer to the club so I could be with them again. After that, things got better for me as a person and a player. I played at Santos until I was 17 and also became a youth international for Brazil. It finally brought me the transfer to Ajax and I am really happy about this. I want to be a top football player, and Ajax can help me to achieve this."
'Learning from David'
After David Neres, Danilo and new recruit Antony, Giovanni is the 4th Brazilian to wear the red and white of Ajax. "That certainly makes things easier for me. It did influence my decision to choose Ajax. I think I can learn a lot from David (Neres, ed.). I knew him by name and knew he was a really good player, but I met him in the Netherlands for the first time."
'I hope the four of us can get a lot of samba in Amsterdam'
"David has become a friend in a short time," continues Giovanni. "I think he's very funny and we have the same sense of humour. I've been with him almost all the time since I've been in the Netherlands. I go to his house regularly and then we play a Brazilian card game together. I know Danilo too, because he also played at Santos. I bumped into him in a locker room at De Toekomst sporting complex. I haven't met Antony yet, but he's a very good player. I hope the four of us can get a lot of samba in Amsterdam."
The footballer
The midfielder, who prefers to play at number 10 but can also play on the wing, talks about choosing the Amsterdam-based club. "I'm an attacking midfielder and my best qualities are dribbling and passing. Defensively, I'm also good at covering an opponent. The way Ajax plays, with a lot of combination play, suits me really well as a footballer. I am really happy about my transfer because Ajax is a superpower in global football. It's always been my number one choice and the best option for me."
The youngster visited the Johan Cruijff ArenA several times to get an impression of the club. "I was in the stands for the Champions League games against Chelsea and PAOK. I was really impressed because I had never been to a European stadium before. But Ajax's style of play in recent years has also made a big impression on me."
Amsterdam in coronation times
"But I've got to wait for the Johan Cruijff ArenA, De Toekomst sports complex for now. It was very annoying that corona broke out when I first arrived. But I have to accept the situation. I am learning English, gaming a lot and other than that it is a matter of washing my hands a lot and waiting for the situation to improve."
'I want to be one of the best players in the world'
Giovanni is currently living in an apartment with his agent in Amstelveen. "I miss my parents a lot, but fortunately they are coming to the Netherlands soon – together with my little brother and sister. First they're coming for a visit, but next year they're coming to live with me here. I have a really close relationship with my family. It's important to me that they're here as this will make makes it easier for me to adjust to life here."
What about the next few weeks? Staying fit and at home on the couch, thinking about his dreams: "I want to be one of the best players in the world, win the Champions League and the World Cup. Is that realistic? I believe my dreams are possible, if I remain modest and work hard. Train, train, train!"