The annual FIFA eWorld Cup Grand Final in the O2 Arena London, is the battlefield where the 32 best FIFA-players from around the globe fight to win the much sought after title of FIFA eWorld Cup Champion. There is an amazing amount of prize money at stake as well: 250,000 dollars.
Tournament
All 32 players are subdivided into 4 groups of 8 players. Two groups for the Xbox One and 2 groups for the Playstation 4. All players take each other on over two legs within their group. The 4 best players of each group then go on to the knockout stage of the tournament on Saturday 3 August. This is followed by the Grand Final on Sunday 4 August.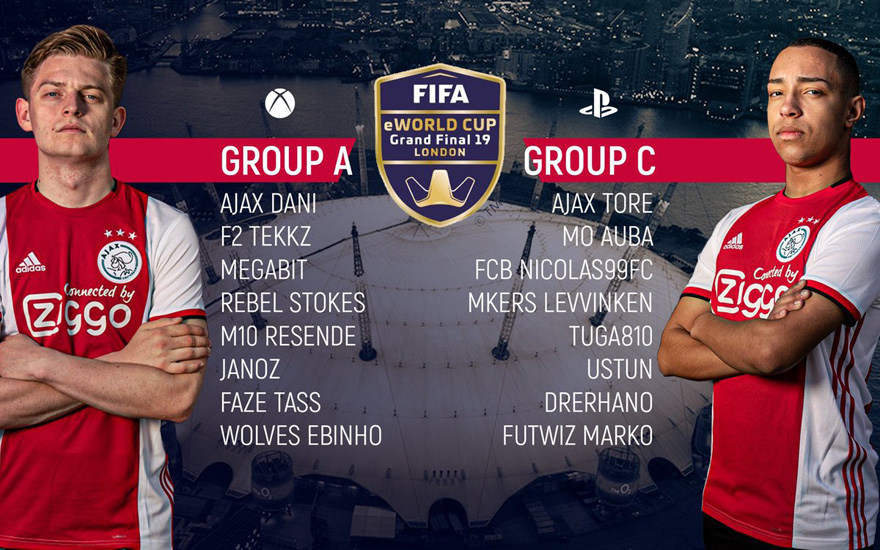 Team Ajax
For Hagebeuk the O2 Arena in London is familiar ground. The e-player from Amersfoort has played this final tournament twice before. However, he has yet to be crowned world champion. After a successful season and a final ranking as number 9 of the world, Hagebeuk qualified for a place in the Grand Final again this year. Will he take first prize this time?
Tore, on the other hand, is taking part in the FIFA eWorld Cup for the first time. The seventeen-year-old Brazilian from Sao Paolo became 2nd in the world's FUT Champions Cup on the Playstation 4 in Bucharest earlier this season. After a successful series in the Play-Offs, Tore also qualified for the prestigious end tournament. Will the young Ajacied pull it out of the hat in London?
Live coverage!
The entire tournament will be streamed live by FIFA in 6 languages: English, German, Spanish, Chinese, Portuguese and Arabic! Don't miss out via: www.fifa.com/fifaeworldcup or https://www.youtube.com/FIFATV.
Friday 2 August: start group stage 11am (CET)
Saturday 3 August: start knockouts 12pm (CET)
Sunday 4 August: start finals 4:pm (CET)
Sunday 4 August: Grand Final 6:30pm (CET)
A look behind the scenes!
Of course you can watch Team Ajax' performance and take a look behind the scenes on the Ajax eSports social channels!
Instagram.com/Ajaxesports
️ Facebook.com/AjaxeSports
️ Twitter.com/AFCAjax_eSports