After the launch of 3 Ajax editions, a special edition for FIFA21 will be here soon. With a steelbook cover, different variations and all kinds of pre-order bonuses, you will be perfectly prepared for the new season. Both the Standard Edition and the Champions Edition can now be pre-ordered at Ajaxshop.nl. The Limited Ajax Edition is available for every platform (PlayStation, XBOX, Nintendo Switch and PC).
FIFA has been the preeminent soccer game in the gaming world for years. There are various updates with regard to gameplay and visuals this year as well. The highly popular Ultimate Team game mode has also undergone some changes for more gaming enjoyment. Thanks to the introduction of Ultimate Team Coop, you can now play with friends with your own team. What's more, Ultimate Team now has more personalization options to put your own spin on everything.
The new generation of game consoles is slated for launch before the end of 2020. EA offers you the option of switching your FIFA 21 from PlayStation 4 to PlayStation 5, or from Xbox One to Xbox Series X, free of charge. This is possible using Dual Entitlement for both the diskless version and for the traditional version with Blu-ray player.
Dani Hagebeuk: 'The new updates are very promising'
Ajax eAthlete Dani Hagebeuk is eagerly awaiting the new FIFA edition. "The first weeks of FIFA are crucial for eAthletes. The gameplay changes and new playing techniques are introduced, and you want to master these as quickly as possible. What's more, a lot of new changes have been made within Ultimate Team to make it more personalized than ever. Finding your own style and rhythm can just set you apart from the competition. The FIFA 20 season came to an abrupt end, of course, so I can't wait to start competing again against other excellent eAthletes in the new game."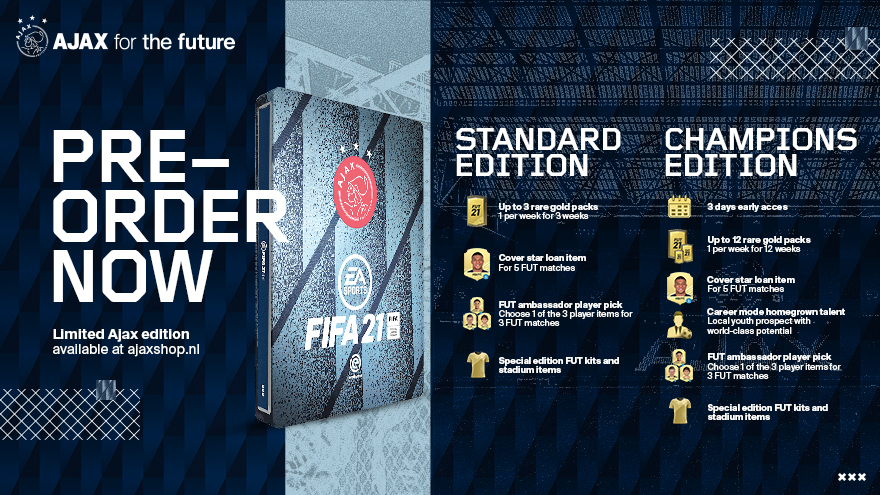 The previous Limited Ajax Edition games were orderd en masse and were sold out in days. The new edition also has limited quantities, so be sure to order fast!
The Limited FIFA 21 Ajax Edition will be available for pre-order starting on 01-09-2020.