In the feature, 'The favourite Ajax Eleven of...', we go on a search with old players for the favourite team filled with Ajax players. We are doing this in a 4-3-3-formation. Players like Maxwell and Gregory van der Wiel featured in the first installment.
Keeper
"I choose Bogdan Lobont at the goal. In my Ajax time, Maarten Stekelenburg had just made his break through. Later, we often played together in the Dutch team. But I spent the most time with Lobont. And I choose Bogdan, because he was a very charismatic keeper. He had real cat-like reflexes, incredible. He was not the biggest or strongest keeper, but he was super stable."
"He was also a very strong communicator and could put up a good defence. In my career, I often played back field and then it was really good to have him behind you. Off the field, Bogdan was a very quiet boy and never went to clubs or discos."
"He was also not deranged, which is sometimes said about keepers. But not surprisingly, because keepers are completely isolated. They have to celebrate goals on their own and experience everything as an individual. By the way, Bogdan went totally crazy at training when you scored by using a chip shot on him. Then you really had to run for your life, because he then fired every ball in reach directly at you."
Right back
"Then I choose Hatem Trabelsi without any hesitation. He was really so good. I think he was the most all-round right back that I've played with. He was actually a kind of tank, never stopping. Very strong in attack, but also stood his ground in defence."
"Hatem was very quiet off-field, but loosened up the longer he was at the club. I remember him being very dedicated to his family and was very much involved in his religion. I played right back when he was injured, or playing for Tunisia in the Africa Cup. He often gave me tips. He taught me a lot. I tried to mirror him. He is really a very good example for everyone."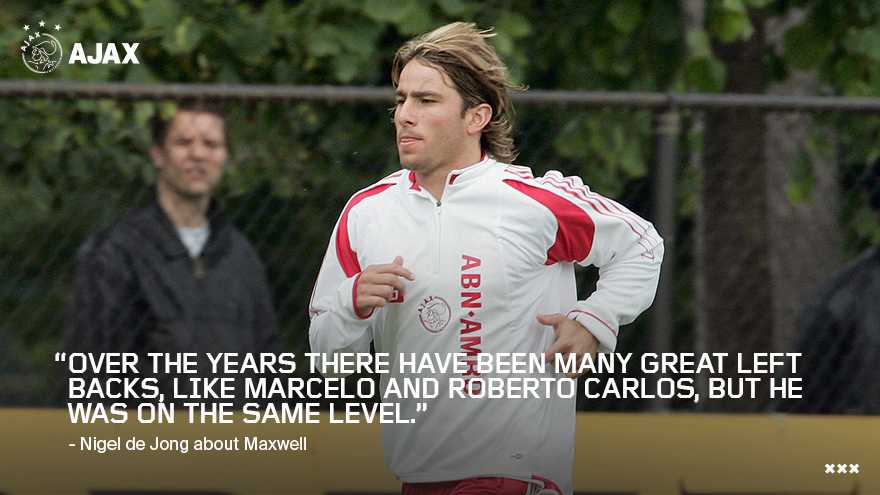 Centre right
"This position is pretty difficult for me, as I've played with many good centre defenders. For example, John Heitinga, Petri Pasanen, André Bergdølmo, and many other lads. It's probably an odd choice in the eyes of the fans, but I choose Julien Escudé. He was extraordinarily professional, a real example for many players. And you mustn't forget that he joined Ajax at a difficult moment: he had to forget Christian Chivu. Eventually, partly by hard work, Julien even became captain."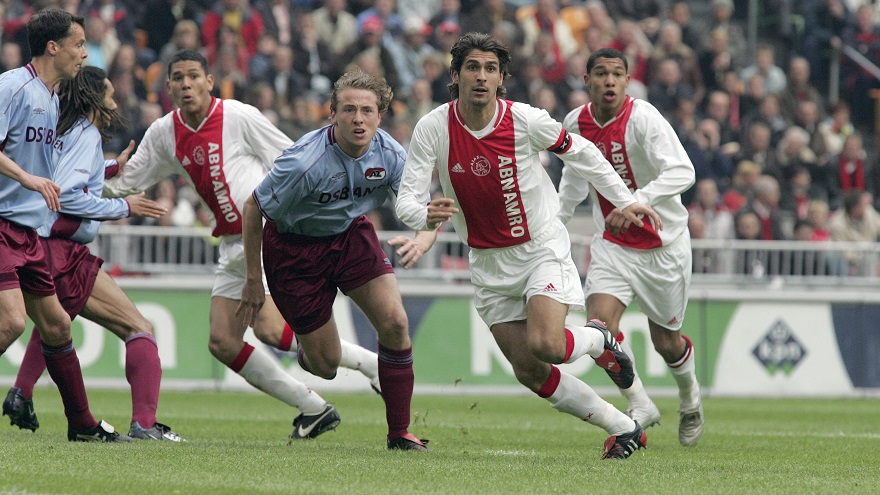 Left centre
"My favourite centre left defender who I played with at Ajax was of course Chivu. He was incredibly important as captain. He was so talented that he became captain at an early age. He made everything look so easy: sliding in, passing, defending. He had a lot of charisma, and radiated leadership off the field as well. He made sure everyone kept to the rules. Cristian was the true liason between the old and young players in the group. A was a real captain."
Left back
"For me, Maxwell is the most all-round and creative left back with whom I've ever been in a team. He became 'player of the year' at Ajax and the Eredivisie. And that for a left back! As right back, you know beforehand that it won't be a nice competition. Lots of defending and not much attacking. Maxwell was just so good: what he could do with a ball was extraordinary."
"And he could pass fantastically, but also quickly switch and defend well. Over the years, we've naturally had many good left backs, like Marcelo and Roberto Carlos. With Trabelsi and Maxwell, at that time we had really fantastic wing players."
Right half-back
"I found right half-back to be the most enjoyable and best place to play. In the youth training school, I was first put in as centre forward, striker, or left wing. So mostly the attacking positions, but in the A1, I gradually moved back. I became a '4' who could slide a lot and really play box-to-box. When I had my breakthrough in Ajax 1, I was used a lot for defensive security."
"But under Danny Blind, I was again placed at right half-back. That was a fantastic year that gave me a great deal of pleasure. I think I was good at helping and supporting the defence, but also always knew exactly where and when to go to the goal to score. Of course, I was no Wesley Sneijder or Rafael van der Vaart, but I could certainly play box-to-box well, recognise the right moments and be there exactly on time."
"The 2-1 against AZ at home and naturally those against Arsenal, were great goals. But my most special goal was the one against Sparta. Especially because it was very emotional for me: I had lost my best friend the day before."
"Whether I want to be a trainer after my active career? Never say never. I have the ambition and I'm studying for the right qualifications. I think it's in my character to want to and try to get football across. Escudé is, I believe, already a coach and I think that Zlatan Ibrahimovic would also be a good trainer. He also has the right character and knowledge to get it across."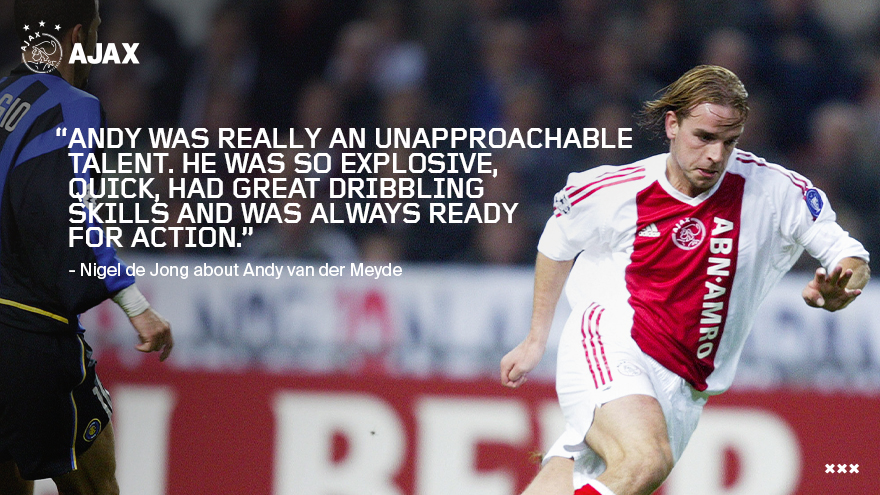 10
"This position is again difficult too: I've played with so many good footballplayers, but if we end up in the 4-3-3 and a '10' with the centre forward in front, then I go for Van der Vaart. He was so enormously clever with his left foot. He moved perfectly between the lines and knew exactly when to join the striker. He was always there at the right time, a typical example of a Golden Boy. People sometimes forget how good he was at making goals, right when it had to happen. I talk with him now and again and then we laugh about the stories from the good old days. That's how it goes. At his testimonial in Hamburg, there was also much reminiscing with everyone about the old stories."
Left half-back
"Then of course I choose Sneijder. He was left half-back when we were playing together. When he was young, you could already see how good he was: did everything with both feet and you couldn't see any difference. He was also always so hungry and eager to score a goal. Both at training and in competitions, he always wanted to win. Wesley was such an all-round soccer player; corners, free kicks, he could do it all. We were very close at a young age and we still are. We weren't leaders at the time, but we became leaders later."
Right wing
"In front of me, I choose Steven Pienaar. We had a really good connection. To me, Steven was really undervalued. He had a fantastic technique and was a very fine teamplayer. Whether attacking or defending, he never failed. And the double 'Trabelsi/Pienaar' was so incredibly good. Those two smashed everything."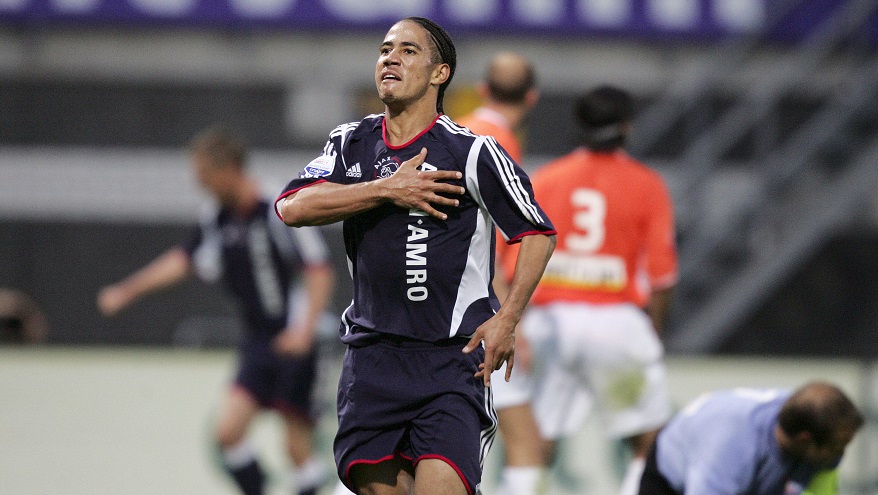 Striker
"Then I've to choose Ibrahmiovic. I've been in a team with a lot of strikers, but he really was incredibly good at a young age. Exceptionally good even. The things he did on the field were not normal. He was, of course, tall at a very young age, but still had an exceptional technique. Off the field he was a really quiet lad. People are sometimes mistaken about that."
"We got on really well. Zlatan was somewhat of a loner and we played at least 3 times a week at the PlayStation at his home in Diemen. In those days we didn't play the game FIFA, but Pro Evolution Soccer I believe. I think we got along so well because we both had enough to chat about, and enough self-confidence. We challenged each other and made sarcastic remarks to each other. If he caught me out, he knew I'd catch out him back."
Left wing
"I hesitated between Mido and Andy van der Meijde, but still choose Andy. He was more of a wing player than Mido, who came out of a 4-4-2-system more like a false 9. Andy was really an amazing talent, he was so explosive. He had speed, a very good dribble and was always ready to switch. And he was fantastic off the field as well. In the locker room, he was always in for a joke."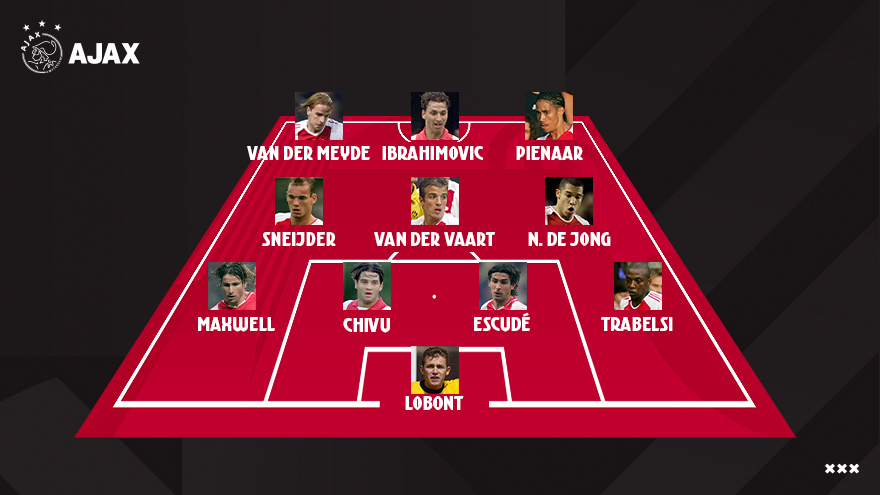 Substitution
"By the way, could I end by making an addition? After 45 minutes of chat, I get to make a substitution, right? I'll have myself replaced at half-time by Tomas Galasek. He was incredibly good: perhaps the most undervalued footballer of the last decade. He was so important as a player, and as a captain. He had an iron discipline, always played with the centre forward behind and never touched the ball more than 2 or 3 times. What's more, no one could anticipate like him."
Read also: Van der Wiel's favourite Ajax eleven