And we're kicking off the new podcast season with a promising episode. This week we had none other than the skipper, Dusan Tadic, in the studio and we had a special surprise for him. Gala Rizzatto, the singer of 'Freed from Desire,' gave us a rendition of the popular Ajax variant, which almost every Ajax player can effortlessly recite. "Tadic on fire. Your defense is terrified, Tadic on fire."

"I want to thank all Ajax fans for singing this song during the Ajax matches," said the Italian in a special message to Tadic. "I hope that one day I can sing it live in the stadium when Ajax is champion again." Gala closed her message with a legendary Tadic quip: "Pak Schaal." "A great song" Gala's message was played live during the broadcast and it put a big smile on the face of Tadic. "Very nice. I love her song. And when the fans sing 'Tadic on fire' to me, it feels really great."

Tadic sat across from another great crowd favorite. Eyon Enoh was also very popular in his time with Ajax. The midfielder was very curious and had lots of interesting questions for Tadic on air. For example, 'Who is the funniest player at Ajax?' "That's Klaas-Jan Huntelaar with his sarcastic humor," replied Tadic.
"There are other funny guys in the team, specifically Quincy, but I really love Klaas Jan's jokes." Enoh did not hide the fact that he was impressed by Tadic, being a big fan. "I have followed his games in the Premier League and the Eredivisie. I'll tell you honestly: I'm a fan. He's something else."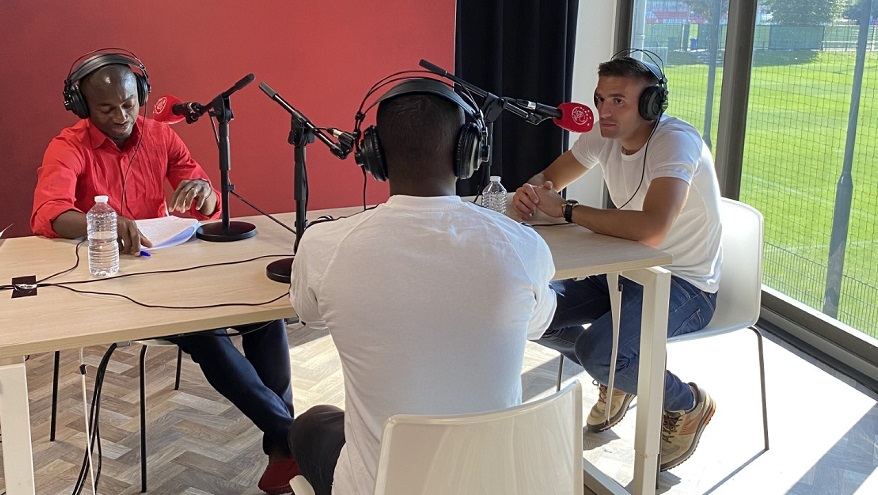 The Cameroonian especially praised Tadic's attitude. He wanted to know precisely where that fighting mentality comes from. "That was something that was present from a young age in my home country," said the Serbian. "They tried to explain to you that everything is important: even if you're playing a game of cards, you have to find a way to win. That's how you create a winning mentality." "As one of the most experienced players I try to explain to the young boys that they have to do everything, every day to win. And in this I try to be an example for everyone. I want the team to always be able to count on me: in the easy moments, but especially in the difficult moments." 'I've never seen such development."

Donny van de Beek
One of the players Tadic has in his wake is Donny van de Beek. Tadic spoke highly of the midfielder who made a transfer to Manchester United. "If you see what Donny was like during my initial period at Ajax and look at the player he is now: there is really a world of difference. I have never seen a player undergo such a development. His work ethic was much better too. I am proud that he has grown this way and I am sure that he will do well at United."
Tadic was also presented with a number of fun questions:
- What would you change if you were on the board of Ajax?
- What if you were a fan yourself: what would you expect from a type of player like Tadic?
- What general aspect in football would you like to see changed?
- What was your worst match ever?
Do you want to know the answer to these questions? Then listen to this episode of the Ajax Podcast or follow it on Juke. After the broadcast, Tadic also signed a golden European third kit with his name and number. Do you want to win it? Then keep an eye on Ajax's official social media channels.
Text: AFC Ajax
Picture: AFC Ajax