Earlier this week, Ajax and R&F have announced the expansion of the partnership with more Ajax staff members on R&F premises.
APAC Asia Pacific is a region with rapid development and thriving potentials, this region has always been the key market for Ajax. Various football, media and commercial parties from this region have become Ajax' partners in the past years. The three oversee football partners of Ajax - Guangzhou R&F FC (China), Sagan Tosu (Japan) and Sydney FC (Australia) - are all from this region. The Ajax 1st Team had their post-season tours to Indonesia in 2014 and to China in 2016.
Ajax has established their official Chinese website in 2010 and has various media partners in China along the last decade. At this moment, Ajax is active on both Chinese Weibo and WeChat.
Commercial partnership wise, current partners CST, Iconix, Hikvision, BBIN and Makita have APAC origins.
Ajax signs partnership with Bloomberg Businessweek China
Ajax and Bloomberg Businessweek China have signed a media partnership agreement in Guangzhou. Bloomberg Businessweek China will be the Official Business Media Partner of Ajax in China. Bloomberg Businessweek China is dedicated in providing information and interpretation about events in the business world in China by publishing bi-weekly magazine and operating online platform. It is the Chinese version of the American Bloomberg Businessweek, founded in 1929 in New York City.
Ajax will support Bloomberg Businessweek China in accessing exclusive content, the content will be created into comprehensive articles and published by Bloomberg Businessweek China on their magazines and online platforms. The partnership aims to provide primary football and sports business insights and case studies towards Chinese business audience.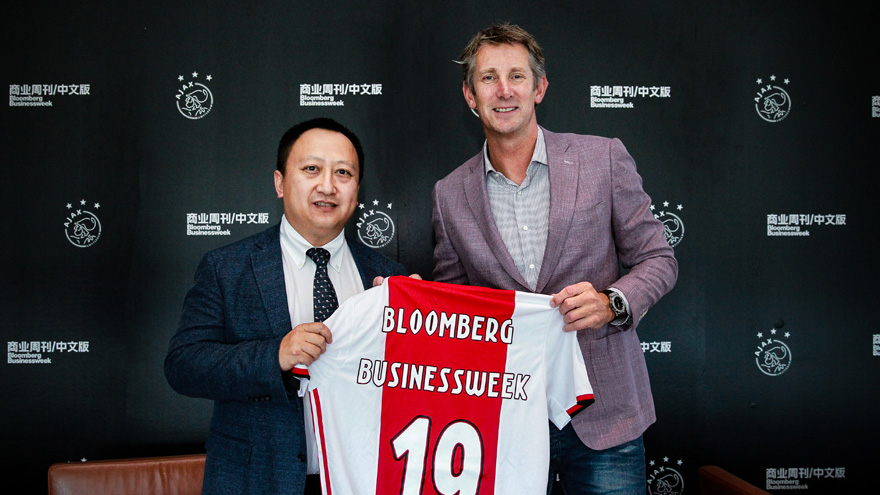 Edwin van der Sar, CEO AFC Ajax: "Bloomberg Businessweek is a world renown professional business medium and is the most influential business magazine in China as well. Through the partnership with Bloomberg Businessweek China, we are aiming to enhance the Ajax brand and philosophy among the business and management audience in China."
Patrick Li, Publisher Bloomberg Businessweek China: "We've been following Ajax for years. Ajax' philosophy attracts us, not only on football, but also on business. We've invited Mr. Edwin van der Sar to give speech at our annual summit in Beijing in 2017. It was very well received among our audience. We believe this partnership will bring more dynamic views to the business world in China."
Guangzhou Guangzhou is the 3rd largest city in China and is the home of Ajax' partner club Guangzhou R&F FC. As capital of Guangdong Province and the Greater Bay Area, Guangzhou is the center for both economic and cultural in the region. Besides the importance in Chinese domestic market, Guangzhou is also a convenient hub to access any destination in Asia Pacific region, for example Japan, Singapore and Australia etc.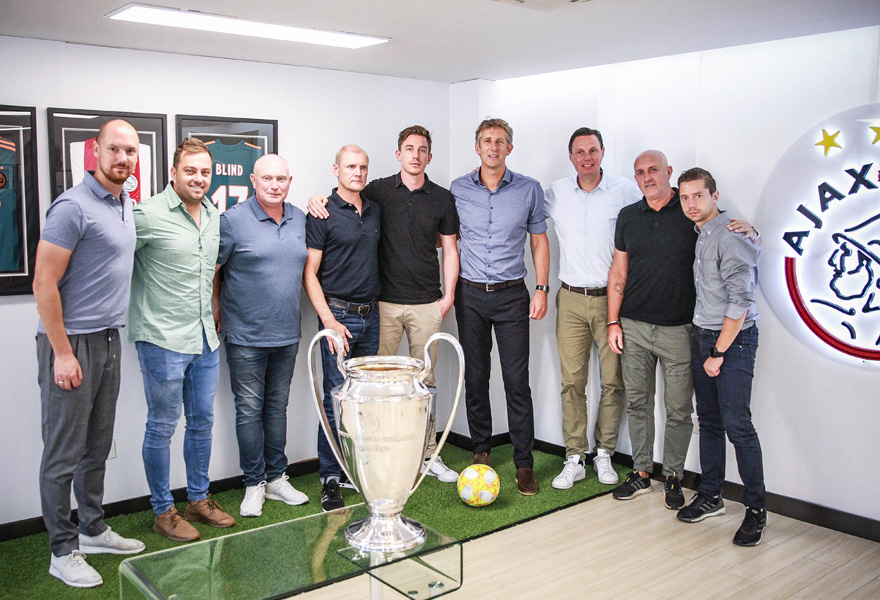 "APAC region has been important for us since decade ago." explains Edwin van der Sar, CEO AFC Ajax, "and we keep active here too. Along with all the partners we have, it is essential that we have a local point in this region, in order to get closer to our partners to provide better services, and to understand the circumstances better. Further, the APAC market is booming in all aspects and with full of potential. With more intensive presence, we believe in the future of Ajax' development in Asia Pacific."