The former Ajax attacker worked closely with the now twenty-year-old Taylor with the Ajax U17 team a few years ago. De Boer saw up close how 'the little rascal of the past' increasingly developed into the player he is today.

"Kenneth was always a gifted footballer in his youth. Only the mental side of things was sometimes lacking. He has now realized that talent alone is not enough. In our youth we were always having to tell him that playing football is more than just playing the ball with your left or right foot."

In recent months, De Boer noticed from the outside how Taylor increasingly manifested himself on the pitch amongst the other Ajax players. The last six months of the previous season, according to the former winner of the UEFA Champions League, was Taylor's true breakthrough. "One hundred percent. Kenneth has become a valued member of the roster. He put more and more aggression in his game in the final stage of last season. By that I don't mean that he played fiercely, but that he was more and more present on the pitch. He was more often in the box and was regularly the player who, after opening up the midfield, provided the pre-assist."

De Boer and Taylor were already involved with those kinds of principles of play a few years ago when the former international had a mentor role with the Ajax U17 team. By watching Taylor's game film, the former forward tried to make his pupil better and better. "We looked together at defining moments during his matches. We stopped video and together we looked at what he could do best with the space at that moment. Pictures say more than a thousand words."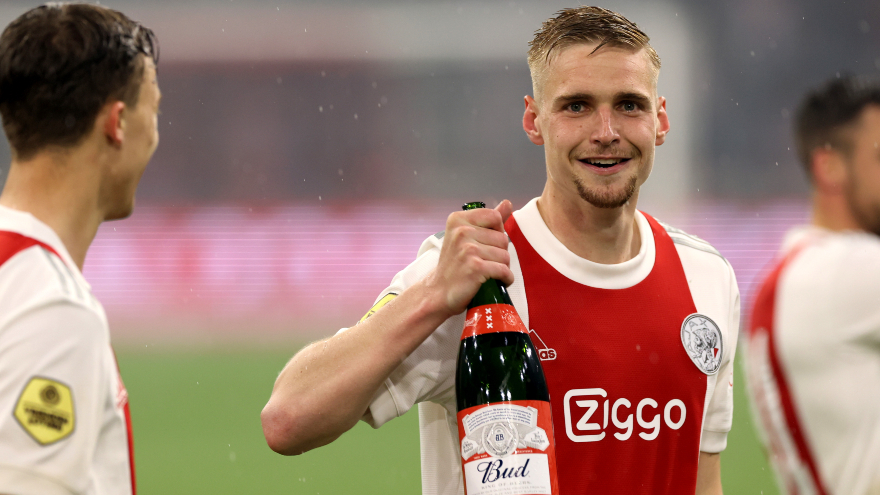 During the period that he was mentoring Taylor, he recognized himself in the person that Kenneth was at the time. "Our relationship was really, really good. At least that's how I felt about it. Even though I sometimes got frustrated with him. That was mainly because I saw myself in Kenneth. I also had trouble maintaining proper concentration for 90 minutes. That's exactly what I saw with Kenneth. He could sometimes give up if it didn't work out and react a bit aggrieved. All the trainers he worked with in the youth knew that a bit too. But he has seen the light. He was also really a do-it-yourselfer in the best sense of the word. A boy with swagger."

Taylor also indicated that he has a good relationship with De Boer. "He helped me a lot and I could always reach out to him with questions. We often trained together and spent a lot of time passing, defending and switching. He was very concerned with my fierceness on the field. Mentally he really made me stronger, I don't have to worry about that anymore."

Taylor can certainly identify with the description 'little rascal'. "I can be an annoying little guy sometimes in a good way," he said with a laugh.

It is precisely that mentality that now seems to have disappeared with Taylor. "My brother Frank has often said it about young players who are at the beginning of their career: now is the time to become reliable. He can no longer play an eight out of ten one week and a two out of ten the next. Kenneth has to become a player you can build on as a trainer. In that case, this could be a crucial year for him."