Timber, only 22 years old, proved himself to be a true leader in Ajax's defense. Calm on the ball, and the insight to find a football solution, even under pressure. A player with the gift to find the right moment to dribble the ball into the midfield.
The talent of the Utrecht-born player showed early on. Together with his brother Quinten, the defender joined Ajax's youth academy in 2014. Step by step, Timber developed himself into a reliable pawn in Ajax's last line of defense. His professional debut at Ajax U23 followed in the autumn of 2018.
One and a half years later, the young defender made his first minutes in Ajax 1, after being taken on training camp by former coach Erik ten Hag in the winter of the 2019/2020 season.
A week before COVID-19
It was on March 7, 2020, that Timber started during an Eredivisie match for the first time. Ajax won against sc Heerenveen that Saturday night: 1-3. After having played 82 minutes of splendid football, he could make his way back to the bench feeling satisfied. What he didn't know, was that he would remain at those 80 minutes. One week later, COVID-19 hit.
Once the pandemic was in its final stages, the matches followed rapidly. Almost three years after his debut, on January 29 of this year, the homegrown player played his one-hundredth match. It was an away match against Excelsior. Ajax won 1-4. Since January 29, Timber has had a place in Ajax's Club of 100, the honorary gallery full of the biggest and often most loyal Ajax players in the history of the club.

He played 121 matches for Ajax, which he divided like this: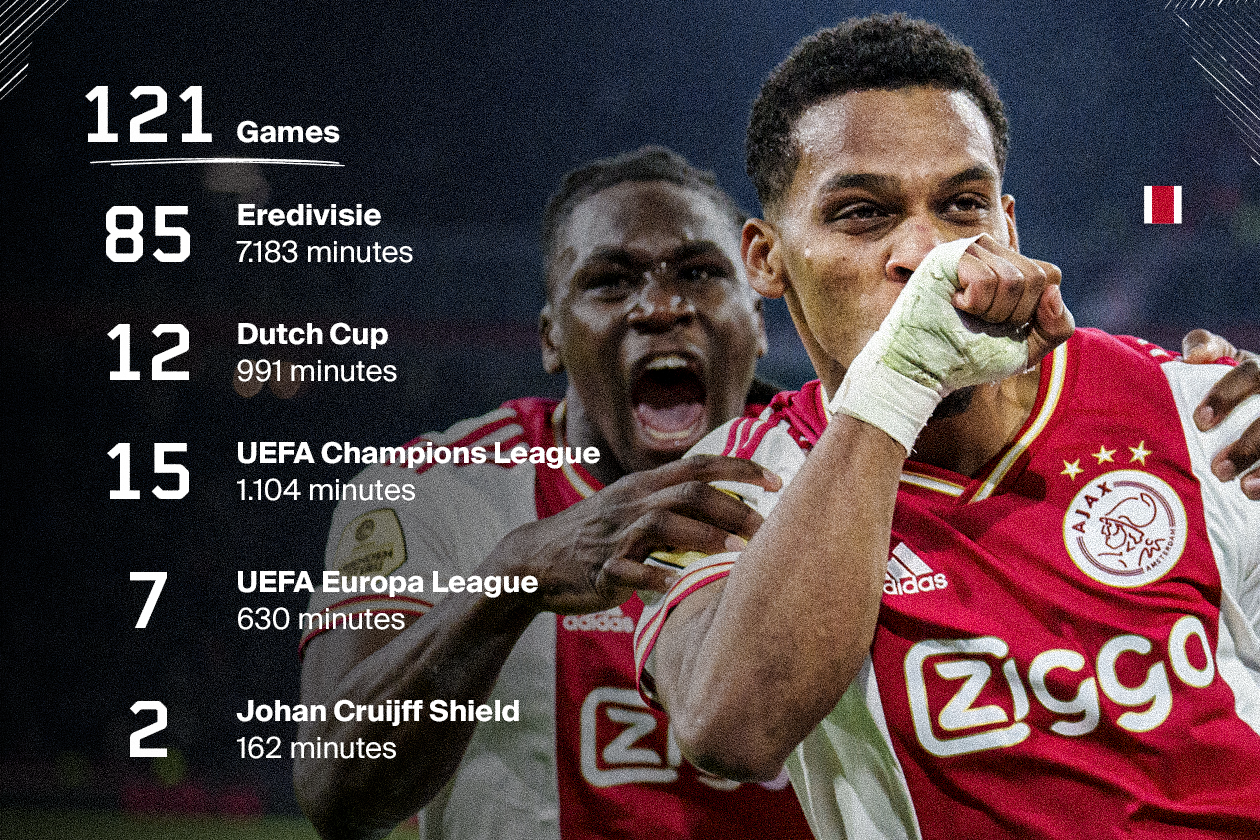 In those 121 matches, Timber scored six goals and made four assists. The defender scored four times with his right foot, once with his belly and scored one header, this season in a match against RKC Waalwijk. Ajax won 82 matches in which Timber played, tied 18 times and lost 21 matchen in which the Utrecht-born defender played.
There are more interesting facts about the 121 matches Timber played for Ajax 1. We made a summary of the best ones:
Timber most often formed the central defender duo together with Lisandro Martínez (58 times) in all competitions.
Timber played together most with Dusan Tadic (118 times), Davy Klaasen (109) and Edson Álvarez (105).
In total, Ajax had 52 clean sheets in the 121 matches Timber played.
Timber never got a red card.
The Ajax player built his reliable status carefully. After his first minutes against sc Heerenveen away, Timber showed to become a stronger central duo with Lisandro Martínez. While playing twenty Eredivisie matches in his first full season for Ajax (2020/2021), he managed to play thirty Eredivisie matches last season. This season, he was the only player together with Dusan Tadic that did not miss a match in the national competition.
Steady as a rock
It was the 2021/2022 season in which Timber that had the most incredible statistics. In the first fifteen Eredivisie matches, he and Martínez only conceded two goals. Besides that, Ajax won all six matches in the group stage of the UEFA Champions League. At the end of the season, the defender was awarded the Talent of the Year trophy.
In August of that year, Timber celebrated his successful season with a brand new contract at Ajax. "The feeling is what did it for me. But also the plan we made together. It's not easy to decide something like this on your own. That is why I needed the people around me. It was a busy summer", Timber said during his contract extension.
While the Ajax successes lacked this season, the defensive and building statistics were rock solid in the Eredivisie.
With two Eredivisie championships, the Dutch Cup and a personal prize in the form of Talent of the Year 2021/2022, Timber can look back at an incredible time at Ajax.
The connection to Arsenal is nothing new and originated roughly in the 90s. One of the first Ajax players that went to play for Arsenal was Dennis Bergkamp. The non-flying Dutchman did not immediately get on the train from Amsterdam to London but played first for Internazionale for two years.
For the English, the collaboration with the Dutchman was the start of something good. In 1997, Mark Overmars left for London after successful years in Amsterdam. After three years in the English capital, he left FC Barcelona with a forty million transfer fee. That made him the most expensive Dutch football player of that moment.
Overmars' transfer in 1997 was followed up by Thomas Vermaelen twelve years later. The defender left Ajax with a twelve million transfer fee. Once he was sold in 2009, he was a captain in Amsterdam. In the meantime, Quincy Owusu Abyei left Ajax's youth academy in 2002 to join Arsenal. A big breakthrough with the English did not happen.
The same thing goes for Donyell Malen. The attacker left De Toekomst to join Arsenal's youth academy. He kickstarted his career via PSV and Borussia Dortmund.
There is currently one (former) Ajax player at Arsenal: Victoria Pelova. She left Ajax Vrouwen last winter. Joel Ideho was another Ajax player that had a contract in England recently. He is no longer an Arsenal player since July 1.