"I was quite nervous before the game," the goalie admitted. "But my teammates helped me through it. I'm especially happy that everything went well."
Nervous
Onana was beaten once on a penalty from Rachid Ghezzal in the first half. Although the goalkeeper dove the right way, he had no chance on the striker's effort. He then made a good save on a break-through chance for Cyle Larin. "We came here to keep a clean sheet. But I'm happy with the team's comeback. We played well in the second half."
Thanks to two goals from Sébastien Haller, it finished 1-2 in Turkey. All in all, the goalie from Cameroon was happy with his return to the starting eleven and the three points, "I'm happy with my return, but even happier with the win."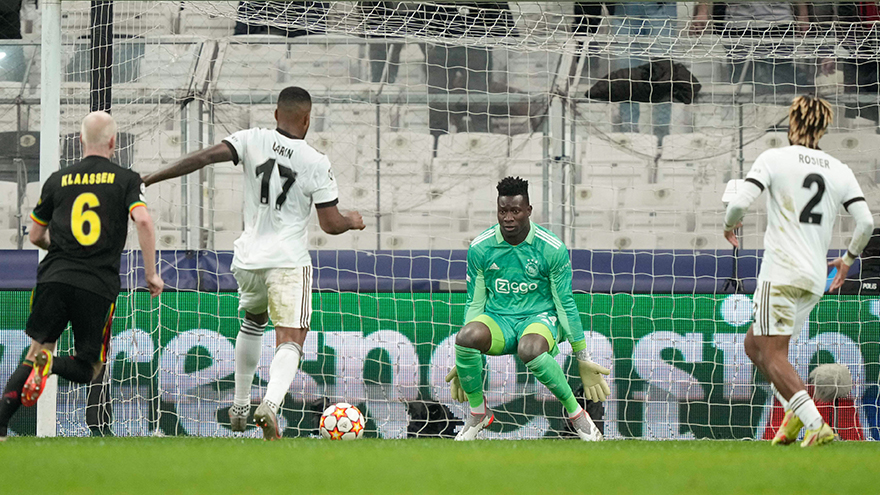 His return felt like a 'second debut': "It had been a long time since I was between the sticks. To play a match on this stage is crazy. I was quite nervous."
Helping the team
Other players noted Onana's nervousness, "Nous (Mazraoui, ed.) and Zaka (Labyad, ed.) said to me: 'Andre, you're not normally like that'. But I told them it had been a long time since I played and that's why I was nervous. But I'm here to help the team when they need me."
The goalkeeper complimented his fellow goalkeeper, Pasveer, on his performances in the previous four Champions League matches. "I have a good relationship with Remko. He's doing really well and I'm happy about that. I'm not going to compare myself to him when I haven't played for so long. I'm just really happy to be back in the team ."